Israel's Consul General Levon shows optimism on first visit to Kansas
Published: Thursday, 16 March 2017 10:00
Written by Jerry LaMartina, Contributing Writer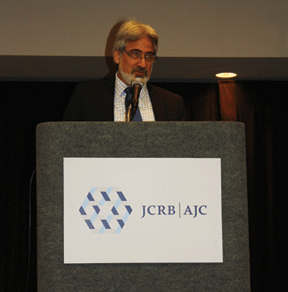 Former President Barack Obama's administration did some good things for Israel despite the two governments' disputes, and Israelis are hopeful that relations between the United States and Israel will improve under President Donald Trump's administration, Consul General of Israel to the Southwest Eitan Levon said this week.
"Between friends and family, you cannot always agree on something, but you stay together," Levon told a group of about 50 people Monday night at the Jewish Community Campus. 
The Consulate General of Israel to the Southwest United States is based in Houston. This was Levon's first visit to Kansas. He came to introduce himself to the Jewish community here and said he would return and work with the community. He was also scheduled to visit Wichita, Topeka and Lawrence.
Kansas is 10 times the size of Israel in area, Levon said, and "when we came here we saw very, very vibrant, rich (Jewish) communities … full of confidence."
"This was amazing, because in Europe the Jewish communities were not very sure of themselves," he said.
The Israel Ministry of Foreign Affairs moved the Kansas City Region to the Southwest following a realignment of territories in the fall of 2016. Previously the Kansas City community had been served by the Consul General of Israel to the Midwest in Chicago. Missouri is served by the Consul General of Israel to the Southeast in Atlanta. 
Because Trump is a political newcomer, not many people know where he is heading with some of his policies, Levon said. With the new U.S. government, though, "for now we feel a little bit better." 
Trump spoke by phone with Mahmoud Abbas, president of the State of Palestine and National Palestinian Authority, and discussed the possibility of a deal between Israel and the Palestinians, which Levon said was encouraging.
"Maybe such a thing will bring us some fresh ideas," he said. "Let's hope that it will continue in a friendly way."
Levon gave prepared introductory remarks for about 15 minutes and then took questions for about 40 minutes. 
One audience member said he didn't know of any other country in world history that had won four wars and still gave land for peace. He asked Levon why Israel was doing this and why Israelis supported it. 
Israelis have a lot of different opinions on many issues, Levon said, including religious plurality and trading land for peace.
"It's a very, very tough question," Levon said. "We … want very much (to have) peace with our neighbors. It's something that's connected to our national security. But from the other end, can we trust them? … So that's why we have our government, which is elected by us, to solve it. … And I'm sure that they will do a good job."
Levon was asked what he thought about the recent spate of attacks on Jewish Community Centers across the U.S. He said that a unified response was necessary, and that some phone threats were made against a Jewish Community Center in Houston, which had to be evacuated.
"In those cases, we immediately have contact with Jewish communities and offer support where necessary, and when more security is needed we are ready to help," he said. "In Miami, the Jewish Community Center and the Israeli consulate received the same threat on the same day and were evacuated. So we are in the same boat as you are, and as brothers, we should fight together to eliminate those attacks and behaviors against Jewish communities all around the United States."
An audience member mentioned a story in the Jerusalem Post about Iran building underground missile factories in Lebanon and Hezbollah forming a Golan liberation brigade.
"This is the rough neighborhood that we live in," Levon said. "It's not a recommended one, this neighborhood, but this is our home. … We try not to remember that in each moment … you have something like 200,000 rockets aiming to Tel Aviv all the time. … We are not in a very safe situation."
In response to a question about the effects on Israel's security of Russia's presence in Syria and influence on Hezbollah in Lebanon, Levon said that Israel has "quite good relations with Russia."
"Our prime minister was in Russia only a few days ago meeting with (Russian President Vladimir) Putin," he said. "Don't forget that Russia is the big bear and we are quite small. They take care of us in a way … but they do what they want in the end. They take care first of all on their interests … but we try to keep an open dialogue with them all the time, hoping that they will understand our interests. They might be some kind of restraining element on some of the actors in the area of Syria."
An audience member said that he had recently read a 40-year-old interview with the late Israeli Prime Minister Golda Meir and that the Middle East situation then was very similar to now, with talk of protection of borders and problems with neighbors. He asked Levon if there was reason to be optimistic.
"I am more optimistic than this," Levon said. "I think that we've done some things since 40 years ago. You've got to be optimistic when you live in the Middle East. You cannot live in the Middle East being pessimistic, because you cannot survive."
Levon said he thought that "more and more Arab countries realize that they cannot really get rid of us, and they start more and more to internalize it."
"And I think that in the end, it's better for them to overcome the extreme Islamist movements in their countries, which lead them nowhere. And when they do, we all will benefit and the potential is so big. … I think in 40 years we're going to be in a better situation."
Editor Barbara Bayer contributed to this article.