Jewish Family Services and Jewish Vocational Services team up to help area refugees; details outlined for food packages, transportation
Published: Thursday, 09 March 2017 10:00
Written by KCJC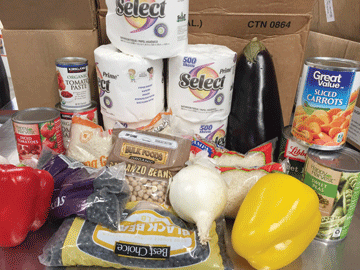 Details are now in place for how the community can help area refugees through a special effort by Jewish Vocational Services (JVS) and Jewish Family Services (JFS).
The two organizations have teamed up to provide much-needed food and transportation to the local refugee community. While few new refugee arrivals are anticipated this year due to changes in U.S. policy, refugee families already in Kansas City need ongoing help. The U.S. government only provides families with financial assistance for a brief three-month period when they receive financial support. Last year alone, JVS resettled almost 600 refugees from 14 different countries.
JFS' new food pantry at its Brookside East location will provide food packages for the refugees served by JVS. Volunteers will prepare food boxes from items donated by the public. Donations sought include the following with the number of items needed to support the effort for the first few months: 
• Bags of dried beans- red, black or garbanzo — 250 bags
• Canned carrots — 250 cans
• Canned peas — 250 cans
• Toilet paper — 80 12 packs (960 rolls total)
• Dried spices
Items can be dropped off in JFS Food pantry barrels at the agency's location at the Jewish Community Campus in Overland Park, the JFS Brookside East location at 425 E. 63rd St., and at JVS' offices, 4600 The Paseo, Kansas City, Missouri. A typical monthly food box for a refugee family of five might include 5 pounds of rice, four bags of beans, eggs and fresh vegetables. Paper goods such as toilet paper and paper towels will also be included.
Refugee food packages will be delivered by volunteers monthly.  
In the area of transportation, JFS and JVS teamed up to form Refugee Rides, a volunteer-based transportation program for refugees served by JVS. The program will provide transportation to doctor's appointments, school programs and cultural activities to help refugees access needed services and adjust to life in Kansas City.
Refugee Rides needs volunteers Monday through Friday during typical business hours to pick up refugees from their homes and take them to appointments at JVS or other places in the city. Most of the refugees are currently living in the historic northeast neighborhood of Kansas City.
Two volunteer trainings for those interested in driving for Refugee Rides will take place on: 
• March 16, 5:30 to 7 p.m. at JVS' office, 4600 The Paseo
• March 20, 10 to 11:30 a.m. at JFS' Brookside East office, 425 E. 63rd St.
Volunteer drivers only need to attend one training session. To register for a training, or for more information on Refugee Rides, please visit www.jfskc.org/refugeehelp or e-mail This email address is being protected from spambots. You need JavaScript enabled to view it..
JVS is the largest refugee resettlement agency in the metropolitan area, resettling over 5,000 refugees in the Kansas City community since 2004.