The New Reform Temple blossoms as it celebrates 50 years of Reform Judaism
Published: Thursday, 02 March 2017 12:08
Written by Barbara Bayer, Editor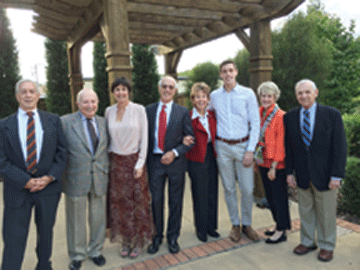 When The New Reform Temple celebrated its 25th anniversary in 1992, Paul Uhlmann Jr., the congregation's first president (who passed away in 2016), said that despite initial dire predictions of an early demise, "we find ourselves flourishing — dedicated to a philosophy that is not for everybody, but is designed for those to whom the meaning of Reform Judaism is important."
The same thing can be said today. This year marks the Reform congregation's 50th anniversary and NRT is honoring its past and looking to its future in a number of ways, including a gala celebration for members in May, a Krasne Scholarship Weekend (see page 8), restoring the congregation's Holocaust Torah and conducting an endowment campaign to ensure its financial stability.
NRT was founded in 1967 with 127 charter families who were dissatisfied with the national trend of Reform Judaism moving toward more ritual observance. At the time, Reform congregations were adding more Hebrew to their services and incorporating Bar and Bat Mitzvah classes for their children among other moves to become more traditional.
A few of those original founders, including Kenneth Baum and Arthur Stern, are still active members of the congregation who have watched it mature. In a recent interview, Baum said that besides the demand for a "more Reform congregation," NRT has thrived over the years because "there was a good need for a smaller size congregation."
The congregation is still on the smaller side, with approximately 220 member families, and has gravitated a bit more toward tradition through the years. But its dedication to services filled with English, along with its Kansas City, Missouri, location, friendly atmosphere and acceptance of intermarried couples, is still the bedrock of the congregation.
Stern, a life member of the board of directors who regularly attends board meetings, thinks the move toward more tradition is a preference of NRT's younger members.
"They came, perhaps, from other congregations. They came, perhaps, from other cities, and they are more traditional in feeling. Originally, we didn't accept Bar Mitzvahs and Bat Mitzvahs and of course we do now and actually our services are still classical," he said.
Rabbi Alan Londy is the congregation's eighth rabbi and has been with the congregation for six years. He believes NRT has stayed true to its original mission and principles, while at the same time evolving.
"It's a different world. The congregation certainly has a very liberal interpretation of Judaism but I think it's taken on a certain amount of more traditionalism than it did originally, which is just the nature of Reform Judaism and American Judaism," he said.
Rabbi Londy points out that the congregation is still using the Union Prayer Book that it adopted 50 years ago, which he believes is a very important part of the congregation's heritage. 
"On the other hand, there is some more Hebrew in our services, the chanting is different. We don't have an organ or choir anymore. We have a more contemporary service," he said.
"We continue to believe, as did the people who founded the congregation, that we Jews have an obligation to work for the universal brotherhood and sisterhood of humankind and I think those are some of the Classical Reform principles that are very important to us," he continued.
Welcoming atmosphere
After 50 years, current NRT President Ann Darke said The New Reform Temple remains a welcoming and beautiful place where common ideas and friendships can blossom.
"It continues to be a place where members can share religious intimacy with one another through worship and Jewish learning. The founders felt 50 years ago, as we do today, that religion is a very personal matter. We still want to foster that feeling," she said.
Darke, who grew up in Boston and has been a member for about 20 years, was drawn to the congregation as her daughter was preparing for her Bat Mitzvah at another area congregation. Darke's husband, who is now deceased, was not Jewish and their original KC congregation was not as welcoming to interfaith couples as is NRT. 
Being "sensitive to the needs of interfaith families" as Rabbi Londy describes it has been another foundation of the congregation for many years. Darke estimates that 60 to 70 percent of NRT's members under age 40 are intermarried.
Darke continued to be impressed by the congregation's welcoming atmosphere after her husband died in 2002.
"I found that I could go to services on Friday night and there was always somebody to sit with and always somebody who would invite me to go along to dinner. I just found it was really welcoming and I appreciated that."
Darke understands that when NRT was created, it was comprised of a very close-knit community.
"We really work hard to try to create that same sense of community that they had with the original founders because they all liked each other. They were friends."
That's one thing that continues to attract Baum to the congregation 50 years later.
"I enjoy the camaraderie of people, some of whom I have known all of my life," said Baum. "I enjoy the rabbi we have now and the things he is bringing in, including new music."
Ann Slegman Isenberg, whose mother Betty Slegman, was a founding member, was in sixth grade when the congregation was born and belongs to NRT today.
"Honestly, what's great about The New Reform Temple is that it has changed so little in terms of the way it looks and feels," said Isenberg. "I remember there were some great teachers. Stuart Davis was the rabbi. He was a really terrific rabbi."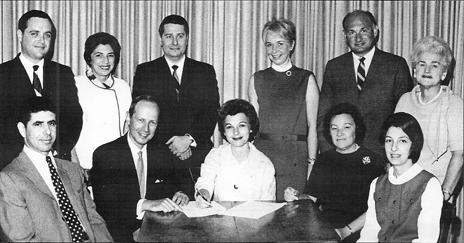 Committed to Kansas City
Fifty years ago all the local congregations that are still in existence today were located on the Missouri side of the state line. Today, NRT is the only congregation with a brick and mortar presence in Kansas City, Missouri, and the congregation is committed to staying at the corner of Gregory and Main (7100 Main Street).
Both Darke and Rabbi Londy believe the congregation's commitment to its neighborhood interested prospective members.
"We've attracted a number of people that live in the neighborhood and want a religious affiliation," Darke said.
As part of its commitment to remain at its current location, Darke noted that at the turn of the new millennium successful endowment and building renovations campaigns were launched, "which allowed for a beautiful renovation of the building."
"Then a few years later, thanks to the generosity of the congregation, money was raised to refurbish the sanctuary. In 2008 the Krasne family made a generous grant to the Temple, which allowed the congregation to purchase the adjoining property. The old building (on that property) was razed, and now there is a gorgeous garden that can be used for outdoor services, receptions and life events," she explained. 
In an effort to grow its presence in the community, The New Reform Temple decided to open its religious school in grades K through three to anyone in the community, including those who were not members. Darke said that "a lot of those families had a good experience and ended up joining." There are currently 55 students in the religious school according to its director Shelley Rissien. A handful of those students are members of Congregation Kol Ami, another Reform congregation that has a presence in Missouri.
Continuing to thrive
As a lifetime member of the board, Stern believes NRT will maintain its success.
"Going to board meetings I see a younger, very, very active group of members. They are enthusiastic, they are involved. They are doing similar things to when we first started with the membership 50 years ago," he said.
One of these things is a commitment to social justice.
"We've resurrected our social justice committee and we've just begun a partnership with JFS. We're going to have different groups go work in the new food pantry in Brookside," Darke said.
Besides more community service opportunities, Rabbi Londy believes there is a desire to expand other programming as well.
"In the last six years we've done a lot more educational programming, which has been very well received and all those things have been good for us," he said.
One example is the Torah study group that meets on Shabbat morning.
"We've never had that," said Rabbi Londy. "It's been an incredibly powerful part of our congregation. We have an adult Bar and Bat Mitzvah class, which is a major development for us since The New Reform Temple didn't have B'nai Mitzvah and B'not Mitzvah in the beginning of its history. We're kind of evolving."
In the last year or so NRT has also changed its service a bit, bringing in Nathan and Becky Bliss as song leaders. 
"They've created a much more dynamic and involved service and our people have overwhelmingly loved them. No one would confuse us with an organ and a choir service that was the founding of the congregation," Rabbi Londy said.
He said the congregation will continue to be an accessible place for interfaith families.
"We have people of all flavors of Judaism here and I think one of the things that makes us thrive is that we are somehow able to create a synagogue community that allows for a lot of variations of people. I think that's going to be one of our strengths. We're going to continue to be very eclectic and I think that's good for us."
Even as it celebrates its 50th anniversary, congregation leaders believe there's a lot of people in the area who don't really know what NRT is really about.
"We're going to have to have to do a lot more outreach and we're going to have to get our message out and I don't think we do a very good job of that. We obviously need new members because that original group of founders are no longer with us and their kids may or may not be as committed as they were," Darke said. 
All believe the future is bright.
"I think we'll continue to evolve. I think we obviously have to do outreach to younger families but we have to keep the families who have been with us happy as well. I think it's wrong for us to always say we need younger families. We're a congregation that's multi-generational and we have to appeal to all the generations. I think there is going to be a certain amount of experimentation that will continue to happen," Rabbi Londy said.
"We've had bumps in the road like all congregations, but it's generally a harmonious congregation with good leadership. I'm very impressed with the leadership of the congregation. I've been a rabbi in several other congregations and the leadership here is very good. It's very committed and very strong."