Beth Torah's Weiner Religious School celebrates inclusion
Published: Thursday, 02 March 2017 12:00
Written by KCJC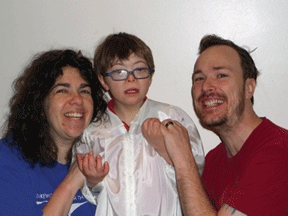 Every February the American Jewish community marks Jewish Disability Awareness and Inclusion Month and is an opportunity to celebrate the community's commitment to removing barriers, celebrating diversity and connecting with Jewish values.
While Congregation Beth Torah has a long history of commitment to social justice and inclusion throughout the Kansas City community, this year the Reform congregation ramped up its commitment to providing a Jewish education for all learners. Under the leadership of Interim Director of Education Marcia Rittmaster, CBT's URJ Accredited Weiner Religious School has welcomed over 34 students with special needs and their families into the religious school, marking CBT as one of the most inclusive religious school environments in Kansas City. 
While always a school to welcome diverse learners, this year's commitment has really brought a change to the whole school community.
"It's wonderful to see how quickly these new students have been integrated into our congregational family," said Rittmaster. "We were thoughtful in this process, holding special meetings with all of our faculty (not just those who had special needs students in their classrooms) and our madrichim to educate them on the best ways to make our new friends feel at home in worship and their classrooms. We see even the youngest children reaching out to help and support these new students. The constant involvement of our Sasone consultant, Lindsey Lipsky, whether by visiting classrooms, problem-solving or providing written materials, is what makes this program work so well for us. Most recently she set up a special Sensory Room to help some students take a break and then return to class to continue to fully participate."
To support inclusion in the classroom, students and teachers in grades K through fifth have the support of youth madrichim, CBT youth congregants who work each Sunday supporting students in the classroom, as well as Sasone paraprofessionals who work with students who have more intensive needs in the classroom. Staff also receive support, training and resources from their part-time Sasone consultant. Lipsky offers support to teachers in providing accommodations, behavior support and inclusive training for all CBT students to be successful in the classroom. 
Parents have been thrilled by the support of CBT staff in their commitment to helping all learners thrive. Rachel Ommerman, whose 7-year-old son Sam began attending CBT Religious school this year, said, "Beth Torah has done a great job including Sam in everything going on in the classroom, and provided a wonderful paraprofessional to assist Sam. Sam's teacher reached out to us before school started to talk about Sam's needs and it is clear that she is working to ensure Sam is a part of his class. Sam is able to do projects and participate in the classroom. Additionally, we can see that the other kids interact with him and are understanding about his limitations. We have been very pleased with our decision to send him to CBT this year."
The Weiner Religious School accepts any Jewish student, regardless of congregational affiliation. Because of that, its list of non-member religious school students continues to grow each year.
For more information on Congregation Beth Torah's Weiner Religious school and its inclusion programs visit www.beth-torah.org. Beth Torah's Weiner Religious school is open to the entire Kansas City community and membership is not required to attend religious school. For more information about Sasone, a program funded by Jewish Federation of Greater Kansas City, which provides support for children identified with developmental, physical, mental, or behavioral issues to area preschools, congregational schools, and private schools, visit https://www.jewishkansascity.org/Get-Involved/JFED-Family/Sasone.