TEDxOverlandPark talks raise interesting and innovative ideas
Published: Thursday, 23 February 2017 10:00
Written by Marcia Horn Montgomery, Contributing Writer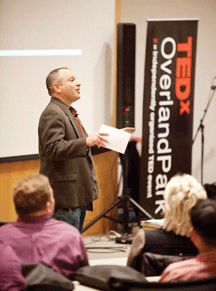 Ever feel like you have this great idea but don't know what to do with it? Well, TEDxOverlandPark, a local offshoot of the nationally known TED, might be the answer.
TED, created 30 years ago, stands for technology, entertainment and design. It is a nonprofit organization devoted to ideas worth spreading and is a platform for today's leading thinkers and doers to spread great ideas through live events. Each person's talk must be 18 minutes or less.
Speakers have included Bill Gates, Jane Goodall, Elizabeth Gilbert and Monica Lewinsky. Tickets for TED events are $8,000 and by invitation only. There are two conferences a year — one in Scotland and one in North America. However each one is videotaped so you can watch them on www.ted.com or YouTube.
TEDx was created for local communities and are all over the world, with about eight of them each day. Sherri Jacobs, an artist and art therapist, says she received a license for TEDxOverlandPark in 2012, but gave it up for a few years. So this year's event will just be her second one.
The theme of the 2012 event was "Game-Changers," which took place at the Nerman Museum, and Jacobs chose people who were game-changers in their fields.
These local events are also videotaped to go into the TED library where they can be viewed on the national or local site. There are literally thousands upon thousands of videos of the most fascinating topics on just about anything you could imagine, says Jacobs. In 2012, TED videos had reached 1 billion views and continue to grow.
"Ask anybody do they watch TED talks and they say yes I watch them all the time," she says.
Besides Overland Park, there are several other TEDx organizations in this area: Kansas City, UMKC, Lawrence, K-State and Columbia.
"The one in Kansas City is the largest one in the world," says Jacobs. "They do it at the Kauffman Center for the Performing Arts. There's a lot of excitement about it."
She says one conference sold out in three minutes and crashed the Kauffman's computer system.
This year's TEDxOverlandPark theme is "Systems."
"One person and one idea can change a system, the way a system works. That's one way of looking at it," Jacobs explains. "And the other way of looking at it is that so often we think in terms of individuals, and many of these people think in terms of systems and how systems influence thinking and how thinking influences systems.
"'Systems' loosely connects the speakers together, but the idea is that we have people from different disciplines, speaking on the same loosely connected topic."
Three of the six speakers are connected to the local Jewish community. Omri Gillath, Ph.D., is an associate professor in the Department of Psychology and the Hoglund Brain Imaging Center at the University of Kansas. He will talk about "The Power of (Secure) Love."
Megan Felt will tell how in 1999, as a high school student, she co-created the "Life in a Jar" project, the story of Irena Sendler. In 1942, Sendler, a non-Jewish social worker, went into the Warsaw Ghetto and saved more than 2,000 children from the gas chambers. She adopted the children into the homes of Polish families or hid them in convents and orphanages.
Sendler and others made lists of the children's real names and put them in jars, then buried the jars so she could someday dig them up, find the children and tell them their real identities.
The third Jewish speaker is Alana Muller, a networking speaker, workshop facilitator, coach and author of "Coffee Lunch Coffee: A Practical Field Guide for Master Networking" and a blog, CoffeeLunchCoffee.com. She will address "Defining Your Purpose."
Other speakers are Christopher Habben — "Navigating a Relational System"; Gaelynn Wolf Bordonerro — "Art Therapy: International Service and Disaster Response"; and Bonnie Hangemann — "Waiting for the Fog to Lift." All are local people.
Speakers are not paid for TED events, Jacobs says; they're just happy to be invited. She has multiple solicitations from across the country from people wanting to speak at her events.
"A TEDx talk can often change people's careers and companies," she says. "Once they have a TED talk under their belt, it just opens them up to a new global audience and many people's careers drastically change because they expose themselves to a whole new audience and world and it gives them some clout. So it's got a lot of hype around it and a lot of mystique and marketing value with it."
She says the national TED conferences began as a for-profit idea, but are now nonprofits. Money from ticket sales goes back into each event to cover extra costs and the swag bag items.
"It's one of these pure things; the only agenda they have is spreading interesting ideas," Jacobs says. "The thinking is you could go to a lecture for two hours and hear someone talk, but one of the ideas of the TED or TEDx talks is that it has to be 18 minutes or less, and that you really can squeeze your information into 18 minutes or less to captivate your audience."
Visit www.TEDxOverlandPark.com for more information.
TEDxOverlandPark conference
TEDxOverlandPark will take place from 2 to 5:30 p.m. on Thursday, March 2, at the Rio Theatre, 7204 W. 80th St. Following the conference, an after party will be held at the InterUrban ArtHouse, 8001 Conser, Overland Park.
Tickets are available at www.eventbrite.com and are $50 each. Tickets include six speakers; two TED talks videos; a swag bag with a TEDx T-shirt, coupons for downtown Overland Park vendors and free movie passes; musical performance; a ticket to the after party with complimentary food and drinks; and an opportunity to see the art show, 'America's Creative Crossroads.'