Listening Post
Published: Thursday, 16 February 2017 10:00
Written by Barbara Bayer, Editor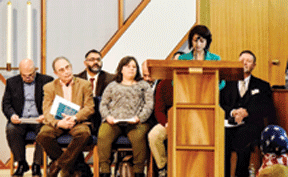 'SUPPORTING REFUGEES — More than 1,300 people attended a vigil for refugees and immigrants on Sunday, Feb. 5, at Overland Park Christian Church. An additional 1,900 people viewed the vigil on live-stream. The organization that planned the event, KC for Refugees, is a grassroots organization that helps refugees being settled by Catholic Charities, Della Lamb Community Services and Jewish Vocational Service (JVS).
Speakers from the Jewish community included Rabbi Mark Levin, Rabbi Alan Londy and JVS Executive Director Hilary Cohen Singer. They spoke about the Jewish value of welcoming the stranger, and the plight of immigrants and refugees who are caught in the middle of the presidential ban and already having been vetted and granted permission to enter the U.S.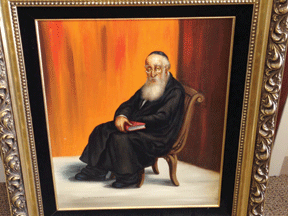 MYSTERY PORTRAIT — Jewish Community Chaplain Rabbi Jonathan Rudnick has come across a portrait he believes is meaningful to someone in the Kansas City community. He has no information about the portrait, other than he thinks it could have been left behind at Village Shalom. Anyone who can identify the man in the portrait and may know how to reach his family is encouraged to contact Rabbi Rudnick at 913-915-7730 or This email address is being protected from spambots. You need JavaScript enabled to view it..
PRE-PURIM FUNDRAISER FOR ISRAELI KIDS —The Love for Israel Relief Fund is sponsoring a ballet and costume party at 7:30 p.m. Feb. 25 at the Jewish Community Center's gymnasium. Admission is $15 for adults and $10 for children 12 and under. Tickets are available online until Feb. 23 at www.love4israel.com 
The Dramatic Truth Ballet Theatre is performing "The Story of Esther" as a dramatic interpretation of Megillat Ester. A costume contest will follow the ballet where guests can meet the ballet characters. People of all faiths are invited to come in costume for an evening of fun, food and prizes.
Proceeds from the event will help needy children in Israel during Purim next month. Nearly one in three Israeli children lives below the poverty level.  According to the Love for Israel Relief Fund, child poverty in Israel is at the same level as in Mexico. Those who want to contribute toward the Purim project can do so at donate.love4israel.org.
Since 2006 the Love for Israel Relief Fund has advocated for at-risk Israelis in Israel and internationally. The mission is to connect Israeli leaders and Israel's supporters worldwide to improve the quality of life for vulnerable Israelis. In 2014 the United Nations Economic and Social Council granted special consultative status to the Love for Israel Relief Fund.