Children's Mercy Hospital taking good care of 2017's First Jewish Baby
Published: Thursday, 09 February 2017 12:50
Written by Barbara Bayer, Editor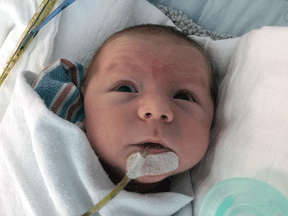 Most newborns spend a day, maybe two, in the hospital before going home with mom and dad. But Brody Robert Presson Shalley, The Chronicle's First Jewish Baby of 2017, isn't that lucky. Born five weeks early (his due date was Feb. 14) at Children's Mercy Hospital at 12:12 a.m. Sunday, Jan. 15, he is expected to continue making the hospital's neonatal unit his home for the next four to six months.
Brody is the son of Rachael and Chet Shalley. First-time mother Rachael said he was born at Children's Mercy because it was determined he was high risk baby while he was still in the womb.
He was born with an intestinal atresia. According to aboutkidshealth.com, that's a malformation of the intestines in which a segment of bowel is very narrow or is disconnected from the rest of the GI tract. 
"The doctors already knew there was a very good chance that he would have surgery soon after he was born," the infant's mother explained.
In fact Brody was less than 12 hours old before he was taken to the operating room.
"He had his first surgery that morning at 7 a.m. They cut 2 centimeters of his bowel to get rid of the atresia. Then they reconnected it," Rachael said.
The newborn had a second emergency surgery last week before he was 2 weeks old. This time his stomach was distended and "he was in a lot of pain." 
"They took him in for exploratory surgery and they found a perforation in his bowel. Then they cut another 5 centimeters of his bowel."
The Shalleys are hoping that Brody will "live a normal life."
"The doctors and the nurses are watching him very closely and making sure he's getting better," said his mother, who is at the hospital every day to check on the baby.
During all this he has managed to gain a few ounces, now weighing in at 8 pounds. He was born weighing 7 pounds, 4 ounces and was 21 inches long. His eyes are currently a light blue/gray and he has brunette hair.
"His hair has gotten lighter, but not by too much," Rachael said.
Because Brody isn't at home with his parents, Rachael said that some days are rough.
"It would be nice to just take him home. My husband and I are hanging in there and we're hopeful that he'll be OK."
The Shalleys gave their young son the name Brody because, his mother said, "I just liked it." 
Brody's two middle names each have  meaningful family significance.
"Robert is named after my dad, who passed away," said Rachael. "Presson is my husband Chet's grandpa's last name."
Rachael grew up in a Jewish home and became a Bat Mitzvah and was confirmed at The Temple, Congregation B'nai Jehudah. She and her husband were married by Rabbi Jacques Cukierkorn on Oct. 10, 2015. While they are just barely out of the newlywed stage of their marriage, they have been together for 10 years.
"We met in college at Blue River Community College," Rachael said.
Rachael Shalley is not unfamiliar with Children's Mercy Hospital. She works as an X-ray technician at the hospital. Chet Shalley works for a branch of OSHA for the state of Missouri. Since it's anticipated that Brody will be in the hospital for several months, Rachael will return to work at the hospital when the baby is 6 weeks old, and then take the remaining six weeks of maternity leave off after Brody leaves the hospital. 
For being the first Jewish baby born in the area in 2017, Brody and his parents received a free one-year subscription to The Chronicle and gifts from the following advertisers in honor of being the First Jewish Baby of 2017:
Engraved crown ring from Brookside Jewelry BKS
$25 gift certificate from Cosentino's Price Chopper 
Bouquet from Craig Sole Designs
$25 gift certificate from Gates Bar-B-Q
$500 gift certificate toward kindergarten tuition at the Hyman Brand Hebrew Academy
Two tickets to any one show of the Johnson County Community College Performing Arts Series 2016
$25 gift certificate from Rileys Phillips 66
$25 gift certificate from the Tasteful Olive
$25 gift card from Urban Table