Menorah Medical Center's Jacobs, Kort take helm of medical staff
Published: Thursday, 26 January 2017 11:06
Written by Jerry LaMartina, Contributing Writer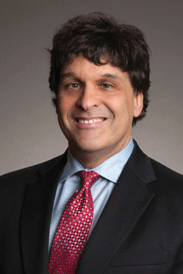 Jonathan Jacobs, M.D., is the new president of the medical staff at Menorah Medical Center, and Heather Kort, D.O., is the new president-elect.
Jacobs and Kort officially took their positions on Jan. 1 and will serve one-year terms. Kort is slated to become president when her term as president-elect expires. 
Jacobs also is a member of the hospital's board of directors, and Kort also is chairman of its Department of Medicine. 
Jacobs is an internist and practices at Kansas City Internal Medicine. He's also on the medical staff at St. Luke's South Hospital in Overland Park. 
Kort is a hospitalist and co-owner of KC Hospitalists in Overland Park. A hospitalist is an internal medicine physician who treats only hospitalized patients.
Jacobs and Kort are both Jewish. Jacobs is a member of Congregation Beth Israel Abraham & Voliner. Kort is a member of The Temple, Congregation B'nai Jehudah.
Jacobs was born at Menorah's original location, 49th Street and Rockhill Road in Kansas City, Missouri, in 1968. His father was a physician there for a couple of years about five years before Jacobs was born.
He estimated that about 30 Jewish physicians practice at Menorah.
"I think there are a lot of Jewish doctors who've been around a long time who are still affiliated with Menorah," said Jacobs. "It probably has more Jewish doctors than any other hospital in town. ... It still has a very Jewish-community feel, but the majority of patients are non-Jewish."
Jacobs' role as president of Menorah's medical staff is to ensure that a high quality of care is provided to patients and to negotiate between physicians and the hospital when necessary.
"We're the advocates of the medical staff, and our job is to make sure they peak their performance," he said. "If we talk about creating medical programs at the hospital, then we help set it up and work with the hospital and doctors."
The quality of Menorah's medical staff is what made Jacobs eager to take on the role of president, he said.
"The thing I love about Menorah is we've got a great medical staff," he said. "What's different from any other hospital in the city is that the doctors' communication with each other is excellent. People call me, I call them, and it's not just charts written down on paper. … When I can advocate for my peers on the medical staff, we all work together and their heart is truly in the right place."
Jacobs called health care "a moving target" because of the trend toward pay for performance for physicians and hospitals and increasing competition among hospitals. Patient surveys, hospital certification and medical outcomes all bring scrutiny and pressure.
"We want to score highly in quality measures that affect insurance companies' and Medicare's rankings, and it affects reimbursement," he said. 
Jacobs received a bachelor's degree in Latin American studies and history from Columbia University in New York City and a medical degree from the Mayo Medical School at the Mayo Clinic in Rochester, Minnesota.
Kort attended the Kansas City University of Medicine and Biosciences in Kansas City, Missouri, and did her residency training through the University of Missouri-Kansas City. 
In her role as president-elect of Menorah's medical staff, Kort runs the credentialing committee, which oversees the process for all new doctors and nurse practitioners who want privileges at the hospital, she said. 
"I practice mainly at Menorah, so I often take care of people in the Jewish community," she said. "If a patient tells me, 'I really wanted something kosher,' I tell them I'm Jewish so they know I understand. It helps the connection."  
Kort's role as president-elect is important to her, she said, because it's a good way to help maintain and improve the quality of health care Menorah provides.
"It's important to be involved in where you work or what you do," she said. "If you want to effect change, the only way is to be involved."
A third member of the Jewish community, Stephen Rosenberg, D.O. is a member of the hospital's board of directors.