KC Repertory Theatre stages musical revue honoring Sondheim
Published: Thursday, 19 January 2017 10:00
Written by Jerry LaMartina, Contributing Writer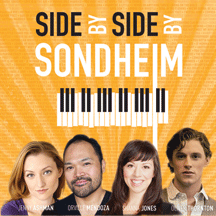 The Kansas City Repertory Theatre's production of the musical revue "Side by Side by Sondheim" is scheduled to run Jan. 27 through Feb. 19 at the Spencer Theatre on the campus of the University of Missouri-Kansas City.
The show has been nominated for London's Olivier Award and Broadway's Tony Award for Best Musical. It celebrates the music and lyrics of renowned American composer and lyricist Stephen Sondheim. 
The show ran in London and New York for more than 1,000 performances. It includes songs from Broadway hits including "Gypsy," "West Side Story," "A Funny Thing Happened on the Way to the Forum," "Anyone Can Whistle," "Company," "Follies," "A Little Night Music" and "Pacific Overtures."
The show focuses on Sondheim's most prolific period, from ages 20 to 48, said Eric Rosen, the show's director and the Rep's artistic director.
"Stephen Sondheim is a staple at the Rep," Rosen said. "He's 87, and now in the last 10 years he's ubiquitous. Every season on Broadway for the past seven or eight years has had a Sondheim production. People my age (46) and younger grew up knowing he was kind of a giant and a genius in musical theater."
Rosen and Sondheim are both Jewish. "Side by Side" has three main themes, Rosen said: anxiety about New York, marriage and show business — themes often identified with a Jewish sensibility.
"In a way, those are three quintessential things that I'm worried about all the time as a Jewish person," he said. "There's a Woody Allen-esque song in 'Follies' called 'Buddy's Blues' (in which) people are desperately in love with someone until they love them back. 
"A lot of my shows are about fascinating topics about anxiety relating to relationships and show business," he said. "I think that explains some of my affinity for this material."
Rosen's Jewishness informs everything he does and is integral to his identity as an artist, he said.
"In the '60s and '70s, Jewish identity became mainstream identity," he said. "It's emotionally and culturally present for me in my work."
Rosen has never directed a musical revue, and he said "Side by Side" poses some unusual challenges.
"It puts a lot more emphasis on the music and the performers because there are tons of stories but not one overarching narrative," he said. "The material is very familiar because they're singing songs from 'West Side Story' and others. It's been one of the most joyful experiences I've had as a director. … I look forward to going to work every day and being with this group of people and this music."  
The show features actors Jenny Ashman, Shanna Jones, Orville Mendoza and Oliver Thornton.
Rosen said that audiences will identify with moments in the show whether they're in their 20s and trying to decide whether to get married or in their 60s and looking back on their lives with a mixture of satisfaction and regret, and if infidelity has ever ended a relationship.
"The show is really funny, and then Stephen Sondheim has a way that, as you're laughing, he makes you reflect and feel something that might be surprising," he said. "Sondheim is like the great modernist in that he shows us what things feel like, not what they look like, and he does that with music."
That attribute of Sondheim's work is universal in theater, he said.
"That's our goal in the theater is to get at something you can only get in an audience, to feel it with other people," Rosen said. "It's a communal experience that has to be live and has to be present."
FACT BOX:
What: "Side by Side by Sondheim," a musical revue celebrating the work of Jewish composer and lyricist Stephen Sondheim, presented by the Kansas City Repertory Theatre.
Where: The Spencer Theatre on the campus of the University of Missouri-Kansas City, 4949 Cherry St., Kansas City, Missouri.
When: Jan. 27 through Feb. 19
Tickets: $25 to $59 for lower-level seats and $30 to $59 for upper-level seats. Discounts are available. 
For more information or to order tickets, call the KC Rep Box Office at 816-235-2700 or visit www.kcrep.org.