Victor Wishna to have feature-length play performed at The Living Room Theatre
Published: Thursday, 05 January 2017 10:00
Written by Kris Baker, Community Editor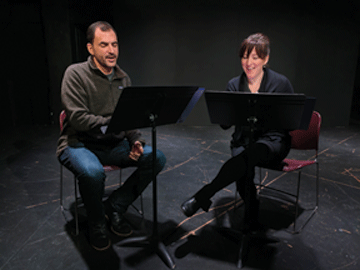 A new act has begun in the life of Victor Wishna, one he has been working toward most of his life.
Wishna will have his first full-length play, entitled "Shearwater," performed at The Living Room Theatre from Jan. 18 through Jan. 29. He has had one acts and live readings of his work performed before; his stage writing has been produced regionally and locally, including at multiple Kansas City Fringe Festivals, the Barn Players, the Fishtank, and the City Theatre of Independence. However, this will mark his premiere as a playwright of a full, extended production.
"Ever since I was a kid I wanted to be a playwright," Wishna said. "It is always great to be part of festivals and to have your work preformed, but to have people come out for a whole night to see your work, it's a real honor."
"Shearwater," is a world-premiere workshop production that will close out the fourth-annual Writer's Den series of new works at the Living Room Theatre. The Living Room uses this series to feature new works by local talent. Wishna's play was chosen out of several others.
"I am really excited that The Living Room Theatre is going to be the one to produce my first full-length play," Wishna said. "They are really good at producing fine theater — I have never seen a bad show there — they have the talent and the passion to create something wonderful."  
Founded in 2010 by Rusty Sneary and Shawnna Journagan, The Living Room is an art space in the Crossroads Arts District in Kansas City, Missouri. In its history The Living Room has been transformed into several different kinds of performance spaces to present a wide range of works. The space has been used not only for The Living Room's past five seasons, but has also housed KC Fringe Shows, staged readings, concerts, private parties, and weddings.
"Shawnna and I are absolutely dedicated to making The Living Room a home for Kansas City playwrights," says Artistic Director Sneary. "Our city won't be a true 'theatre town' until we are filling the seats for new work born and bred right here in KC. TLR focuses its best resources toward the nurturing and development of original work and talents our city has to offer. When a local voice like Victor's comes along, we take notice and we take care and we invest ourselves into the process. Shawnna will serve as director of this premiere in addition to her responsibilities as executive director, and I will be present as artistic director through the entire process and we are very excited."
"Shearwater" stars Peggy Friesen as Esther, Ben Auxier as Ben and Ellen Kirk as Lizzy. Wishna said he plans to attend as many rehearsals as he can.
"Theater is such a humanizing thing, seeing actors breathing life into characters I have written, it might sound obvious, but it's a great experience to see them come alive," Wishna said. "The script is the blueprint, but it is a collaborative effort. It takes a lot of people working together to make this work."
"Shearwater" tells the story of Ben, a struggling novelist who has lucked into the gig of a lifetime: ghostwriting a memoir for Esther Lindman, the colorful and infamously outspoken widow of one of the 20th century's greatest American artists. But when the stories don't add up, and new pressures mount at home, Ben just digs deeper, soon discovering that truth — like art — is in the eye of the beholder. The first seeds of "Shearwater" began 15 years ago when Wishna was working as a writer in New York City. A number of actual experiences would inspire aspects of the play, such as his friendship with a New York socialite who would in part inspire the character of Esther.
"The play is a conglomeration of experiences and some totally made up stories," Wishna said. "Esther is such a larger-than-life character that she was fun to write. And she is Jewish; so that background of hers comes out in things she says and does during the play."    
Wishna is a member of Congregation Beth Shalom and sits on its board of directors. He says Jewish themes are generally present in what he writes, included both by choice and sometimes subconsciously.
"Some of the themes in this are what it means to pass memories and heritage down to others," said Wishna. "Esther is 80 years old and the daughter of immigrants. I think they are some specifically Jewish ideas in the play. I have been looking for Jewish themes in some interesting places."
One of those places is the history of Kansas, as Wishna is beginning work on a play about a real Jewish figure from the Bleeding Kansas era. 
Wishna has experience with several forms of writing. He is a theatre contributor and columnist for KCMetropolis and the author of "In Their Company: Portraits of American Playwrights" (Umbrage Editions, 2006). Right now though, playwriting is taking center stage for him.
"To have something I have wanted since I was 10 years old finally happen, it's a dream come true," Wishna said. "I am just really enjoying being called a playwright."
Shearwater Performance Times:
Wednesday, Jan 18, 8 p.m.
Thursday, Jan. 19. 8 p.m.
Friday, Jan. 20, 8 p.m.
Saturday, Jan. 21, 8 p.m.
Sunday, Jan. 22, 8 p.m.
Wednesday, Jan. 25, 8 p.m.
Thursday, Jan. 26, 8 p.m.
Friday, Jan. 27, 8 p.m.
Saturday, Jan. 28, 8 p.m.
Sunday, Jan. 29, 3 p.m.
For more information and to purchase tickets, visit thelivingroomkc.com.