Local artist Arlan explores world through abstract painting
Published: Thursday, 05 January 2017 10:00
Written by Jerry LaMartina, Contributing Writer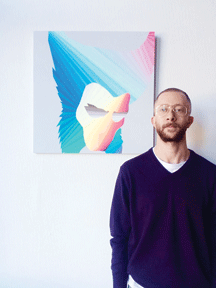 Zach Arlan had an idea about two years ago to change things up in his work life — and his art life.
The 32-year-old artist and designer was born and raised in Leawood, where he lives now. He attended Hyman Brand Hebrew Academy from kindergarten through graduation.
In 2004, at age 19, he left Leawood for New York City's Pratt Institute, where he studied industrial design. After graduation, he worked graphic design jobs at Clinique and then Estee Lauder, where he worked for five years, and then he worked for two years as creative director for Chelsea Hotels, all in New York City.
He grew restless in the corporate world, though, and he started putting more time and energy into his painting. About a year ago, he returned to the Kansas City area. Now he's working two part-time jobs, one as a substitute teacher at Hyman Brand and the other at Waldo T-Shirts in Kansas City, Missouri. And he paints.
An exhibition of Arlan's abstract paintings will be at Mildred's Coffeehouse, 1821 Wyandotte St. in Kansas City, Missouri, in the Crossroads Arts District, from Jan. 2 through Feb. 2. Another exhibition of his paintings opened Oct. 28 and will be shown through January at Leawood Fine Art Gallery, 11709A Roe Ave., in Leawood's Camelot Court. His work also has been shown at the Roasterie Café in Leawood. He currently has no other exhibitions scheduled for 2017.
"I wanted to test out what it would be like to do something 100 percent for pleasure," he said of his decision to focus more on his painting. "I spent so long in New York working at a corporation, so I wanted to try something for my own happiness."
The pull of abstract painting for Arlan involves the breadth of abstract art's ability to reach people.
"What drew me to abstracts has always been trying to communicate and reach the (greatest number) of people," he said. "Abstracts can be something to everyone, whereas if it's a landscape, it's always a landscape.
"My most recent paintings are abstract but they're plays on comic book characters, super heroes," he said. "Super heroes are generally thought of as super human and without the parts of human beings that are emotional. I painted them in vivid colors but in a more melancholy sense to connote emotion."
An abstract sensibility is always at work in his paintings, even those he creates purely for pleasure.
"I kind of think of it as, whatever I'm working on will a little bit inform the next thing I do," he said. "So, if I do an abstract that's derivative of a landscape, it's always abstract."
Arlan's interest in art started early in childhood.
"Subconsciously, if I were to think about it, it's a universal way to communicate, whereas language is more limited," he said. "That's always been my favorite way to communicate. In college, I studied industrial design, which is a more functional art. In middle school, I had art as a way of therapy for myself, a form of meditation. I didn't think about it that way then."
When he was living and working in New York, he started thinking about making a living as an artist.
"I figured I'd try to use my natural abilities and see if it would work," he said. 
Arlan liked the well-known energy of New York City, but he found that the city itself didn't particularly inspire his artwork.
"Anytime I pick up color or look at color, I find inspiration in it," he said. "I can find inspiration in anything, really — the sky, cars, clothing, people. Anything."
Arlan plans to continue his path of seeking inspiration for his art while taking an unconventional approach to making a living in the meantime.
"I'm kind of challenging the norm of, after college, finding a job and sitting at a desk," he said. "I think that everyone wants to have something that they're constantly getting better at. I'm finding that I need that to be happy and constantly improving. That's not going to be sitting at a desk. It's going to be using colors and communicating with people through art."
Quick facts
Who: Local artist and designer Zach Arlan
What: Exhibition of abstract paintings
When: Jan. 2 through Feb. 2
Where: Mildred's Coffeehouse, 1821 Wyandotte St., Kansas City, Missouri, in the Crossroads Arts District. In addition, an exhibition that opened Oct. 28 will continue to be shown through January at Leawood Fine Art Gallery, 11709A Roe Ave., in Leawood's Camelot Court.