KC's 18th Jewish Film Festival set for Jan. 8-22 and beyond: Film topics explore Jewish identity, culture and values
Published: Thursday, 29 December 2016 10:00
Written by Jerry LaMartina, Contributing Writer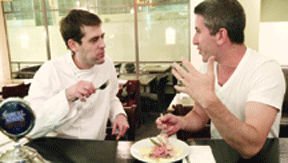 Robin Prosini wants people to think of films as vehicles to help them understand themselves, their lives and the societies they live in.
Prosini is chair of the 2017 Kansas City Jewish Film Festival, which will feature six films from Jan. 8 through Jan. 22 and two more later in the year, all made by Jewish filmmakers.
The festival is in its 18th year and is presented by the Jewish Community Center of Greater Kansas City (The J). All the films to be shown in January will be screened in The White Theatre at the Jewish Community Campus. One of the other two films will be shown at Tivoli Cinemas in Westport and the other at On Broadway: A Rooftop Event Space in The Crossroads Arts District.
"It's our hope that we keep the festival alive during the year instead of all within two consecutive weeks," Prosini said.
The festival is important both to Kansas City's Jewish community and the broader community for universal reasons, she said.
"Films talk about society, people and their lives and struggles and happy times, and we need to understand humanity through watching films, especially with the (presidential) election we've just been through," she said.
Prosini and about 10 others were part of the committee that viewed 45 films and chose eight of them for the festival. The group sought to present films about a variety of topics that explore Jewish identity, culture and values, and then "round each one out with partners and events," she said.
"Last year, we had a lot of serious films, many of them about the Holocaust," she said. "This year, we have films about food, love stories, identity stories and travel to strange lands, and about the Holocaust." 
Discussions will follow some of the films and food will be available in the lobby outside the theater for some films as well. Prosini hopes that adding events to the screenings will draw more moviegoers.
Slightly more than 700 tickets were sold for last year's festival. Prosini hopes to sell out this year, which would mean selling 3,000 tickets. The White Theatre at the JCC seats 500.
Prosini, who belongs to The Temple, Congregation B'nai Jehudah, got involved in the festival by accident. She came to last year's festival because she'd recently moved to Kansas City from Philadelphia and always went to its Jewish film festivals. By chance, she sat next to Gayle Levin, The J's assistant executive director, at last year's Kansas City festival.
"She asked me what I thought of the films and invited me to get involved in organizing this year's festival," Prosini said. "This is a very close-knit community, and they've welcomed me with open arms."
The films in this year's festival have themes that are "more inclusive than only Jewish themes," she said. 
"These films show you that the Jewish life is not that different from everybody else's," she said. "People have more sense of connectivity than separateness. People's lives do intersect with other types of people."
Kansas City's 2017 Jewish Film Festival: Rundown
• "In Search of Israeli Cuisine," 6:30 p.m. Sunday, Jan. 8. 
This film looks at Israel's food and cultural scene and features Israeli-born chef Mike Solomonov, winner of the James Beard Award. He takes viewers across Israel exploring restaurants, home kitchens, wineries and cheese makers from more than 100 cultures that are part of present-day Israel. The film is shown in partnership with the Israel Spirit Committee and includes a free pareve dessert reception after the screening.
• "Wunderkinder," 7 p.m. Thursday, Jan. 12. This German film is set in the Ukraine in 1941 prior to the German invasion. It shows a deep friendship that develops between three musically talented children, two of whom are Jewish virtuosos and the other a talented German girl, who share a love of music. Their friendships extend beyond religions and nationalities. The Nazi invasion destroys their world, and they and their families deal with the threat of death inherent in war. It's presented in partnership with the Midwest Center for Holocaust Education and has subtitles.
• "Mr. Predictable," 7:30 p.m. Saturday, Jan. 14. Adi was 5 years old when his father died in the war in Lebanon. Before the army calls his father, he makes Adi swear he'll be a good boy, help his mother and be responsible. Adi keeps his promise and becomes a most thoughtful man. His life changes radically when he meets Natalia, and romance develops. Adi must choose between love and reason, between dreams and reality, and between Natalia and his family. In Hebrew with English subtitles.
• "Magic Men," 5 p.m. Sunday, Jan. 15. This Israeli film centers on a 78-year-old Greek man and his Hasidic rapper son, who've been estranged for many years. The two embark on a road trip from Israel to Greece in search of an old magician who saved the father's life during World War II. The journey leads them to absurd encounters and a final father-son confrontation. In Greek with English subtitles.
• "To Life," 7 p.m. Thursday, Jan. 19. This German film tells the story of aging cabaret singer Ruth and the confused Jonas. Ruth is running from her past while Jonas wants to avoid the future. Still, the couple manages to reaffirm life for each other. In German with English subtitles.
• "Hummus: The Movie," 5 p.m. Sunday, Jan. 22. This Israeli film looks at what has become the delicious, nutritious super food sweeping America. It has the power to draw together Muslims, Christians and Jews in the Middle East, America and elsewhere around the world. The film centers on three main characters: a hardworking Muslim woman, an ever-smiling Jew and a young Christian Arab on a quest for meaning. Despite their historical and cultural differences, they have a common passion for hummus. The film is shown in partnership with the Jewish Federation of Greater Kansas City and the Sisterhood of Salaam Shalom. Discussion and dinner follow the film. Dinner tickets are sold separately.
• "Melting Away," late spring at Tivoli Cinemas in Westport. This drama tells of a family in crisis after the parents discover their child is a secret cross-dresser. For the first time in Israeli cinematic history, the film was conceived after a murder at the Tel Aviv LGBT Youth Center and the shock felt by Doron Eran, the director, and his partner, screenwriter Bili Ben Moshe, after learning that some parents refused to visit their injured children at the hospital. 
• "Gaga," late summer at On Broadway: A Rooftop Event Space in The Crossroads Arts District. Enter the world of Ohad Naharin, renowned choreographer and artistic director of the Batsheva Dance Company. The film embraces the elusive beauty of contemporary dance and immerses the audience in the creative process behind Batsheva's performances.
Tickets:
Individual tickets cost $10. A Festival Pass, priced at $50, includes all six films that run Jan. 8-22. Tickets may be purchased at www.thejkc.org and kcjff.org or by calling 913-327-8054. Complete festival details and teaser reals are available at www.