Kansas City Actors Theatre presents 'My Old Lady'
Published: Thursday, 29 December 2016 10:00
Written by Jerry LaMartina, Contributing Writer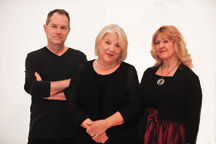 Kansas City Actors Theatre will present the regional premiere of award-winning Jewish author Israel Horovitz's play "My Old Lady" from Jan. 14 through Jan. 29.
This will be the first time one of Horovitz's plays will have been professionally produced in Kansas City in nearly 25 years. 
"My Old Lady" is the playwright's "love letter to France" and will be directed by Darren Sextro. The play tells the story of a failed American novelist who, when he inherits a luxurious but crumbling Paris apartment, is sure his fortune has turned — until he learns the apartment comes with a tenant in her 90s and her spinster daughter. 
"We're a bit obsessed with sharing writers that are rarely, if ever, produced here in Kansas City," said Sextro, in a press release for the play. "We're kind of fascinated with Horovitz because he's such a cool guy and he's done so much over the decades. 
"Recently he's done work that honors the vibrant and romantic lives of older people, but the bottom line is that he has an interesting perspective on the world," Sextro said.
The play's cast is comprised of actors Kathleen Warfel, David Fritts and Jan Rogge, who've all been involved in professional theater in Kansas City for at least 30 years.
"Working with three artists who have this well-established of a working relationship is a rarity, probably because the nature of professional theater is so transitory," said Sextro. "We know that a core part of our audience likes to see themselves on stage — older people who still want so much out of life but are already being discounted. It also helps that the show is funny and romantic and provides three great acting roles, especially two for middle-aged and older women, which is an artistic group that deserves more opportunities than they're offered."
Horovitz is the author of more than 70 plays, four films and one novel, according to www.israelhorovitz.com and the New York Public Library (http://archives.nypl.org/the/18700). His first play, "The Comeback," was produced in Boston when he was 17 years old. His plays have been translated and performed in more than 30 languages.
He was born on March 31, 1939, in Wakefield, Massachusetts, to Hazel Rose (née Solberg) and Julius Charles Horovitz, a trucker who'd become a lawyer at age 50. He studied at the Royal Academy of Dramatic Arts in London from 1961 to 1963. He held a residency at the Royal Shakespeare Company in 1965 and two Rockefeller Foundation fellowships in playwriting, in 1968 and 1969, and he was the playwright in residence at the City College of the City University of New York from 1969 to 1974.
Horovitz has five children: film producer Rachael Horovitz, television producer-director Matthew Horovitz, composer/performer Adam Horovitz of the Beastie Boys, graduate student Hannah Horovitz and writer/filmmaker Oliver Horovitz. He is married to Gillian Adams, former English national marathon champion.
"My Old Lady" will be presented at Union Station's H&R Block City Stage. Previews will be presented Jan. 11 through Jan. 13. Opening night is Jan. 14. Audience talk-backs will follow performances on Jan. 18 and Jan. 27. 
Tickets can be purchased by calling the theater's central ticket office at 816-235-6222 or by visiting www.kcactors.org.