Technology twirls and shines in 2016 Hanukkah Art Contest
Published: Thursday, 22 December 2016 10:00
Written by Barbara Bayer, Editor
 Penina DeLuca's grand prize winning entry in the 20th annual Hanukkah Art Contest is an animated drawing of a menorah and a dreidel presented to the judges on an iPad. The animated version of the drawing is available on our website, kcjc.com. Photo by Scott Fishman.
Modern electronic technology had a significant impact in The Chronicle's 20th annual Hanukkah Art Contest, sponsored by Chabad House Center and The Jewish Chronicle. This year's grand prize, provided by Chabad House and awarded to Penina DeLuca, is a $100 gift card to Target.
Rabbi Mendy Wineberg said it was evident, as always, that a lot of thought was put into all the entries, which this year included drawings, paintings, sculptures and poetry.
"We had entries that incorporated the latest technology, which is something the Rebbe would always talk about. He believed it was always a good idea to use what's out there in the service of the good and the holy. With technology so pervasive in our lives today, it's important that the kids realize that it's not used just for the simple and the mundane but to further advance their Judaism," Rabbi Wineberg said.
The winning entry was an animated drawing by Penina DeLuca, presented to the judges on an iPad. Penina is the 7-year-old daughter of Hannah and Joe DeLuca and attends Brookridge Elementary School and religious classes at The Shul — Chabad of Leawood. 
"My dad is an animator and helped me a little," said the second-grader, noting that the dreidel spins and the flames flicker.
The young artist's father clarified Penina's statement, saying, "I put it on the web for her. That's all I did."
When thinking about her project she thought of Hanukkah and the first two things that came to her mind was a menorah and a dreidel, both of which are depicted in her drawing. 
Penina drew the picture — actually several pictures — and scanned them into the computer. For the animation to work, Penina had to make numerous drawings of the dreidel that spins and the menorah with the flickering candles. For example, where the final piece of art shows one dreidel, for it to spin the young artist had to draw it six times — four drawings of one side each and two drawings of two sides. 
"She drew the menorah several times as she wanted to make sure it was a kosher menorah," mother Hannah said. "She was very adamant about that."
Penina chose to use colored pencils for her art project. When she is not entering Hanukkah art contests, she likes to draw a variety of things including people, houses and food.
For her efforts as the grand prize winner, Penina will receive a $100 gift card from Target from the contest's sponsor, Chabad House Center.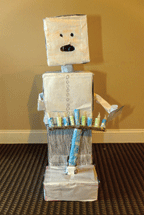 Sroly Sosover's Hanukkah Robot took first place in the Lower Division. Sroly is the 8-year-old son of Chanie and Rabbi Berel Sosover and is a third-grade student at Hyman Brand Hebrew Academy.
He decided to enter a Hanukkah robot because he loves to build with cardboard and has made a robot before. An old mobile phone is placed just inside the robot's mouth and can be turned on, making it appear that the robot is singing the blessings for lighting the Hanukkah candles. In front of the robot is a hanukkiah and the robot is holding the shamas, preparing to light the hanukkiah. 
Sroly said he worked on his robot for a few weeks. 
"My husband gave Sroly a few ideas but he built it completely on his own," his mother Chanie said. 
For winning first prize in the Lower Division, Sroly will get a $50 gift card from Target.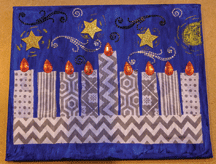 Eli Maker, an 11-year-old fifth-grader at Lakewood Elementary and Congregation Beth Torah, is a three-time Hanukkah Art Contest winner. In 2014 and 2015 he won first prize in the Lower Division with Royals World Series-themed entries. This year, his first in the Upper Division, he stuck strictly to Hanukkah and used Vincent van Gogh's "Starry Night" painting as his inspiration.
Eli said this was his first use of canvas in the contest and he glued fabric strips on it to make the menorah. Like van Gogh's painting, he drew a moon in the top right-hand corner. He used a couple of different types of beads in the project — orange tear-drop beads served as the candle flames and the other beads signify the wind.
Eli likes to do arts and crafts and is taking an art class. He is the son of Stephanie Kolb and Joshua Baker. He also was awarded a $50 gift card from Target.
The contest was open to students in grades kindergarten through eight. All projects were to be original and relate to the story or celebration of Hanukkah and were submitted in the following three categories:
Photography/graphic design: (Can be a single picture, photo collage or something designed on the computer.)
Writing: Poem or essay on the meaning of Hanukkah
Art: May be either two- or three-dimensional (for example paint, drawing, craft or sculpture). Entries created from kits were not accepted.
All students who entered the contest are encouraged to attend, free of charge, Chabad House's annual Chanukah on The Ice on Monday, Dec. 26. (See box for more information.)
The following is a list of students who entered this year's Hanukkah Art Contest:
Grand Prize winner: Penina DeLuca
First Prize — Lower Division: Sroly Sosover
First Prize — Upper Division: Eli Maker
Honorable Mentions:
Evie Freed
Gabriella Granoff
Abigail Kaye
Shia Kolb
Avia Matta
Noya Matta
Maya Muller
Noah Muller
Emily Natanova
Etty Sosover
Menachem Sosover
Menachem Sosover
Tag: Editor's note: There are multiple spellings of Hanukkah. While The Chronicle typically uses Hanukkah, in this article the spellings used in the art projects and for the event were used.