JVS employee receives violin from anonymous donor
Published: Thursday, 22 December 2016 10:00
Written by KCJC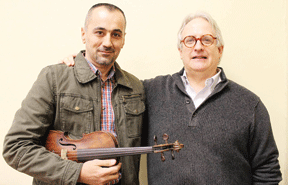 An anonymous donor who is a member of The New Reform Temple has given a violin to Majid Mourad, an employee of JVS. Mourad played the violin in his native home of northern Iraq, but was unable to take his violin with him when he fled the country as a refugee. Rabbi Alan Londy from New Reform Temple presented the violin on behalf of the donor to Majid at the JVS office.
The gift, a handmade violin, was acquired by a young boy who was born in 1908 and immigrated to the United States from Poland. The previous owner used the violin to perform at silent movies and on cruise ships to help support his family. He passed the violin on to his granddaughter, who felt it should be given to someone who could play it and, like her grandfather, was forced to flee their home for safety and freedom from persecution. 
The donor said, "I am so glad that after more than half a century on a shelf, my grandfather's violin will again make music in the home of another refugee."
Mourad has been in the United States, and Kansas City for approximately six months. At JVS he is a case specialist and works directly with clients to help them with everything from teaching them how to pay their water bill to helping them apply for their documents. He is married and the couple has one daughter. He was thrilled with the gift.
"For me, my life is starting again. I had to leave my home, but now I can practice the violin. My life is better and I am happy. A big thanks to the family who gave me the violin and JVS."
JVS engages, encourages, and empowers people to achieve social, cultural and economic integration. JVS serves more than 8,000 people in the Kansas City community each year. JVS helps new refugees make Kansas City their new home. The organization's new facility has collaborative space for cultural and employment training. JVS provides services for clients such as job placement, housing, case management, an urban gardening program and more. Each year JVS resettles refugees from more than ten different countries.
JVS also provides rehabilitation services for individuals with disabilities by teaching them how to find jobs and stay employed through job skills training, job development, and case management services. JVS helps people who have PTSD, physical and developmental disabilities, mental health issues, learning disabilities, ADHD, neurological disorders, brain injuries, autism, and are deaf and hard of hearing.  
For additional questions or to set up a private media tour contact Amy Eastin at 816-471-2808 ext. 8922 or This email address is being protected from spambots. You need JavaScript enabled to view it..
JVS was established in 1949 to assist Holocaust survivors, refugees, and those returning from WWII, enabling them to build better lives in the United States. Today, its programs meet the needs of all who face barriers to employment.