Sigma Delta Tau returns to KU campus
Published: Thursday, 08 December 2016 10:00
Written by Marcia Horn Montgomery, Contributing Writer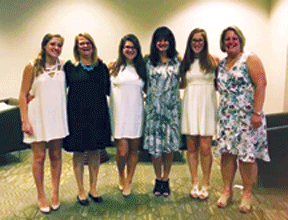 After a three-year absence, Sigma Delta Tau (SDT) is back on the University of Kansas campus. The sorority shut down in 2013 due to low membership numbers. Now, just three years later, Michelle Carlson, national board member for KU, says it's time to come back.
Carlson said many incoming freshmen and parents, in addition to Hillel, expressed interest in SDT's return.
"For the time we were closed, I was checking in with the university yearly to talk about numbers, women going to recruitment and the need for a sorority of our background, and in partnership with the university we decided that this was the right time to return," she said. "Hillel had a lot of student leaders that were interested in SDT and so we are back on campus."
SDT was founded in 1917 by seven Jewish women who had been discriminated against because of their religion. According to the Sigma Delta Tau website, its vision is to promote academic achievement; build leadership skills; instill a sense of philanthropy; and create a lifelong bond of friendship.
Carlson said SDT is open to members of all backgrounds, although the sorority partners with the Jewish community to honor its heritage. Partnerships include Hillel, Jewish Women International (JWI), and AEPi (Alpha Epsilon Pi) and ZBT (Zeta Beta Tau) fraternities. SDT will continue to organize programs with these establishments.
"All of the sororities at this point are social organizations — all 26 of the national sororities — so all of us were founded on a religion, but we're not religious organizations," Carlson said.
At present, there are about 117 members of SDT on the KU campus. The sorority will be recruiting in the spring and participate in formal recruitment next fall.
Also next fall, SDT will reclaim its house on Edgehill Road. For the past three years it has been leased to Alpha Tau Omega fraternity.
"We have some joint programming with ATO this semester to use the house, but it will be completely ours again in the fall," said Carlson. "Our housing corporation has maintained the house for us during this time."
In the meantime, SDT has been busy with other programs. They just did one called Life Savings, partnering with JWI. Life Savings is a financial literacy course, which was open to all women on campus, not just those who belong to sororities. It teaches women to be financially independent.
"There are a lot of studies that show women are in abusive relationships and cannot get out of these relationships because they don't have the financial tools to be independent," Carlson said.
The sorority partnered with JWI and OPI, which manufactures nail products for salon professionals, for the program Girls Achieve Grapeness and sold out of this exclusive purple-colored nail polish to raise $2,000. The money went to fight domestic violence.
Carlson said the nail color is always purple, but the shade changes every year. This year it's a dark purple with a little sparkle in it.
"It's supposed to be a way for us to make a visible statement against sexual assault and domestic violence," she said. "The girls wear it and they sell it and we're able to have a tangible item that we can sell and raise money for this upstanding organization."
Next semester, SDT is bringing safe, smart dating to campus, partnering with JWI and ZBT. Carlson said this is the first program of its kind to bring Greek men and Greek women together to engage in conversations about healthy relationships and sexual assault.
She said she wants everyone to know that SDT is an inclusive chapter. SDT calls itself "inclusively Jewish," so members of all backgrounds are welcome as long as there is respect for its founding and its partnerships.
"There definitely was a void at Kansas with our absence," she said. "Jewish students who were looking not just to have the experience of going to the University of Kansas, but also to have a Jewish Greek experience."
She said the girls wanted a place that does not have meetings on Shabbat or any Jewish holidays, so it's important to have a chapter with their background. There are two fraternities of this ilk on campus, AEPi and ZBT, but the need for a similar sorority was there as well.
Logan Cole, a member of Congregation Beth Torah, is one of the local girls who decided to pledge SDT this year.
"I decided to pledge Sigma Delta Tau my sophomore year of college because I saw an opportunity to help create the foundation of this chapter for the years to come. My mom was in SDT at KU during her college years and it is really cool to be able to share this experience with her. It wasn't super important that I pledge a sorority with a Jewish background but now that I am a part of it, it is nice that there is a handful of girls who come from the same background as me as well as all Jewish holidays are taken into consideration for events," she said.
Carlson said SDT is glad to be back on campus.
"We have some outstanding young Jewish leaders in our chapter and it's great to have them back. When Jay Lewis, the Hillel director, came to our installation brunch, he was so happy to see many of his leaders in our group. We're very excited."