Chef Lesley Covitz competes on Food Network show to raise money for her damaged restaurant
Published: Thursday, 08 December 2016 10:00
Written by Kris Baker, Community Editor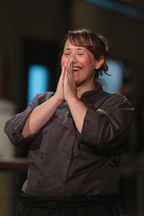 "You have been chopped."
These are the words that contestants on the popular Food Network show "Chopped" dread hearing. Being chopped on "Chopped" means being eliminated from the cooking competition program.
They are words that Chef Lesley Covitz did not have to hear.
Overland Park native Covitz, who had her Bat Mitzvah at Kehilath Israel Synagogue and her confirmation at Congregation Beth Torah, faced off with three other chefs on "Chopped" on Tuesday, Nov. 29. The episode was dubbed "Viewer's Vengeance," meaning the viewers at home got to pick all the ingredients that the chefs must use. After an appetizer, entree and dessert round there is only one chef standing at the end to take home the prize. Covitz said she will not soon forget her time on "Chopped."
"It was amazing, it was exhilarating, it was a lot of fun," said Covitz. "I loved everything that came with the experience."
She filmed her episode in August, which was part of a chaotic summer for Covitz and her family filled with television cameras, a newborn, a GoFundMe account and a fire. As it turns out though, being on the show came at an opportune time. 
"When I walked into the studio I didn't know what to expect," said Covitz. "It was a big challenge but an exciting one. Things happen for a reason and I am glad this turned out like it did."
Little Fish in a Big Pond
"I have always been super-motivated about food," said Covitz. "I just got it, the measuring, the timing, I was comfortable with all that."
Covitz, the daughter of Mary and the late Rick Covitz, attended the culinary arts program at Johnson County Community College, where she says at the time there were only about 10 students in the program.
"The training was incredible," Covitz recalls. "I got to work with some talented wonderful people. They taught how to be an artist with food."
After graduation, she worked for about a year as a sous chef at Lidia's in Kansas City before deciding in 1999 that she wanted to move to New York City.
"I was going to be a little fish in a big pond, but I really wanted to experience the food scene here," she said. "I didn't mind if I was little out of my element."
Covitz says she was fortunate enough to work at some well-known and highly regarded New York restaurants alongside some established chefs. It was when she was working at Union Square Café that she met her husband, who was also a chef there. Together they opened their own restaurant, Stocked in the Prospect Heights neighborhood of Brooklyn, which specializes in American sandwiches with freshly baked bread. For the last 10 years Covitz has also worked as a private chef for what she calls a "wonderful Jewish family."
"I love to make Jewish food," Covitz said. "I make matzah balls, we do catering for Rosh Hashanah and I have made latkes by the dozens."
According to Covitz, being on a Food Network staple liked "Chopped" is just one way that being a chef has changed since she first donned her apron and chef hat. With the explosion of popularity of cooking shows and the rise of the celebrity chef, people see her job differently now. 
"When I started as a chef it was just a job," she said. "Now when you tell people you are a chef people say 'that's so cool, that looks like so much fun.' " 
As she was becoming a bit of a bigger fish in the big pond of New York City, Covitz started making some important connections. One of them was a casting director for "Chopped," who was looking for female chefs. Covitz said the casting director tried to get her on the show for years.
"I wasn't sure I wanted to be out there like that," she said. "I did an hour-long interview with them and they liked me so I decided to give it a shot."
Covitz had recently given birth to their second child and was taking the summer off from her private chef job. She and her husband wanted to put in a beer garden at Stocked and prize money from the show would help with that. "Chopped" came to her restaurant and filmed her and her family there in June. Covitz was ready to spend the summer focusing on her restaurant and getting ready to be on the show. And then Fourth of July happened.
Covitz and her family were watching fireworks on the holiday over the East River from a roof top. She planned to go in early the next morning; she got up at 6:25 a.m. At 6:27 a.m. she got a call. There was smoke coming out of Stocked. An electrical fire had started overnight and the restaurant suffered severe damage.
The fire forced the restaurant to close and as of now they still don't know when they will be able to reopen it. Covitz said this was a difficult time, and before the insurance money came in they were not sure where they would get money for food, diapers and other essentials. That is when her neighbors and customers came to their rescue.
"Our regulars started a GoFundMe account and raised some money for us," Covitz said. "It helped us eat, pay rent, we are in an amazing neighborhood. Part of me wants to move back to Kansas City, but it would be hard to leave this community." 
The Food Network came back for more interviews after the fire. They knew they had a good story. For Covitz though, she now had extra motivation. Winning "Chopped" would no longer help them put in a beer garden, winning now could help them get their business up and running again.
Viewer's Vengeance
In August, Covitz went to Chelsea Market to film her episode, which took 14 hours and included numerous interviews. 
"I talked for so long I couldn't remember everything I said," Covitz remembers. "It was interesting to see what was edited out and what was used."
She met the celebrity chefs that would be making the chopping choices, Mark Murphy, Geoffrey Zakarian and Chris Santos, as well as the chefs she would be facing off against. And then it was time to start the competition and get their baskets of ingredients. 
"Chopped" is known for its off-kilter ingredients chefs are asked to use, however because viewers got to choose what they would be working with, Covitz and her fellow contestants got some of the most unusual items the show has ever seen.
The first round was to create an appetizer in 20 minutes. When Covitz opened her basket, one item stuck out immediately, duck blood soup. She had never used that before, but she was able to take that along with the ingredients and prepare a potato and cheese dish that impressed the judges and she moved on. It was in the second round — the entree round — that Covitz got the ingredient she thought might be her undoing, an elk heart.
"I wanted to vomit," Covitz said. "It was raw and gross. I thought how would I want to eat it, and every time I had used a heart before I made a braise. Unfortunately, 30 minute was not enough time. The heart was undercooked. However, they loved my sauce."
Covitz moved on to the final round, the dessert round. This time the ingredient that stuck out in the basket was pigs' tails. 
"Pigs tails in a dessert," Covitz said. "That was a nightmare. I was never that confident until the end when I looked over at the other dessert. It did not look good. That's when I knew I was going to win."
Her dessert did impress the judges, tails and all, and Covitz was named the "Chopped" champion. Covitz believes she may have been overlooked by the other "Chopped" challengers.
"It was three guys and they looked at me like this goofy girl," she said. "They thought I was no competition. And then one by one they all got chopped until I won."
As the winner she received $10,000, which will be used to finish the renovations to their restaurant. Covitz and her family had a watch party of over 50 people to celebrate her victory. They got a projector to watch the episode on an oversized screen.
"It was weird seeing me up there, but humbling," Covitz said. "It was a little embarrassing when they played a part of my interview where I say, "I have 20 years of experience, I should win.' I sound cocky, which I'm not. I guess that's just how TV works."