BVN choral director named Kansas Teacher of the Year
Published: Thursday, 08 December 2016 10:00
Written by Marcia Horn Montgomery, Contributing Writer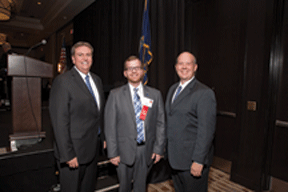 For a small town guy who teaches in the performing arts sector, being chosen as the 2017 Kansas Teacher of the Year is quite a feat.
Jason Sickel, 35, who is the choral director at Blue Valley North High School, says it felt surreal when his name was called during a special ceremony in Wichita on Nov. 19. He was one of eight finalists who were in the running for the honor, and says he had the opportunity to meet and get to know the others.
"They're all fantastic educators as well, so you're thinking these are all people who have taught longer than I have in English and mathematics and other subject areas that are important, but I feel mine is very important as well," he says. "As a person who's in the performing arts, in vocal music, you sometimes think it's not going to get the recognition, so I was just really honored by that recognition."
Sickel says you often hear the phrase "core subjects," referring to English, math, science and social studies, but he thinks of himself as being part of the core curriculum as well.
"I think what we do helps students become well-rounded individuals and sometimes we forget that we want well-rounded students, and what I do plays an important part of that educational process," he says.
Sickel earned his bachelor's degree in music education from Emporia State University and is currently working toward his master's degree in music education at the University of Missouri-Kansas City. He has been teaching music for 13 years, and is now in his fourth year at Blue Valley North.
He grew up in St. Marys, Kansas, about 25 miles west of Topeka. His was the only Jewish family in a town that was 80 percent Catholic. But he says they welcomed the Sickels with open arms.
The family drove to Topeka to attend services at Temple Beth Sholom, a Reform synagogue, with which he is still affiliated.
His parents are both retired teachers. His father was a school band director who was also the community band leader. Sickel says the community band would play on the Fourth of July, have an interfaith Thanksgiving service and perform at other local events, and everyone would sing along.
"My dad had a very positive impact on that community," he says. "There was a lot of community involvement that kind of had an effect on me as I watched my parents play that role. So I think that was a defining lesson for me."
At BVN, Sickel teaches all four grade levels, nine-12. There are five choirs comprised of about 140 students. His smallest class is freshmen men with 18 students. The largest class is mixed choral, which has 57 students now and he believes will likely top 60 the second semester.
Unlike other classes where you may take, for example, algebra one year, then move on to geometry the next and probably never see that teacher again, Sickel feels fortunate to be able to follow his students through all four grades and watch their progress.
"That's one of the most rewarding parts of my job," he says. "I'm one of the few teachers in the building who really does have the opportunity to see a student all the way through. That has an impact on me and hopefully it has a good impact on the kids, too. It's a really outstanding thing to be able to watch a kid grow, both musically and in terms of their own maturity. It really is pretty neat."
Sickel says his teaching style is one of critical thinking, of being a very detail-oriented thinker, yet also having a sense of humor. He puts the class plan on a screen so when students come into the classroom they know what they're going to try to achieve that day.
"I enjoy having fun in the classroom," he says. "It's a good mixture of feeling like we're a family, we're having fun, but we're also going to get something accomplished in the process."
Sickel says during the second semester part of his duties as Kansas Teacher of the Year, as well as the other states' teachers of the year, will be to travel to various colleges and universities and give presentations to education majors who want to be teachers.
"It's quite an interesting endeavor," he says. "It will be really cool."
According to the Kansas State Department of Education, Sickel was presented with a $4,000 cash award from Security Benefit in Topeka. He will receive a lifelong learning scholarship to attend participating universities free of charge as long as he continues teaching in Kansas; the Hubbard Foundation Kansas Teacher of the Year Ambassadorship, which provides funds for travel and other expenses incurred by his duties as Kansas Teacher of the Year; and have the use of a rental car from Enterprise Rent-a-Car for travel associated with the title. Jostens Inc. also provided Sickel with a Leader in Education ring.
The National Teacher of the Year will be announced in Washington, D.C., in late April or early May.
Sickel says it's important to let people know that he does not think of himself as the best teacher in the state — there are many outstanding educators in his own school. So to label it "of the year" is a little misleading, he says.
"I think it's a little bit ridiculous when you have so many different subject areas and different teachers teaching different things, so I'm humbled by the recognition," he explains. "But what it does do is allow me to be an advocate and an ambassador for all of the teachers in Kansas and all of the students. I get to be a representative of that which is excellent in teaching."
Sickel resides in Shawnee with his wife Heather and their 5-year-old daughter Lillian.