Israeli celebrity singer, humanitarian to perform here Dec. 10
Published: Thursday, 01 December 2016 15:58
Written by Marcia Horn Montgomery, Contributing Writer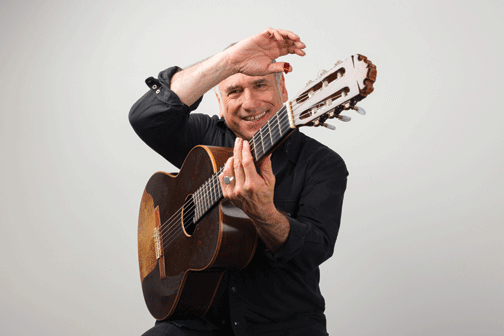 You may or may not have heard of singer-songwriter David Broza, but in Israel he's a superstar. The public will have two opportunities to see him while he is here as Congregation Beth Shalom's Kaplan Scholar Artist-in-Residence.
Meet him at Shabbat services on Dec. 10 when he will talk about the lyrics to his album "East Jerusalem/West Jerusalem," and experience his music at a concert that evening, a fundraiser for the synagogue. He will be accompanied by Ali Paris, a native of Morocco and Palestine, who is known for his fusion of Middle Eastern and Western music styles.
Broza is noted not only for his music but his humanitarian projects to promote peace and greater human understanding. Made in 2014, "East Jerusalem/West Jerusalem" is a documentary film along with a companion album. It brought Israelis and Palestinians together for eight days of music and song, and can be viewed on Netflix or iTunes.
He says Israel is such a small country that every person can contribute to improving the environment in which they live, so there's a very high level of volunteering — some political and some social.
He has been involved in humanitarian efforts since he was a young man.
"All my life, since I was 22 and even before that, I was always working with either delinquent kids or with the handicapped," he says. "When I was 22 I started getting more involved with co-existence and conflict resolution, and music always had a major role in this because music is so accessible. It's easy to communicate with."
Broza wasn't always interested in music. He began painting at about age 6 and wanted to be a graphic artist. He played the guitar at age 12, but never thought of it as a career path. However in 1977 when he left the Israeli military service, he needed work.
He says he was offered a chance to perform in a show and while performing was given the opportunity to write and contribute some music.
"I started writing music and every song I wrote became a hit," says the 61-year-old. "By the time a year went by it was obvious that my destination was going to be in music. So I signed a record deal in Israel and haven't looked back since."
His first hit song was "Yihye Tov," loosely translated as "Things Will Get Better." Since then he has strived to promote peace through his music, which is a reflection of the three countries in which he was raised — Israel, Spain and England.
Broza calls his music eclectic, which is in sync with critics who have compared his music to pop rock, folk rock, blues and flamenco.
He says he doesn't know if his music has brought Israelis and Palestinians any closer to peace, but believes that if it attracts all kinds of people on a political and social level, "then music can diffuse a very tense and difficult situation and create a positive situation out of it."
"I don't dedicate my life to educating; I take part in situations and gatherings and activities that seem right to me and invite me to join," he says.
But he does initiate some projects himself, like "East Jerusalem/West Jerusalem." He says this led him to working with children in Shuafat, a Palestinian refugee camp within Israeli borders. He has stayed on for several years, working with kids and teaching them musical skills.
Broza claims he is not well known outside of Israel, not even with the Palestinians.
"I have a lot of Palestinian friends who love my music who ask to jam and play with me, who love to listen and come to the concerts, hundreds of them," he says. "But it's not what I have in Israel where my music is on the radio, my music is in every home, my music is part of Israel's culture. It's a very different level."
He does admit, though, to having upwards of 15 to 16 million fans throughout the world. He is very popular in Spain and South America because he sings in Spanish. In addition to these countries, his worldwide performances have included Belgium, Germany, Mexico and the United States. He recently performed a concert in Australia.
"It's not at stadiums; we do theaters, and for an honest career to take place and to keep me going for 40 years, I can't complain," he says.
All of Broza's songs are secular. He says he does not write for religious purposes, but it's great if they happen to end up in a prayer because music has its own way of appearing where it wants to be.
With a host of multi-platinum albums behind him, Broza credits his popularity to his love of what he does.
"It helps create a wonderful relationship with an audience," he says. "I've been doing it for 40 years and it just keeps on adding up and adding up, but I don't know what makes it work. I write music because I love it. People love the music and they buy it."
Broza resides in Tel Aviv and says he's looking forward to coming to Kansas.
"It's been awhile, so long that I can't remember when, so it's time to come back and I'm happy to be invited to perform and check it out," he says.
Meet David Broza
Israeli musical celebrity David Broza will be Congregation Beth Shalom's Kaplan Scholar Artist-in-Residence on Shabbat morning beginning at 9:30 a.m. on Dec. 10. He will speak about the background of his lyrics, as well as his work with Palestinians, for his most recent album.
Following services a special Kiddush luncheon will be held welcoming Broza to the community. All are welcome to attend. RSVP for the luncheon at http://bethshalomkc.org/events/broza/ by Dec. 2.
At 8 p.m. Saturday, Dec. 10, Broza will be in concert at the 1900 Building, at the corner of Shawnee Mission Parkway and State Line, Mission Woods. The entire community is invited to this annual fundraiser. In addition to the entertainment, there will be a dessert reception and an open bar. Tickets may be purchased on the website mentioned above.