Jewish playwright has production take the stage during 6 X 10 Play Festival
Published: Thursday, 01 December 2016 10:00
Written by Kris Baker, Community Editor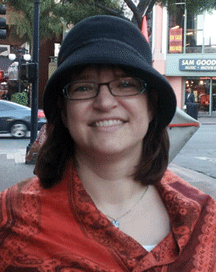 Lezlie Zucker wants her voice to be heard. Whether singing, acting or writing a play, she has always wanted to reach people through the arts.
"I have been lucky enough and enjoyed sharing with people in all sorts of venues," said Zucker. "The arts have given me an outlet to share stories with so many people. The arts are all about giving a voice to those with something to say."
Zucker will have another chance to reach an audience as she has written a 10-minute play that will be performed at the Barn Players' ninth annual 6 X 10 Ten Minute Play Festival. The festival will present six original 10 minute plays by Kansas City playwrights. The six local writers represent different backgrounds, but they all are afforded an opportunity to collaborate on their scripts. The festival is at 7:30 p.m. on Friday and Saturday evening, Dec. 9 and 10, and at 2 p.m. for a Sunday matinee on Dec. 11. Tickets can be purchased online for $10 at www.thebarnplayers.org, via the phone at 913-432-9100 or at the door by box office walkup. The Barn Players is located at 6219 Martway in Mission, Kansas.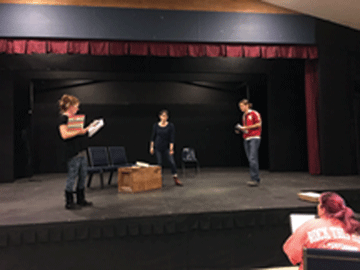 A life in the arts
Zucker has had plays produced around the country including New York City, San Diego, California and Kansas City. She says she has participated in this annual showcase a couple of times before and knew she wanted to be a part of this year's activities. 
"I submit to festivals all over the country, and I jumped at the chance to work with the Barn Players again," she explained. "The Barn Players are such a good group to be a part of. It is community theater and they are all so talented. A lot of community theaters tend to do known commodities. So it is nice that they are able to take a chance and produce some original plays. I love artists that take risks and the Barn Players do that." 
Zucker's 10-minute play is called "The Worst Poltergeist." It's about a ghost who strives but fails to be the ideal scary poltergeist, and his friendship with a living girl. 
"I had this image of a ghost who has this idea of himself as really scary, but is simply not," Zucker said. "The play is funny and sweet and really the story of an unlikely friendship."
Zucker originally started in acting, but when she took a course in playwriting in college she said she was hooked. She had her first play produced in 2005. Since then she rarely acts  and moved her focus to more behind the scenes.
"I love creating plays," said Zucker. "It takes a lot of work, and some luck to get them produced, but it is very rewarding to see it all come together."
Zucker has been working to pass on that love of playwriting to the next generation. For the last six years Zucker has been working with a class at Olathe Northwest. The program, called from Page to Stage, allows her to learn new skills along with the students.
"Working with the high school classes has made my work really improve over the years," Zucker said. "It can give me very specific guidelines to go by. There could be 16 girls and five boys in the class and you must write a part for everyone. It can take some creative thinking. But it has been very rewarding working with these kids."
Zucker's high school play, which as of this article's print date has no title, will be performed the last weekend of January. 
Besides writing plays, Zucker is also currently in the studio working on her fourth album. She describes her music as contemporary folk. She also writes Jewish music that she performs at Congregation Beth Torah, where she has been a member since 2009. If that wasn't enough, Zucker also works as program coordinator at Beth Torah, helping to design and implement social justice programs, family programs and adult education classes at the Reform congregation. In addition to all that, she is writing a novel. 
For all of her writing, Zucker's Jewish background has played a role. While she does not usually focus on specifically Jewish topics, those themes are often just below the surface.
"I incorporate spiritual themes into all my work," said Zucker. "It is such a part of my DNA, it makes its way into whatever I am doing."
Show night
Rehearsals are underway for the "The Worst Poltergeist," and Zucker has been spending her evenings working with the cast to fine-tune the show. The festival represents one production that Zucker is currently a part of; she has others including producing an every-other-month performance at First Friday in the Crossroads in downtown Kansas City. Working with a group called Potluck Productions, actors will come and read selections at these events, including pieces that Zucker has written. It is another way that Zucker reaches an audience. She believes she is lucky to be here where there are so many outlets for artists.
"Kansas City has a thriving theater scene," she said. "There is the Fringe Festival where unique voices can be heard. I have been doing this the majority of my life and I have been a part of a lot of venues where my work has been seen. I have been grateful to be a part of them all and could not imagine doing anything else."