KC psychologist Jacobs' book serves as guide for youth sports
Published: Thursday, 24 November 2016 10:00
Written by Jerry LaMartina, Contributing Writer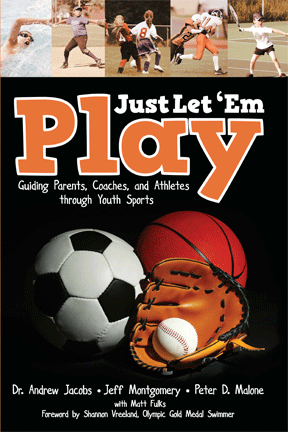 Dr. Andrew Jacobs has been a practicing sport psychologist for 36 years, and throughout his practice, people have been asking him to write a book, especially one about youth sports.
So he did. It's called "Just Let 'Em Play: Guiding Parents, Coaches and Athletes through Youth Sports." The book was published by Olathe-based Ascend Books and came out early this year in print and as an e-book. It sells for $16.95.
Jacobs co-authored the book with former Major League Baseball pitcher and current youth baseball coach Jeff Montgomery, American Swimming Coaches Association Hall of Fame member and former Olympic swimming coach Peter D. Malone and author Matt Fulks. 
"I decided to put this book together because I wanted to have the perspective from a former professional athlete who also coached kids," he said. "(Montgomery and Malone) both coached my kids. From watching them coach my sons, I like the way they coached. (The book is) a guide for parents, athletes and coaches about how to move through the world of youth sports from beginning to end."
The book covers a wide range of questions for parents to ask, including:
• Why they want their child to play sports; 
• Whether to get their child involved in recreational or club sports; 
• What the appropriate age is to start playing, competing or both;
• How to find the best team for their child;
• What the best age is to specialize in one sport; 
• What to do when they disagree with their child's coach about how the coach speaks to their child; 
• What the appropriate age is for their child to play on a traveling team;
• What to do when their child doesn't want to go to practice or wants to quit the team;
• And how to understand and accept that not every child will get a college sports scholarship. 
The book also teaches athletes traditional sports lessons, including teamwork, hard work and commitment, setting and achieving goals, learning how to win, learning how to lose or fail, respecting coaches and officials, serving as role models for younger athletes, managing time, having fun and transferring these skills to all other aspects of life.
Jacobs has been working with an increasing number of athletes who have problems with self-confidence and burnout, so he felt the timing was right for the book.
"There's a need for it," he said. "One of the problems in youth sports is the egos of the parents and coaches, thinking they know the answers and what's right. A lot of them are living out their dreams through their kids. A lot of the kids don't want to do it or do it too much. There's so much emphasis on winning instead of having fun."
Jacobs has a private practice on the Country Club Plaza where sees individuals, families and coaches. He has worked with athletes as young as 7 and as old as 81. He works with high school, professional and Olympic athletes, and he travels as a consultant.
He also has been on the radio in Kansas City for 25 years and has hosted "The Sports Psychology Hour With Dr. Andrew Jacobs" on Sports Radio 810 WHB for the past 15 years.
"When I started working in 1981, I was one of the first sport psychologists in the country," he said. "People had no clue what it was. It's still something that's not accepted everywhere. Psychology is a soft science, so a lot of people don't believe in it. The people I've worked with who've had the most success have open minds and a vision."