Koesten wins House seat in Kansas
Published: Thursday, 17 November 2016 10:00
Written by Barbara Bayer, Editor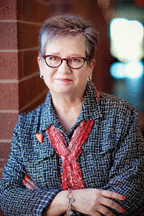 Republican Joy Koesten will represent District 28 in the Kansas House of Representatives in Topeka when the legislative session begins Jan. 9. Koesten was part of the wave of newcomers who booted out incumbents in the August primary, when she defeated two-term incumbent Jerry Lunn. She was unopposed in the general election.
"I didn't really have to campaign, so I helped the people I thought would be good for our state behind the scenes," she said in a phone interview Tuesday morning.
Koesten, who has never held elected office before, decided to run for office because she "got really angry with everything that is going on in Topeka." Her district encompasses roughly the area of Leawood and Overland Park between Metcalf and State Line, 127th and 151st Streets, in the Blue Valley School District. She describes the make-up of the 2017 legislature as about one-third Democrat, one-third moderate Republicans and one-third conservatives.
She is a member of The Temple, Congregation B'nai Jehudah and Kehilath Israel Synagogue and said her campaign had a lot personal support from members of the Jewish community.
Koesten's professional experiences are in the field of business and education. She and her husband Stewart founded KHC Wealth Management in 1996, a successful fee-only financial planning firm that offers traditional financial planning, investment management and executive and career coaching services. Koesten has a doctorate in communication studies and has served on the faculty at Washburn University and KU Medical Center. She currently teaches at KU Edwards Campus and Johnson County Community College. 
Because academic schedules are made a year in advance, Koesten had to decide last year to not teach this upcoming spring semester, which runs concurrently with the legislative session. 
Since the election, Koesten has already been busy meeting with other legislators from across the state and in the Johnson County delegation. As for the Johnson County folks, she said they are in close communication and there's already been a lot of collaboration with each other.
"Good friendships have been developed over the last year. We work well together. We like each other. We respect each other's points of view. Clearly we are much more in the center of the discussion than on either fringe (and) that's good thing," she said.
"I think Kansas made tremendous strides in coming back to the center and saying how do we govern? How do we do what's best for all Kansans?" 
She is excited about what's ahead in the coming months, but says she is realistic about the difficult choices that will need to be made.
"Kansas has some tremendous issues that we face," she said. "Being married to a financial planner all these years I was always taught to start with that premise of what do we value, what do we want, what are our goals and now how do we want to pay for that. We have to decide as a state how do we want to pay for the things that we value."
While she was just elected, she's already thinking about the next election in 2018.
"We can't fix the state's problems in 15 months, which is about the amount of time that we have before all of us in the House have to start campaigning again. We are already anticipating that the hard decisions that we make are going to create that baseline for other voices to come out for the next election. It's going to be a hard slog and all of us that are going (to Topeka) realize that and from what I've seen everyone is committed to finding the best solutions and working together."