InterUrban ArtHouse triples space in downtown Overland Park
Published: Thursday, 17 November 2016 10:00
Written by Jerry LaMartina, Contributing Writer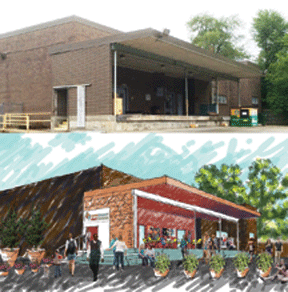 Nicole Emanuel's vision for InterUrban ArtHouse expanded recently when her organization bought the post office property at 8010 Conser St. in downtown Overland Park.
Emanuel is an artist and the founder and executive director of InterUrban ArtHouse. The organization's goal is to provide permanent, affordable space for the arts, including studio space for working artists, arts education, community engagement with the arts and programs to teach artists how to be entrepreneurs. 
The organization has five main programs, detailed on its website (www.interurbanarthouse.org): ArtMatters, ArtWorks, ArtsConnect, ArtSmart and ArtHeals.
She opened InterUrban ArtHouse in December 2013 in 5,000 square feet of leased space at 8001 Conser St., directly across the street from the post office. It houses 13 artists in 10 studios, and she plans to continue the organization's presence there as long as they can afford to lease it, along with operating in the post office building.
The post office building contains about 10,000 square feet and sits on 1 acre. Emanuel hopes to start its interior renovation in late November or early December and start housing artists there in late spring of 2017. 
"We are going to be having our first event in March 2017 and would like to launch the artist selection process so they can come and see it," she said.
The building will retain a functioning post office as one of its tenants and have a coffee house, she said. The Metropolitan School of Art of Kansas City will be housed in both buildings.
Emanuel also is making a plea to Kansas residents to make donations by Dec. 31 to help with the renovation and thereby get Kansas tax credits equal to half their donations. Donations from $250 to $207,900 qualify for the tax credits. She said she hoped to receive donations by Dec. 15 in order to have time to process them by the Dec. 31 deadline. 
Her goal is to raise nearly $208,000 by the deadline. She estimated that finishing the interior renovation will cost $300,000 to $400,000. A second phase of renovation, whose cost hasn't been determined, will include an exterior sculpture garden, art on the building's exterior and outdoor seating. 
"My plea for support is that Johnson County is ranked in the top 4 percent nationally for (financially) supporting the arts and participation in the arts," she said, "and there's a great need for affordable, stable and inclusive space for the creation of arts and culture in Johnson County to provide these programs."
Artists in this area lack "a studio hub for a workplace, learning and community engagement all in one place that also has programs that help us as entrepreneurs," Emanuel said. 
"We're doing creative place-making at the new space, the transformation of underutilized space for community and culture," she said.
The organization also works to support the arts in Wyandotte, Jackson, Clay and Platte counties, so it considers itself a regional partner, she said.
InterUrban ArtHouse bought the post office property for $522,500 and received a $23,000 brownfields grant from the Kansas Department of Health and Environment to remove floors that contained asbestos. An anonymous private donor gave money to make the post office building handicapped-accessible and install more exits, which are required to get a Certificate of Occupancy from the city.
Emanuel and three InterUrban ArtHouse board members — Hal Shapiro, Regina Kort and Sherri Jacobs — are Jewish, and Jewish artist Rita Blitt designed the organization's logo. The organization has a program in its fourth year called the Midwest Jewish Artists Lab, which it runs in partnership with the Jewish Community Center (The J). Emanuel is affiliated with Congregation Kol Ami in Kansas City, Missouri.
Her Judaism helps define her approach to InterUrban ArtHouse, she said. 
"The nature and philosophy of InterUrban I believe is rooted in my Jewish heritage and greatly values and perseveres to work toward social justice, education, culture and community," she said. "This area of Kansas is in tremendous flux economically, demographically and racially, and we are addressing through arts and culture this changing diversity and celebrating it and supporting it."