Katzman keeps up the fight for military veterans
Published: Thursday, 10 November 2016 10:55
Written by Jerry LaMartina, Contributing Writer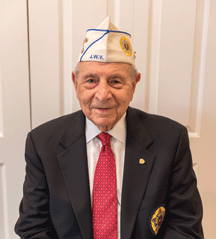 When you sit down with Meyer "Mike" Katzman and listen to his story, you know right away he's a fighter.
Katzman fought as an amateur boxer starting in the 1930s, and he boxed in the U.S. Army Air Forces, a predecessor of the U.S. Air Force, during World War II, so Veterans Day on Nov. 11 has a special meaning for him. His record was 94 wins and six losses.
He fought anti-Semitism while he was in the military. And he's been fighting for military veterans for the past 20 years.
Katzman is Jewish. He's 96 and he lives in Overland Park. He's one of the oldest active members of the Jewish War Veterans of the United States of America MO-KAN Post 605. He joined the post in 1998, a year after his wife, Henrietta Katzman, died. He was the post's commander from 2003 to 2010.
In 2003, he started a program called Holiday Gifts for Vets. Every year since then during the first and second weeks of December, volunteers from MO-KAN Post 605 and the community at large join efforts to raise money and donate clothes and other necessities for veterans of all backgrounds.
He was born on July 20, 1920, in St. Louis, and he grew up there. He was working at Emerson Electric Co. building gun turrets for the B-24 bomber in 1942 when he decided to enlist in the Army Air Forces at Jefferson Barracks in St. Louis.
"Four of us at Emerson Electric decided to enlist together, two Jewish boys and two gentile boys," he said.
The four were soon transferred to Harlingen Army Air Base (now called Harlingen Air Force Base) in Harlingen, Texas. The base had a gunnery school, and Katzman worked mounting gun turrets. He later did stints at air bases in Utah and Florida. He was discharged from the military in November 1945.
He has a lot of stories about his three years in the service. Some of them involve anti-Semitism he experienced.
"The two Christian boys were sergeants and the two Jewish boys were privates, all doing the same thing," he said. "We all came from the same place with the same qualifications."
Katzman's qualifications didn't seem to mean much to the commanding officer of the flight line where he worked at the Harlingen base. The second lieutenant and Katzman didn't hit it off.
"If I ever see him, I'd kill him," he said. "Before I would kill him, I would break his bones. Well, that's the way I felt. I was a pretty mean guy."
That sentiment grew from the second lieutenant having told Katzman one day to mount 10 gun turrets by the next day. Katzman asked him for help, so he sent a soldier to work with him. After chow that day, his helper went to the hangar to play cards — "typical (expletive)." 
The second lieutenant came back and asked Katzman where his helper was. Katzman didn't tell him. 
"The second lieutenant knew what was going on," Katzman said. "He goes right to the hangar and breaks up the card game, and then going around the hangar, everybody was saying 'The Jew's a snitch.' "
Another time, Katzman went to town with one of his boxing managers. Around midnight, they were walking down a street when "six (expletive) drunks are walking toward us saying 'They ought to kill those (expletive) Jews and get Hitler over here to clean 'em all out.' " 
The men surrounded Katzman and his buddy, fisticuffs ensued, and Katzman challenged them all to box him the next day at the gym, one at a time. None of them showed.
His favorite story about his time in the military took place about 200 feet off the ground at the Harlingen base in 1944.
"I saved 19 guys' lives," he said. "We were taking off from our base with 19 aboard a B-17, and I'm standing at the side window. We're going about 200 miles an hour. I'm looking at the right wing, and the cap came off and gasoline came flying out of the tank. I'm the only guy seeing this. I holler out real quick, 'Tell that (expletive) pilot to turn this ship around.' "
In 1965, 20 years after he was discharged from the military, Katzman started a manufacturers' representative company called Katzman Grossman and Associates. It's still in business, as Katzman Grossman and Baker. He retired from the business in 1990.
Katzman has a son named Mark Katzman, a daughter named Salliann Katz, one grandchild and one great-grandchild. His father was Samuel Katzman, and his mother was Sadie Goldstein Katzman. He had a brother named Sol and a sister named Dora.
"I'm the baby of the family," he said. "It's good to be the baby."
This 96-year-old baby of the family still reports for duty with Jewish War Veterans. Asked what he loved most about the organization, he talked about a Jewish friend who's in a tough spot.
"I got a guy that I put in a Cameron, Missouri, vets home three years ago," he said. "Calls me six, seven times a day 'cause he's lonely. Sad case."
Katzman said he liked "all veterans, not just Jewish veterans."
"Whoever supports me, I support them."