KU's Slusky chosen as Moore Inventor Fellow
Published: Thursday, 10 November 2016 10:46
Written by Jerry LaMartina, Contributing Writer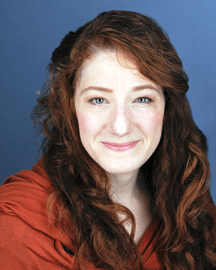 Joanna Slusky, an assistant professor of molecular biosciences and computational biology at the University of Kansas, was chosen as a Moore Inventor Fellow by the Gordon and Betty Moore Foundation.
Slusky is one of five inventors who received the inaugural fellowship, which recognizes innovators at U.S. universities who are at early points in their careers and have "a high potential to accelerate progress in scientific research, environmental conservation and patient care," according to a KU news release.
The foundation announced the fellowship awards at a ceremony at The Tech Museum of Innovation in San Jose, California, on Nov. 2.
Slusky invented a protein that she hopes will prove to sensitize bacteria in the human body to common antibiotics, which would improve the drugs' efficacy, she said in an interview.
"We in our lab can sensitize bacteria," she said. "If you wanted to sensitize bacteria in a human body and not just in a lab, then you would need 20 years of research and testing. Pre-trials probably take three to five years, and clinical trials probably 10 to 20 years. It's promising because it's a way of trying to sensitize bacteria and make it therapeutic."
Slusky said she was "hopeful and there's reason to be hopeful" that her invention would lead to improved antibiotics.
"Instead of using a small molecule as a drug, I'm using a protein as a drug," she said. "Proteins are pretty much never given as drugs in pill form, because our bodies are designed to eat proteins and make them into other things. … Proteins (as drugs) are given as injections."
Resistance of bacteria to antibiotics has increased because of their long-term exposure to antibiotics that are used in agriculture and soaps, she said.
"(The antibiotics are) in the water and the soil, where bacteria can develop resistance," she said. "It's long-term, low-level exposure. Proteins are really easy to break down, so you won't get this long-term exposure. … The neat thing about protein design is that it's at the border of basic science."
The fellowship "gives accolade to this exciting idea, but it's also an award for which I'm promising follow-up research on so that we can move it closer the clinic."
Each fellow will receive $825,000 over three years to fund their research, including $50,000 a year from their home institution. The foundation plans to spend nearly $34 million during the next 10 years to support fellowship recipients.
"It'll certainly change the pace of my research," Slusky said. "With this extra funding, I'll be able to hire more scientists in my lab … so we'll be able to do more work and focus on the development of this as an invention." 
She said she was "extremely honored to have an award that is named for Gordon Moore, who is an exceptional scientist and inventor."
"And the second level is that to get recognition for my work and for the laboratory's work I hope will bring more attention to antibiotics resistance, inspire others to work on this and allow us to work harder and more efficiently to get a better product to work on antibiotics resistance," she said.
Slusky first developed an interest in molecular biosciences in high school in New Jersey. 
"I was super lucky," she said. "I babysat for the children of a professor of molecular genetics … and I started working in a genetics lab while I was still in high school. Finally, I found a place where things make sense, where you can ask biological questions and somebody throws the tools at you and says 'Go find the answers.' "
Slusky is a member of Congregation Beth Shalom and its library minyan, which holds its own Saturday morning service weekly. She reads Torah once or twice a year, and, she said, her Judaism "definitely" touches her work.
"I'm a big student of Musar, which is … basically about Jewish ethical teachings," she said. "For me and from my learning within Musar, a big part of my obligation as a human and a Jew is that I have a tremendous responsibility to alleviate the burden of others. There are small-scale ways of doing that—listening to a friend or feeding someone who's hungry.
"What excites me about science is that through the invention of new technology, I might actually be able to make the world better for lots of people, on a really big scale," she said. "That, I think, is bound up with what it means to be human and what human responsibility is. Judaism is full of obligations, all these laws and things that we're required to do. … That root obligation is one's obligation to take care of other people, and all of these laws ultimately create environments by which one can be better at taking care of other people."
Slusky joined KU's faculty in 2014 after studying at Princeton University and the University of Pennsylvania, and she had postdoctoral positions at Stockholm University in Sweden and Fox Chase Cancer Center in Pennsylvania. She has received grants and fellowships from the National Institutes of Health and the National Science Foundation.
Gordon Moore is an American businessman and Intel Corp.'s co-founder and chairman emeritus. In 1965, when he was director of research and development for Fairchild Semiconductor, he wrote an article for Electronics Magazine in which he predicted that the number of components of an integrated circuit would double roughly every year for the following 10 years and thereby exponentially increase in power and decrease in relative cost. In 1975, he revised his prediction to a doubling of the number of components roughly every two years.