'A sense of belonging': Jewish Federation young adults programs fill social void and promote Jewish community
Published: Thursday, 27 October 2016 10:00
Written by Barbara Bayer, Editor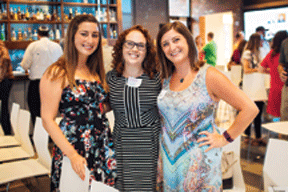 For years, Jewish organizations have been stumped when it comes to engaging the next generation — a group never clearly defined by age but often thought of as young adults between the ages of 22 and 45. The complaint has consistently been the same, this demographic most commonly called Millennials today (often thought of as those born between 1980 and 2004), aren't interested in joining or regularly participating in established organizations, instead preferring to choose one-time causes and events.
Over the last few years the Jewish Federation of Greater Kansas City has made a concerted effort to attract and engage young adults — no matter what you want to call them — and those efforts just may be working. Though these words may be totally out of date, it now seems "hip" and "cool" for young adults to participate in Jewish Federation activities.
Fun and inclusive
"Every Jewish community in the country is trying to grapple with how to engage this demographic and make them understand why the Jewish Federation system is important and vital to a rich Jewish community," said Andrew Cotlar, Jewish Federation's engagement and development manager who works with the young adults division. "That's why we are trying hard to meet them at their level," he continued.
Jewish Federation's young adult programming is led by a committee of 12. Its chair is 32-year-old Yosef Silver, a marketing executive originally from England who has lived in the Kansas City area with his wife since 2011. Silver said he is attracted to these programs because they are a great way of expressing your Judaism without being inside a synagogue.
"You get to meet and greet people that you might never have met under the umbrella of the Federation," said Silver, who has been attending these programs and helping plan them for four years.
The programs, Silver added, are fun.
"We are promoting everything that there is to enjoy and love in Kansas City as a young adult and as a young Jewish adult." 
A father of three who was named earlier this year as a member of the first group of 18 Under 40, Silver said he has made great friends through these programs.
"They have given me a tremendous sense of belonging in the Jewish community of Kansas City beyond synagogue life," he said. "That's not to say synagogue life is not valuable and important to me. It is to say these programs have filled a social void for me."
No one truly knows how many young Jewish adults there are in Kansas City. Cotlar, who is also 32, said the Jewish Federation's data base of young adults between the ages of 21 to 40 totals about 3,000. The Jewish community's total population is estimated to be about 18,000.
"We have members who are just looking for a place to meet and connect with people," Silver said. 
One reason Cotlar thinks the Jewish Federation young adult programs are attractive is because they always try to balance the social aspect with a bit of community service and giving back.
"We find that people in this generation don't want to just give like their parents and grandparents did. My grandparents' generation wrote their check every year to the Federation because it was just expected," Cotlar said.
Today, Cotlar said young adults want a reason to give and they like getting their hands dirty.
"They want to do something that they are interested in and excited about. That's why we try to have service component in every program that we offer." 
Along with the fun, a little education about what Jewish Federation does is usually subtly included in most programs. 
"One of the points of our young adult program is to show the value of having a Federation and teach about the good work we do locally and around the world," Cotlar explained. 
"As long as we do that education piece while we're having fun and doing the social outreach like at Bagel Bash, like at a happy hour, then it's a win-win situation. They may not know we help fund the JFS Food Pantry. They may not know we help fund scholarships to HBHA, preschool and J Camps. Maybe they'll learn about senior services that help their parents and grandparents. Once they learn about these things, then we hope this demographic will start to understand what we do and want to be a part of it."
Cotlar said six programs that appeal strictly to young adults are on the 2016-17 calendar. This demographic is also always welcome to attend any program Jewish Federation offers. He said a large crowd attended the first event in September and more than 200 people are expected to attend FED, set for Saturday night Nov. 5.
Silver is "super excited" about FED.
"I think this is an example of the Federation realizing that there was a young adult contingent that wasn't interested in going to Bagel Bash anymore and was perhaps a little bit older than the Bagel Bash crowd but there was no event for them. FED was created for them," Silver said.
FED, now in its second year, is a food-focused Vaad-supervised kosher event. The kosher aspect makes it appealing to the entire Jewish community.
"No one is excluded and I've been looking forward to it since last year," Silver said.
Stacey Belzer, a member of Jewish Federation's board and chair of the engagement committee, has attended many young adult programs in the past. She believes Jewish Federation today is doing an excellent job of making events accessible to the entire community. 
"I think the Federation has been a leader in the community in making its events welcoming to all," she said.
With its current program schedule for young adults, Belzer believes the Federation is making a "clear statement of our Jewish community's dedication to bringing and keeping young adults in our community. It's a huge investment and this shows how serious our community is about attracting young people to move here and interesting people who are already here to stay in Kansas City."
Bagel Bash, held every year on Dec. 24, is the longest continuing event for young adults and is Jewish Federation's biggest outreach event of the year, according to Cotlar.
"Last year we attracted about 300 young Jews. Some live in Kansas City and some are visiting because it's over the holidays. It's a big reunion, you get to see everyone you grew up with at shul or BBYO or whatever," Cotlar said
Increasing Federation involvement
The committee that organizes young adult programming is different than any other Jewish Federation committees. For the first time this year, those serving on the committee applied for the position and have committed to assume a specific role on it.
"We had many applicants who wanted to take a leadership position in the Federation. We have a diverse group of people of all congregations and unaffiliated, which is a theme with this demographic, and different professions and backgrounds," Cotlar said.
Belzer, who has a lengthy resume of Jewish Federation involvement, said she is inspired by these committee members.
"They've already said I'm 100 percent in because they filled out that form and they asked to sit at that table. These people said, 'We want in,' and here they are.' They are becoming Federation ambassadors. They are asking each other to participate in Campaign. They are all in in every way and I'm inspired by what's to come in our Jewish community's future."
Cotlar agrees.
"People came out of the woodwork that we never heard of before. It was refreshing and it gives me a lot of optimism. I think of the Federation like the Jewish version of Social Security. Just like Social Security, if we want to have it around when my generation may need to rely on those safety net services that we fund, we have to do the work right now to make sure that it's still around later. That's what gets me passionate about doing this work and working with this generation of community members. It's to make sure that we have a Federation when we need it later," Cotlar said.
Unlike most Jewish Federation programs, there is typically no fundraising aspect to young adult programs. The exception to this is the upcoming FED, which is specifically a fundraiser for the Jewish Federation's 2016 Community Campaign. Reservations are officially closed, but Cotlar said a few seats may still be available. Contact him at This email address is being protected from spambots. You need JavaScript enabled to view it. for more information. Silver thinks the fact that young adult programs are focused on engagement is exactly how they eventually get people to understand why it's important to make a donation.
"I think our Federation does a phenomenal job at engagement. I don't feel I'm being pitched by the Federation every time I go to an event," he said. 
"There's a secondary motivation that these people will grow into donors and that's exactly what happened to my wife and I," he continued, noting his wife is now on the board of Women's Philanthropy. 
Growing into the future
Silver believes the young adults program has gotten bigger and better during the five years he has lived here.
"I definitely got more involved and I've seen it grow."
He hopes to see that continue.
"I'd like to see more faces at events and I'd like to see young adults reach out to us with ideas. We are all about the community and if we can cover it with more people that would be great."
Silver also thinks Jewish Federation's young adult programs contribute to community unity, which ultimately will keep this community alive.
"When we have events, we see people enjoying these events and attending them because they are fun and not because they are obligated to attend them. I think that bodes well for the community."