Cole family explores German roots at 2016 Kristallnacht commemoration
Published: Thursday, 27 October 2016 10:00
Written by KCJC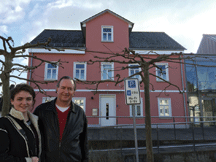 This year's Kristallnacht commemoration takes place at 7 p.m. Wednesday, Wednesday, Nov. 9, at Congregation Beth Torah. It features Beth Torah member Steve Cole and his daughter Lauren. Steve and Lauren will discuss their recent trip to Germany, home of Steve's parents, Walter and Ilsa Cole, both of blessed memory.
The Coles' presentation will include a description of their family's participation in the Stolpersteine art project, the world's largest decentralized memorial. The project involves concrete blocks laid into the pavement in front of the last voluntarily chosen residence of victims of the Nazis. Each includes a brass plate inscribed with the name and life dates of the individual.
Kristallnacht took place on Nov. 9 and 10, 1938, when the Nazi SS and other national police agencies in Germany, Austria and the Sudentenland carried out a series of violent, state-sponsored, anti-Jewish pogroms devised by Joseph Goebbels, Hitler's Minster of Public Enlightenment and Propaganda. Designed to appear as spontaneous, these events came to be known as Kristallnacht (commonly translated as "Night of Broken Glass"), a reference to the broken windows of synagogues, Jewish-owned stores, community centers and homes destroyed and plundered by the rioters. In all, 267 synagogues were burned or destroyed, 7,500 Jewish businesses were vandalized or looted, at least 91 Jewish people were killed, and approximately 30,000 Jewish men were imprisoned in concentration camps. Rioters also damaged Jewish cemeteries, hospitals and schools while police and fire brigades stood aside, under orders to intervene only if the fires threatened non-Jewish property.
Kristallnacht ended the illusion that normal Jewish life under the Nazis was still possible. It also marked a turning point in Nazi anti-Jewish policy that would culminate in the Holocaust — the systematic, state-sponsored mass murder of the European Jews
Complimentary reservations are available by calling 913-327-8196 or emailing This email address is being protected from spambots. You need JavaScript enabled to view it..