Jason Kander's got Broadway in his blood ... and he's running for Senate from Missouri
Published: Thursday, 20 October 2016 10:00
Written by Daniel J. Solomon, Forward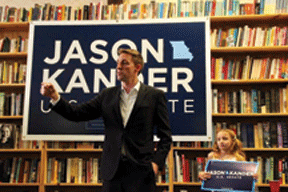 The United States Senate has lots of outsized Jewish personalities, from Al Franken to Chuck Schumer to Bernie Sanders.
If the polls in Missouri's Senate race keep narrowing, their ranks might grow next January with the addition of Jason Kander, the young Democratic challenger who's running close to Roy Blunt. 
Find the full article at the link below. 
http://forward.com/news/national/351461/jason-kanders-got-broadway-in-his-blood-and-hes-running-for-senate-from-mis/