HBHA Bronfman Fellow enjoys 'learning for the sake of learning'
Published: Thursday, 06 October 2016 10:00
Written by Marcia Horn Montgomery, Contributing Writer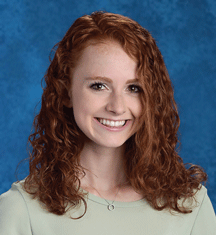 One of the Bronfman Fellows chosen this year was Kansas City's own Leah Sosland, 17, a senior at Hyman Brand Hebrew Academy.
Each year 26 outstanding teens from the United States and Canada are selected for the Bronfman Youth Fellowships (BYFI), which includes an all-expense paid, five-week summer in Israel between their junior and senior years in high school. Twenty Israeli teenagers also are chosen.
The Fellowship year continues with seminars the following December and March in New York, which Leah says she will definitely be attending.
According to the BYFI website, the scholarship was founded in 1987 by the late Edgar M. Bronfman, CEO of the Seagram Company Ltd. It reflects his belief that for the Jewish people to thrive, Israeli and American Jews from a variety of backgrounds must be engaged in an open and creative dialogue with one another. Bronfman's wish was for young people to contribute not only to Jewish life, but to improving the world.
Bronfman Fellows are a diverse group and include Jews who are both involved and not involved in a Jewish community. There are now more than 1,000 Bronfman alumni across North America and Israel.
Leah says she heard about Bronfman Fellows from a good friend. In addition, Rabbi David Glickman of Congregation Beth Shalom told her he believed she would be a good candidate. She didn't have any plans for this summer so she looked into it.
"A lot of the things that were important to the Fellowship were important to me — learning for the sake of learning, questioning things and looking at texts and politics critically," she says. "It just seemed like the people who would be in it would be motivated and would be interested in learning, not for grades and not for achievements, but just to have people to talk to, and that's super-appealing to me."
The application process is quite comprehensive, asking applicants to describe in 300 words or less their relationship to being Jewish; write in 150 words or less how they spent the last two summers; what they wish they were better at being or doing in 150 words or less; and in 400 words or less, write an essay telling something about themselves that is not apparent from the application.
"It required a lot of self-reflection, speaking about what's really important to me," says Leah. "With a lot of the questions I really had to think about my identity and how I wanted to come across to them, and what I would bring to the group. It was kind of fun though."
She says Rabbi Avi Weinstein, head of Jewish studies at HBHA and executive director emeritus of the Bronfman Fellowship, supported her through the process of applying.
In one of her essays, Leah wrote that she loves to travel and explore new places. When she was in her eighth and ninth grades, she and her family explored Uganda. She says she had learned about a not-for-profit organization, Change the Truth, founded by her good friend and neighbor, Gloria Baker Feinstein. It was set up to meet the needs of the 180 children who live at St. Mary Kevin Children's Home in Uganda.
"When I was in fifth grade (Feinstein) invited us to one of her fundraisers and I was really captivated by the video she showed us," Leah says. "So that was my Bat Mitzvah project — fundraising for Change the Truth. I made little dolls to raise money for them.
"And then my dad said that we could go one year. They do yearly trips where you work in the orphanage that the not-for-profit sponsors. So I got to befriend a lot of kids and people my age and people older than me."
One of the questions on the application asks you to name two books and another great work that have made an impact on you. Leah's two books were "Dawn" by Elie Wiesel and "Roots" by Alex Haley.
"For a work of art I submitted a little description of Shostakovich's 7th Symphony, 'Leningrad,' because it was a piece that I grew up listening to and my dad would sort of fabricate these stories about it to make classical music more relevant in my life," she says. "I just love that symphony a lot. So I got to describe to them things that have made a difference in my life, and they appreciate that."
What Leah most enjoyed about her experience as a Bronfman Fellow were the speakers, which included Israeli and Palestinian activists, several rabbis, controversial people and members of Israel's Parliament (Knesset).
"Just hearing a lot of people talking about religion and politics was so incredible," she says. "Also, the people on the program were all really caring and supportive."
Two names on the program most people will recognize are Etgar Keret, a successful Israeli fiction writer, storyteller and filmmaker, and Anat Hoffman, a well-known activist and outspoken advocate for civil rights in Israel.
"We read one of (Keret's) books before this summer called 'Suddenly a Knock on the Door,' " Leah says. "It was a lot of surrealist short stories that were commentaries on Israeli society."
In addition to her school work, Leah is involved in a lot of non-academic extracurricular activities.
"I'm president of the student council at HBHA; I'm captain of the cross country and basketball teams at school; I love sports," she says. "I'm editor-in-chief of our yearbook this year and I write for the student newspaper, the Rampage Wired, which I also love."
Bronfman seniors must complete a Ma'aseh, or community action project, when Fellows take an idea they are passionate about and bring it to their home communities. Leah has an idea in the making of what her project will be.
"Every Friday I lead Kabbalat Shabbat services at Village Shalom and I was thinking of integrating that with my writing on the Rampage at school," she says. "So doing interviews with different people at Village Shalom and maybe doing a blog post, getting voices of the community heard."
Leah hasn't yet decided which colleges to apply to, but knows she wants to study history and literature, even though she doesn't know what direction that will take her.
She is the daughter of Jane and Josh Sosland of Kansas City, Missouri, and they are members of Congregation Beth Shalom.