Author offers creative ways to engage those with dementia
Published: Thursday, 29 September 2016 10:00
Written by Marcia Horn Montgomery, Contributing Writer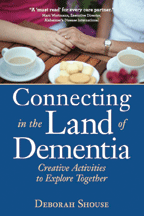 Writer, speaker, editor and dementia advocate Deborah Shouse has written her second book on dementia, "Connecting in the Land of Dementia: Creative Activities to Explore Together."
Her first book, "Love in the Land of Dementia," was about her journey with her mother who was diagnosed with Alzheimer's in the late 1990s. Shouse said after a period of grieving, she started journaling to make sense of her feelings during this difficult time and found it very useful. She reported her experiences with her parents, writing down what they did, what they said, and used it as a way to get out her feelings.
She realized she needed to find the blessings in life, what was good about this experience and how she could interact with her mother throughout.
"That was my quest, and that's the thing that got me interested in this subject — how do you connect when the ordinary ways you've always connected aren't available to you," she said.
Since that time, Shouse had additional experiences with dementia when her partner Ron Zoglin's parents both had dementia at the end of their lives.
When Shouse learned of experts using creativity and expressive arts to connect with people who were living with dementia, she was fascinated and knew she wanted to write about it.
Through extensive research and interviews with dozens of experts in the field of creativity and dementia from different parts of the world, she and Zoglin have learned the importance of creative exercises as a way of staying engaged.
Shouse writes about the work these experts are doing and explains how professional care partners, family care partners or friends can do these same creative exercises. When normal ways of communicating aren't there, you still want to interact with the person you care about.
"That's what this book is about, ways to stay connected," she said. "And the fun of it is that it's a benefit for the care partners to have these interesting activities that you can do together. It boosts your energy and boosts your relationship."
Shouse suggests one of the best ways to help someone with dementia feel involved in the world is through music. Several years ago she and Zoglin screened a documentary movie called "Alive Inside" about the Music and Memory program. For more information, see musicandmemory.org.
"The theory behind this program is that we all have songs that are really important to us," she explained. "It's a song that makes you want to get up and dance, a song that makes you think of your first date or it reminds you of when your child was born — songs that are important parts of our lives.
"So that's an example of the kind of creativity that is going on around the world, and that's how I started learning. There are so many good ways to connect through music."
In her book, Shouse tells about Henry who had been staring vacantly at the television set at a care facility where he resides. But when they put his headphones on and the music starts, his feet begin tapping, fingers snapping. He hums along to his favorite songs from the 1940s.
The Music and Memory program has been proven to help reduce anxiety, agitation, depression and resistance to care, she said.
A good way to introduce music into the lives of those with dementia is to find out what type of music your friend or loved one really likes and put a playlist together on an iPod or play CDs of their favorite music, said Shouse. 
During her research, Shouse found other creative ways of connecting to people with dementia: storytelling, poetry, gardening (even just taking care of a house plant), exercise, laughter, movement therapy. Her book includes dozens of ideas. If you try one thing and it's not working, try it again in a different way, or try something new.
"It helps if you know the person and know the things they enjoy doing, what kinds of experiences are important to them and how you can tap into that," she said. "I really feel that being a care partner for someone living with dementia is a very spiritual and creative journey."
Shouse said neither person needs to be creative or artistic because this is about self-exploring and enjoying the process together. In fact, people living with dementia often become more creative because their natural filters are gone.
"We're all alike; we all want to have a sense of purpose in life," she said. "We all want to be in a relationship. We want to feel appreciated, and that doesn't go away because someone is living with dementia."
Speak Up Walk
Join Deborah Shouse, Ron Zoglin and acclaimed musicians Rod Fleeman and Cynthia Schroer on Sunday, Oct. 9, in the Truman Forum at the Plaza Library, 4801 Main Street, to introduce you to her new book, 'Connecting in the Land of Dementia.'
A reception with snacks will be held at 1:30 p.m., followed by Shouse's presentation at 2 p.m. on experiencing more meaningful moments of connection. A book signing hosted by Rainy Day Books will be at 2:50 p.m.
To RSVP, call 816-701-3407. There is no charge for this event.
The book is available at Rainy Day Books in Prairie Village for $16.95.