Revolutionary treatment: Jewish doctor first in nation to use innovative pillcam — colonoscopy in a pill
Published: Thursday, 22 September 2016 10:00
Written by Lau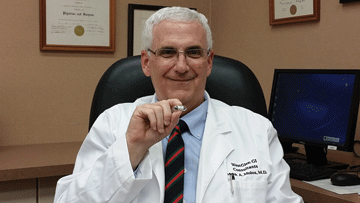 Say goodbye to invasive screening colonoscopies that require anesthesia, a day off work, someone to drive you home, and a long tube used in a procedure suite. A Jewish physician, Dr. Mark Molos of WestGlen Gastrointestinal Consultants, is the first doctor in the U.S. outside of clinical trials to use the revolutionary pillcam, a vitamin-sized pill containing a tiny camera that records the same view offered by a colonoscopy.
Patients go to their doctor's office in the morning where they spend about 15 minutes swallowing the pillcam and putting on a harness holding a recorder that they wear as they go about their day. At the end of the work day, the patient returns to the doctor's office to turn in the recorder, their doctor accesses the recorded information from a computer and reads the results. 
Dr. Molos is one of a handful of physicians across the nation chosen to be among the first to train how to use the pillcam. He was the first in the nation to use it on a patient outside of clinical trials. And he is currently the only physician in Greater Kansas City trained to use it.
The gastroenterologist expects that the pillcam will replace screening colonoscopies within a year. "This gives us a new procedure that's statistically been shown to give as good of results finding polyps and cancer with a much lower risk," Dr. Molos says. "It's a huge advance."
The second leading cause of cancer deaths in the United States, some 134,000 Americans are expected to be diagnosed with colon cancer this year and 49,000 will lose their lives to the disease. It's recommended that everyone have a colonoscopy beginning at age 50 but, currently, only 5 to 10 percent of the population actually does.
Early intervention through screening can reduce that number. "The pillcam makes screening a lot more appealing and helps find the 25 percent of people who actually need colonoscopy without putting the other 75 percent through an invasive procedure," Dr. Molos says.
Brilliantly engineered by Israeli firm Given Imaging — who pioneered the upper GI and small bowel pillcam a decade ago but needed another eight years to design a small powerful battery that lasts long enough to capture the colon — the revolutionary pillcam conserves battery life by only turning on periodically until it senses that it is in the colon. At that point, it turns on and three lenses collect video of the interior of the colon equal to the quality seen by physicians using colonoscopy equipment. Tests have shown it to be equal or better than traditional colonoscopy for identifying medical issues. 
In addition to its convenience for patients, the pillcam eliminates the risks associated with screening colonoscopies including anesthesia and the possibility of tearing or bleeding. For patients who can't medically undergo colonoscopy, the current best alternative has been a CT colonography which is very uncomfortable and exposes them to a great deal of radiation.
Dr. Molos's first pillcam patient was unable to undergo a colonoscopy because of other health issues. The pillcam was able to locate where she was bleeding so the problem could be addressed without exposing her to the radiation or discomfort of a CT colonography. His second pillcam patient, Jill Flack, is high risk because of her family history and had been told by a physician a year ago to get a screening colonoscopy. She had put it off because she suffers from negative reactions to anesthesia and didn't want to take time off from work. She recently swallowed the pillcam and, wearing the recording harness, headed straight to her job.
Colon screening with a pillcam still requires the same preparation as a traditional colonoscopy. WestGlen Gastrointestinal Consultants' patients will be called with results shortly after turning in their pillcam recorders. The 75 percent of patients whose results are negative will be told to enjoy their dinner. The 25 percent whose pillcam examination reveals polyps or other problems will be told not to eat and will be scheduled for a colonoscopy the next day, eliminating the need for them to prepare again. The colonoscopy will allow the doctor to remove polyps. 
Dr. Molos expects insurance companies to welcome the new procedure, which is expected to cost approximately one-third the cost of a colonoscopy and eliminates both anesthesia fees and facility fees.
He also expects employers, whose workers don't need to take a day off in order to have a screening colonoscopy, to embrace the new technology.
Dr. Molos says that he was one of a handful of physicians selected to be among the first to use the screening colonoscopy pillcam because he was an early adopter of the pillcam used for upper GI and small bowel examinations and had substantial experience using pillcams. He was supplied by Medtronic, which purchased the technology from Given Imaging, with three pillcams to use at no cost. As part of Dr. Molos's training, in addition to reading the results himself, his first three patients' results also were read by physicians experienced with the colon pillcam. These three patients underwent the examination at no charge since the capsules were supplied by Medtronic at no cost.
A second Jewish physician, Dr. Richard Lozoff of Midwest Gastroenterology, will soon begin training to use the pillcam as well.
Dr. Molos expects that the new colonoscopy in a pill will replace traditional colonoscopy for screenings and its ease of use will save more lives. "A lot of people are scared of anesthesia and don't want to take time off work. This is huge to be able to swallow a pill and take no time off work, have no anesthesia, and return at the end of the day to give us the recorder," he says.