Jewish Community Foundation honors Bushman Community Endowment Program — and looks to build on its legacy
Published: Thursday, 22 September 2016 10:00
Written by Victory Wishna, Special to The Chronicle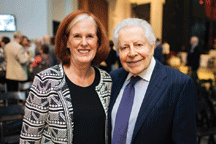 More than 150 people gathered in the Great Hall of the Museum at Prairiefire Thursday, Sept. 15, as the Jewish Community Foundation of Greater Kansas City celebrated the conclusion of the Bushman Community Endowment Program and the launch of the ongoing Create a Jewish Legacy initiative that will build on its success.
"Foundation for Our Future: A Communitywide Celebration of Planned Giving" formally marked the culmination of the Bushman Community Endowment Program, established in 2007, under the leadership of Stanley J. Bushman and Merilyn Berenbom, with the support of Foundation staff. The endeavor provided synagogues and service agencies with training in the tools and techniques of planned giving — the process through which donors commit a portion of their estates to philanthropy — as well as financial incentives to enhance their success.
In the program's nine years, 18 congregations and organizations in Kansas City, Lawrence and Topeka have taken part, and more than 440 donors have committed in excess of $40 million. "I think this is the best investment I ever made in my life," said Bushman, a noted businessman and real-estate investor who provided key financial support to the effort over the years. "Every dollar I put in has been returned 50 times. It's incredible what this community has done, and this is just the start."
Indeed, one of the goals of this event was to maintain and build momentum now that the Bushman program has "put planned giving at the forefront of our communal agenda," as Irv Belzer, president of the Foundation's board of trustees, explained in his welcome to the crowd. As such, the evening also kicked off the Create a Jewish Legacy initiative, a new ongoing program to promote planned giving to partner agencies and strengthen their endowments, many of which the Foundation manages. He also conveyed the many ways the Foundation can help individuals with their own charitable plans.
Belzer introduced a video that showcased some donors' reflections on their decisions to make planned gifts. "It was a way to model what we wanted to do with our value system for our kids," Gary Weinberg explained to the camera.
Bushman and Berenbom, both life trustees and past presidents of the Foundation, then presented a dialogue on the goals and success of the community endowment program. Berenbom also paid tribute to Bushman for his generosity and vision, as well as his attention to detail and commitment to doing the right thing, the right way. "You are a human Google," she said. "Ask a question, and you will find the answer. You read, you study, you make educated decisions. I would call you a thoughtful philanthropist."
Sponsored in part by the Sam and Lucy Gould JCF Program Fund, the evening also included a signing ceremony for the Endowment Book of Life, which honors those who have made a commitment of $10,000 or more to the permanent endowment of a Jewish organization or synagogue by recording not only their names but their stories. More than a dozen individuals and couples were called forward to sign the book, as images of their pages — with photos and briefs statements about why they give — were displayed on the video board above.
Foundation leaders acknowledge that planned giving can still be a challenging concept — for donors and fundraisers.
"People seem to think that talking about planned gifts means talking about death and dying and topics they have no interest in pursuing, and we understand that," said Executive Director Lauren Hoopes. "But, really, when you think about the kind of community that you want to leave for your children, for your grandchildren, for your friends, then it becomes a conversation about the future, about your values, about things you care about."
Meanwhile, when organizations are worried about next year's budget, it's hard to dedicate time and energy to cultivating contributions that may not arrive for decades, said Josh Stein, the Foundation's director of fund development.
But Stein says organizations are realizing that planned gifts to their endowments, though seemingly delayed, are gifts that will keep on giving — and the proceeds, when combined with the commitments of many, may one day cover an institution's operating costs in perpetuity.
And that, he says, is an equally appealing concept to donors.
"A planned gift can be the most meaningful expression of your commitment," Stein said. "Because what you're saying is that while I want to be involved in the community for the rest of my lifetime, I want to make sure that — beyond my lifetime — this continues."
As the Prairiefire event wrapped up with a look to the future, Create a Jewish Legacy Chair Gary Cortes couldn't help but offer a nod to the prehistoric past. "It's appropriate that we're here," he quipped, gesturing to the imposing T-Rex looming over the crowd. "His time on earth was limited, but his legacy lives on."