KC native Metzl's third novel continues saga of quest for immortality
Published: Thursday, 22 September 2016 10:00
Written by Jerry LaMartina, Contributing Writer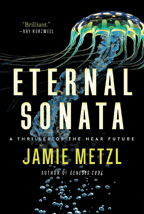 Author Jamie Metzl's latest novel lures readers back into the world of human genetic engineering and virtual reality, and into contemplation of their moral and ethical consequences.
The science fiction thriller is titled "Eternal Sonata: A Thriller of the Near Future." It's set in Kansas City in the year 2025, and it's the sequel to "Genesis Code: A Thriller of the Near Future." The protagonist in both novels is Kansas City Star reporter Rich Azadian.
Metzl will discuss the novel and his life at 2 p.m. Oct. 1 at The Barstow School, 11511 State Line Road in Kansas City, Missouri. The event is co-sponsored by the school and Rainy Day Books.
"Eternal Sonata" will be published by Arcade Publishing and released on Oct. 4, and also will be available as an e-book. "Genesis Code" and "Eternal Sonata" both raise issues that "aren't just technology and policy issues, but existential human issues, the kind of ethical issues Judaism has been grappling with for millennia," Metzl said.
He wants readers of his latest novel to grapple with those issues, too.
"What I hope is that they will enjoy the novel but that it will also spark their curiosity to learn more, think more and talk more about the issue," he said. "And I throw in a little bit of sex and violence (to help keep readers interested).
"The novel imagines a future global struggle to control the science of extreme human life extension and raises fundamental questions about our millennial quest for immortality and what we might be willing to do to attain it," he said.
In the novel, elderly Jewish scientists are disappearing from hospices worldwide. Israel's Mossad (short for HaMossad leModi'in uleTafk, or Institute for Intelligence and Special Operations) is central to the conflict, Metzl said. People are willing to kill for cracking the immortality code.
Metzl first became interested in writing about the future of human genetic engineering and virtual reality when he was working in the White House during former President Bill Clinton's first term in office. His boss at the time, Richard Clarke, predicted the terrorist attacks in the United States on Sept. 11, 2001. 
"There was a memo from Clarke on (former President George W.) Bush's desk on 9/11 warning that it would happen," he said. "After leaving the White House, I started thinking about what the big issues were that were being missed. I thought that one of them was genetics and biotech."
Metzl started reading everything he could about human genetics and virtual reality and started writing articles for various publications. He also was asked to testify before Congress on the subject.
"I decided my nonfiction articles were not reaching enough people, so I decided to do a novel," he said.
Metzl is Jewish and a Kansas City native. He grew up attending Kehilath Israel Synagogue in Overland Park and attended Hyman Brand Hebrew Academy through seventh grade. He lives in New York City.
His parents are Marilyn and Kurt Metzl. His father and paternal grandparents came to Kansas City in 1948 from Austria, "so I have a deep commitment to Kansas City," he said. He ran unsuccessfully for the 5th District seat in the U.S. House of Representatives in 2004, and he said the local Jewish community was very supportive of his campaign.
Metzl has written another novel, "The Depths of the Sea," and a nonfiction book. "Genesis Code" did very well, he said, and he's working on a third novel in the series.
He also writes articles about Asia, international relations, genetics and other topics for various publications, and he appears on national and international media to discuss these issues.
Metzl is a senior fellow of the Atlantic Council. Earlier he was staff director of the U.S. Senate Foreign Relations Committee, senior coordinator for international public Information at the U.S. State Department, director for multilateral affairs on the U.S. National Security Council, a human rights officer for the United Nations in Cambodia and executive vice president of the Asia Society. 
He has a doctorate in Asian history from Oxford University, a juris doctorate from Harvard Law School and a bachelor's degree in European history from Brown University.
Metzl said that the ethical and moral implications of human genetic engineering are mixed and sometimes unclear. 
"There's no such thing as a firm stand (on the subject's ethical and moral aspects), in a way, because these technologies are neither good nor bad," he said. "They have the potential for good … for helping us live more robust lives, and the potential to be abused. My point is that we need to embrace the best of them and reject the worst. … We need to find a balanced and thoughtful way to benefit from the best these technologies have to offer."