New Kollel rabbi looks forward to teaching, building relationships
Published: Friday, 16 September 2016 10:00
Written by Barbara Bayer, Editor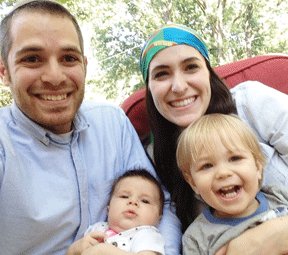 Rabbi Shaya Katz has had a busy summer. In May he earned his Master of Social Work degree from the Wurzweiler School of Social Work and in July he was ordained by the Rabbi Isaac Elchanan Theological Seminary, both associated with Yeshiva University in New York City. By the first week of August, he was living in Overland Park and visiting the newly re-opened kosher section at Leawood's Hen House Market.
While he studied, the 26-year-old rabbi served roles simultaneously at the Riverdale Jewish Center in the Bronx, New York — as a rabbinic and social work intern. A native of Baltimore, Maryland, he is excited to be here in the Midwest in a smaller Jewish community, where he has a chance to build relationships with people.
"Coming from New York as an assistant for a congregation of 600 families was nice. I got to teach, I got to meet people, but the closeness of our relationships wasn't exactly so close," the young rabbi said. 
"I'd like to have more of a personal relationship with people as opposed to more of a speaker box. I want to have dialogue where it can be a more personalized and individualized connection, which I think is not only more meaningful but in the age of impersonal technological education is something that we are lacking. I think people can really benefit from close face-to-face contact with those they are looking to learn from. I think it will make the learning better and the relationships better."
In the short time he's been here, he has noticed the community is very engaged with their Judaism.
"Sometimes in the major metropolitan areas where Judaism flourishes, your Judaism almost becomes subconscious, whereas in Kansas City if you want kosher you really have to make an effort to make sure your Judaism is realized. In Kansas City if you want a Jewish lifestyle, you have to be really vested. I'm looking forward to embracing that same passion."
He jumped into teaching the first week he was here with some local students who were spending the summer learning at BIAV before they headed off to college.
"It was pretty in-depth Talmud study, which was refreshing to me to come to a small Jewish community and be able to still learn on a deep level like that with people in the community."
Formal Kollel classes and one-on-one sessions have already been set up in people's offices, homes and on Skype. 
"In fact I continued studying with someone while he was on vacation via video conferencing," he said.
Along with his posts on Facebook and sending out a weekly "bite-sized piece of Torah" on Twitter, the rabbi is hoping to connect people with the weekly Torah portion through his blog on the Kollel website, KCKollel.org.
Rikki Katz, who will also be involved with the Kollel, has a degree in biology from Yeshiva University and hopes to pursue a career in sonography. 
The Katzes are thankful their family has been welcomed with open arms by the community and their 2-year-old son Dovi is already attending Gan Chabad preschool. They also have a 2-month-old daughter, Elka.
"Coming here has been a very positive experience for us and for the kids. The kids have already been on a couple of play dates," Rabbi Katz said.