Speak Up and Walk Oct. 9 event prompts conversations on mental illness
Published: Thursday, 15 September 2016 10:00
Written by Linda Friedel, Contributing Writer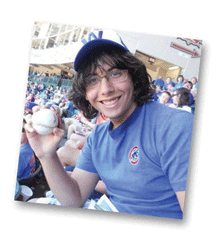 After losing their son Jason to suicide last year, Karen and Steve Arkin took action to help prevent teen suicide and draw awareness to mental illness.
Jason suffered with depression for nine years before taking his life at age 20. He was diagnosed with depression at 12 years old and was aggressively treated until he died from overdosing on prescription medication on May 19, 2015, at Northwestern University in Chicago where he studied engineering. He was a sensitive, caring, bright young adult who was doing well in school. 
"Jason died of a medical illness," said Steve Arkin. "It's okay to talk about it because it is the endpoint of the illness. It's a brain chemistry problem. We have the knowledge base to go in the community and explain to people — to destigmatize what people think they know about mental illness. People discriminate against people with mental illness."
Two families, one mission
The Arkins co-founded the Speak Up Foundation in March with another parent, Allie Doss, whose daughter, Sara, 16, died by her own hand. The foundation is a partnership with the Greater Kansas City Mental Health Coalition, both programs of Jewish Family Services. 
Karen Arkin and Doss met at a support group. As the families became acquainted they learned how much their children shared in common. Jason and Sara both loved penguins and Legos. They were academic achievers and top in their class. They were reserved and perfectionists. Both could be funny and had a quirky side, too. While Jason communicated to his parents about his depression, Sara never spoke of her mental struggles to Doss. The affable teen who Doss says was her best friend, ended her life on July 30, 2015, two months after Jason died. The families are open about their losses and want to see changes in the way people talk about mental health. Mental illness should be discussed in the same way that we discuss diseases such as cancer and diabetes, Steve Arkin said. If someone has died by suicide, families should feel comfortable suggesting that contributions go to agencies that work with mental illness just as they direct donors to the American Cancer Society for example, he said. 
"Not only hopefully to help other people in understanding, (but that) suicide is the fatal endpoint of a medical problem," Steve Arkin said. "Make it known it is an organic problem and affects a lot of people."
After establishing the foundation in March of this year, Speak Up has developed programs and educational formats. They launched a website with helpful resources, speaking events, a blog, volunteer opportunities and links to media coverage. The website, speakup.us, has been received positively, Doss said.
"It's been fantastic," she said. "We have had a lot of feedback. We have had people reach out for donations."
Speak Up has also helped to fund internationally known Kevin Hines, a suicide prevention and mental health advocate and suicide survivor, to speak at the Blue Valley School District, Shawnee Mission School District and Park Hill School District over the past year. The Arkins and Doss also serve as speakers. Karen Arkin and Doss frequently present together at churches and businesses, as well as speaking to groups individually on the topic of mental illness and suicide prevention. Steve Arkin is often interviewed on radio stations around the country and presents on mental illness and suicide prevention to groups. The Arkins, both neurologists, lend knowledge and credibility to their discussions on mental illness, as well as being parents who have lost a child to suicide, Steve Arkin said. Both families are united in their message. 
"Our goal is to educate as many kids as possible, to let them know it's OK to talk about mental illness," Steve Arkin said.  
Projects in the works
In addition to speaking engagements, Speak Up, which stands for Suicide Prevention Education Awareness of Kids United as Partners, has other projects in the works. They are coordinating a teen campaign called "You Be You" with the help of Bernstein-Rein Advertising for use in area district high schools. The project focuses on messages of positive self-esteem and how to get help if you are dealing with a mental health issue. Messaging will appear in social media like Snapchat and posters at schools. The campaign will also include videos of teachers answering questions about themselves such as what would they change about themselves and what do they appreciate about their co-workers? It might be something others appreciate about you, said Kim Romary, Greater Kansas City Mental Health Coalition coordinator. The videos will initially be produced by Bernstein-Rein, but may involve students assisting in future productions, Romary said. 
"It's a message that teens can really relate to," she said. "It's using the teachers as an example as someone the students can relate to."
The foundation's goal is to form relationships with two school districts this fall to offer programming. Once the programs are established in several schools, the foundation's hope is that their programs will spread by word of mouth to other school districts. Programming includes the SOS program, continuing education courses and national speakers for school assemblies and whatever services the schools may want or need that are related to mental illness. SOS (Signs of Suicide) is a screening program to triage with the mental health community and follow-up on any student that might need additional resources. Continuing education courses will include custom-made training and a suicide prevention course, Romary said. The Jason Flatt Act (Suicide Awareness), passed by Kansas legislators this year, requires that all school personnel in Kansas receive one hour of suicide prevention training annually, effective in January of 2017.  
"That's the type of thing we could help accomplish if they don't have it in place," Romary said. 
Speak Up and Walk
One of the more visible activities the foundation has created is an annual awareness walk. The second annual "Speak Up and Walk — In memory of Jason Arkin and Sara Prideaux" is scheduled for Sunday, Oct. 9, at Ironwoods Park, 14701 Mission Road in Leawood. Organizers encourage anyone to participate in the walk with family and friends. Registration occurs at 8 a.m. at the park's amphitheater and the 1.5 mile walk will start at 9 a.m. Register online at speakup.us or contact Kim Romary at 913-730-1452 or This email address is being protected from spambots. You need JavaScript enabled to view it.. The cost for the walk is $10 per person. Each walker will receive a T-shirt. Expect guest speakers, funnel cake, face painting, raffles and mental illness resources. Boy Scouts will flank the route, holding signs with conversation-starters to encourage discussions about mental illness among the walkers. Prompts such as "I am very concerned about you," "I am always here for you," "You are not alone" and "I noticed you are sleeping more/less lately. Is everything OK?" will line the walk. Romary hopes the event will attract at least 300 people, the number of participants in last year's walk at Congregation Beth Torah and raised $43,000. 
"Gather people together that are sufferers and non-sufferers and stand side by side and talk about the illness — how people can support them — hundreds of people all supporting them and each other," said Steve Arkin. "There are resources to go beyond that day, stepping stones to future conversations. Change their communication and information to carry that conversation beyond Oct. 9.
"(It's) all about the kids being united with their community, teachers and administrators." 
Speak Up Walk Schedule
Benefiting teen mental health programs of Jewish Family Services
Date: Sunday, Oct. 9
Registration: 8 a.m.
Walk: 9 a.m.
Location: Ironwoods Park. 14701 Mission Road, Leawood, Kansas
Contact: Kim Romary at 913-730-1452 or This email address is being protected from spambots. You need JavaScript enabled to view it.
Register online: speakup.us