KC workshop designed to help motherless women grieve
Published: Thursday, 08 September 2016 10:04
Written by Jerry LaMartina, Contributing Writer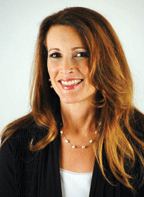 For more than 20 years, Hope Edelman has studied, written and spoken publicly about grief that a woman experiences after her mother dies.
Edelman will continue that work by conducting a workshop titled "Motherless Daughters: Impact Over the Lifespan and the Power of Reframing a Life Story" from 9 a.m. to 4 p.m. Friday, Sept. 16, at Colonial Presbyterian Church, 9500 Wornall Road in Kansas City, Missouri. 
The workshop is sponsored by the Grief Support Network, a Kansas City-area nonprofit organization founded in 1993 that began in an effort to meet the needs of the grieving community and agencies that support them. These support services are provided through hospice programs, hospitals, mental health agencies and in private practice settings. Currently, eighty (80) individuals and twenty-five agencies (25) are members. GSN has a website, griefsupportnetwork.org, where local grief support resources are posted for both professionals and the community.
The workshop will be Edelman's first with the GSN.
"My mother died when I was 17, and I was the oldest of three children," Edelman said. "We did not receive any emotional support at the time of loss, and I believe we suffered for it."
The latest research indicates that children who receive support soon after the death of a parent cope better over the long term, she said.
"Educating families about what children's grief looks like — and encouraging friends, neighbors, teachers and therapists to know what to look for and how to offer help — is a big part of my work," she said. 
In 1969, Swiss psychiatrist Elisabeth Kübler-Ross described in her book "On Death and Dying" what became known as the Kübler Model, or the five stages of grief: denial, anger, bargaining, depression and acceptance. Later, she wrote that the five stages weren't "a linear and predictable progression" and that they "can occur in any order, if at all."
Kübler-Ross first developed her model "for those facing their own imminent demise, rather than for those left behind," Edelman said. 
"Somehow, this model for facing one's mortality became the gold standard for recovering from loss, and left too many people feeling that they were doing it wrong for too long," she said. "I hear this from women all the time. I will be talking about this more at the presentation." 
The idea that progress through the five stages of grief helps mourners work "through" a loss "is pervasive in our culture, even though psychologists now know that grief doesn't actually work that way," Edelman said. "Grief goes in cycles, and pain over losing a loved one never really dissolves. It just becomes easier to carry over time. 
"I've met many women whose mothers died 20 or 30 years ago who still think of their mothers every day, and still miss them," she said. "But the pain isn't nearly as acute as it once was. They've learned how to live alongside it. It no longer defines who they are, or who they can become."
Because motherless women have much in common, helping them form a community, "where they discover that their thoughts and fears are shared by others, can be a very healing experience for everyone," she said.
Edelman is Jewish. She lives in Topanga Canyon, California, with her husband and two daughters. 
She has written seven nonfiction books and is underway on her eighth, which is scheduled for publication in 2018 and "will offer a new way of thinking about grief," she said. Her first book, "Motherless Daughters," was first published in 1994, and nearly 1 million copies of it have been sold. 
In the mid-1990s, she co-founded and was president of Motherless Daughters Inc., a national nonprofit whose mission was to help women who were younger than average when their mothers died. She is a board member of Motherless Daughters of Orange County (California). This year, she started offering retreats for motherless adult daughters.
She has been speaking for more than 20 years on the topic to audiences that have included therapists at the American Society of Death Educators and Counselors and attendees at the grand opening of the Raymee Grief Centre in Dubai, the Arab world's first children's bereavement center.
She has a bachelor's degree in journalism, a master's in nonfiction writing and training as a life coach. She teaches writing at Antioch University-Los Angeles and at the Iowa Summer Writing Festival.