Local Jewish doctor treats Syrian refugees living in 'horrendous' camps
Published: Thursday, 01 September 2016 10:00
Written by Barbara Bayer, Editor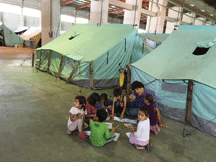 The plight of Syrian refugees has been in the news a lot lately. It's a hot topic, as noted in The Chronicle's opinion pages, as to whether or not the United States should welcome them into our country with open arms.
Politics aside, physician Jonathan Jacobs set out on a humanitarian mission and traveled to a refugee camp near Thessaloniki in northern Greece, to use his expertise to help them.
"These people have gone through hell and I wanted to go in and help in any way possible," he said in a telephone interview last week. "In my case we can just show up and be productive and make a positive impact."
An international nongovernmental organization (NGO), Doctors of the World, runs the health clinic where Dr. Jacobs was based along with an Irish family physician and a Somali-British pediatrician. Most of the nurses and other volunteers in this camp hail from Europe, principally from the U.K.
"The clinic has few diagnostics but a decent pharmacy. Food is brought in by a U.N. agency. NGOs have not been able to keep up with other needs, like paper, pencils and books," Dr. Jacobs said.
A member of Congregation BIAV, Dr. Jacobs treated refugees, principally from Syria and Iraq, for a variety of medical issues including hypertension, depression, diabetes and orthopedic issues such as back, knee and ankle problems.
"We had plenty of therapeutics," he explained, noting that he took with him about $1,000 worth of medication that he purchased or was able to get donated for the refugees from drug companies.
The word he uses to describe the situation in the refugee camp he saw is "horrendous."
"They don't have a country and they don't have a home," he explained. "These camps are mayhem and the people are just assaulted and raped. There are maniacs that terrorize these people who are just trying to survive."
Dr. Jacobs continued to explain that Kurds, Yazidis, Shia, Sunni and sociopaths "who should otherwise be incarcerated" all stayed in this camp. Volunteers, and even refugees themselves, have posted photos and reports on social media highlighting the problems in these camps, "thereby denigrating Greek efforts."
"Although well intentioned, Greece, a country with plenty of hardships presently, has had difficulty caring for this large number of refugees arriving in a such a short period of time," Dr. Jacobs said.
For the sake of safety of its refugee guests, Dr. Jacobs explained that Greece elected to break up larger camps into smaller, more manageable camps. Three weeks before his arrival, a large camp known as Idomeni, which was home to thousands of refugees, was torn down. These refugees were resettled into smaller camps on the grounds of abandoned warehouses, factories and even the ports where ferries to Greek islands and tours of the Mediterranean dock their ships.
While in Greece, Dr. Jacobs, who specializes in internal medicine and pediatrics, was particularly moved by the words of a refugee named Mohammed. The refugee told Dr. Jacobs he used to teach math in his hometown, just outside Aleppo, Syria. ISIS came, destroyed his house and killed cousins, aunts and uncles.
"He is a religious man, observing the Ramadan and praying multiple times a day when I met him, but not particularly partisan. After ISIS came, he feared for his and his family's well-being, so this 45-ish-year-old man, with his five children, wife, brother-in-law and his family, escaped by foot from Syria. Although he had visas to go to Saudi Arabia and Kuwait, those countries would accept only him, not his family. The only route for possible survival was through Turkey," Dr. Jacobs learned.
Mohammed did not elaborate about what happened to his family in Turkey, only to say that "it was difficult."
"From our conversations, it seems as if they did not have great access to food and shelter. Stories from others suggested serious safety concerns, including theft, muggings and rape. Eventually they made it to the coast and got on a raft. Many have drowned on this journey, but luckily their raft, carrying perhaps 100 people, was more stable than most. They floated to Lesbos, a small Greek Island off of the coast of Turkey. Historically a beautiful vacation spot, Lesbos now shares its beaches with newly arriving refugees. Greek governmental officials with many nongovernmental organizations meet these refugees and provide food and health care, then send them by ferry to the Greek mainland." 
In Greece, Mohammed and his family lived at Idomeni. When it closed, they were forced to wait for a new camp. This one is home to approximately 500 people and offers plenty of food and water. Dr. Jacobs said Mohammed actually has a smartphone and some clothes, but little else.
"Mohammed told Dr. Jacobs the current camp is safer than Idomeni, but then Dr. Jacobs saw the black eye on the face of Mohammed's brother-in-law.
"He told me he was beat up the previous night by a crazy drug dealer/abuser and all is not that safe at night when the volunteers from the NGOs leave. He points out the offender, explaining that the man would typically be incarcerated in Syria if not for the civil war."
Dr. Jacobs said the stories he heard from others that he treated were all similar.
"Violent individuals are in the camps along with families wishing to simply survive this ordeal." 
Mohammed told Dr. Jacobs he hopes to go to Germany, but would be happy anywhere in Europe or the United States.
"Germany, he tells me, offers temporary lodging and cash to help refugees get acclimated and assimilated into the economy and society."
Dr. Jacobs said the waiting is hard on all the refugees, not just Mohammed.
"He knows he is a target for ISIS because his job as a teacher was paid for by the Syrian government. He cannot go back. He understands that Europe' s economies have been troubled. He understands other Arab countries have refused him, and he understands that there are sociopaths in the camps that could endanger any future host country for refugees. He is just hoping for a decent future for his children."
Mohammed told him, "You have to tell your people to help us!"
This is not the first time Dr. Jacobs has traveled to help those who are less fortunate and in need of medical care. While he was a medical student at Mayo Medical School in Rochester, Minnesota, he and his best friend always talked about how they would help others. They graduated in 1999 and in 2004, Dr. Jacobs and Dr. Eduardo P. Dolhun founded a 501(c)3 not-for-profit medical humanitarian organization called Doctors Outreach Clinics. Doctors provide on-the-ground medical attention to populations worldwide amid disasters and devastating circumstances. As part of that organization, Dr. Jacobs made several trips to Oaxaca, Mexico. Dr. Jacobs took a few years off from medical missions as marriage and children took priority in his life, but he felt now he was "ready again to do a little giving back."