Holiday Gifts for Vets prepares for 14th year helping local veterans
Published: Thursday, 01 September 2016 10:00
Written by Jerry LaMartina, Contributing Writer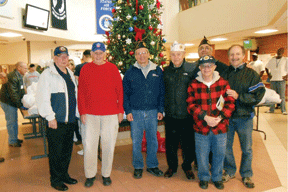 While members of the Jewish community are starting to think about the upcoming High Holidays, members of the Jewish War Veterans of the United States of America MO-KAN Post 605 are already thinking of the traditional winter holidays. Christmas to be exact. That's because they have already begun working on the post's annual Holiday Gifts for Vets project.
The local program that serves military veterans will mark its 14th year in December of giving gifts to military veterans in the Kansas City area and Leavenworth.
Overland Park resident Meyer "Mike" Katzman started the program in 2003. Every year since then during the first and second weeks of December, volunteers from the Jewish War Veterans of the United States of America MO-KAN Post 605 and the community at large join efforts to raise money and donate clothes and other necessities for the program. Katzman is a former commander of the post.
Volunteers arrange for donors to give items for the program, and the volunteers fill gift bags and deliver them in three or four vehicles to the VA medical centers in Kansas City and Leavenworth, and to a housing site for homeless veterans called St. Michael's, located about half a mile from the Kansas City medical center. 
St. Michael's has 58 one- and two-bedroom apartments and is nearly finished with another building that also will have 58 apartments. A chapel and a gymnasium also are being built on the grounds.
The program costs between $12,000 and $14,000 a year, Katzman said. Roughly half the money comes from a fundraiser, which is currently underway for this year's program. The value of donated items represents the other half of that dollar amount.
Jews and non-Jews help with the program, Katzman said. Ninety-eight percent of the veterans who receive the gift bags, and of those who live at St. Michael's, aren't Jewish. Nationally, one-half of 1 percent of veterans are Jewish, he said.
"We get a lot of volunteers who are Christians," Katzman said. "My best friend is one of them. There are a lot of people who want to help out."
Each bag contains about 25 items — all brand new — including a T-shirt; a sweatshirt; a knit cap; a baseball cap; two pairs of white socks; a water bottle; a backpack; a box of tissues; a stuffed animal, usually a bear; 6 ounces of toothpaste, a toothbrush and floss; other toiletries; a manicure set; a book to read; and handmade greeting cards from local children, mostly third-graders, with notes thanking the veterans.
The program served veterans only at the Kansas City VA medical center for the first year. It was extended later to the Leavenworth hospital. The program has grown from serving about 150 the first year to more than 400 veterans last year, Katzman said.
Katzman is 96 and still organizes the program. He is a World War II veteran of the U.S. Army Air Corps, the predecessor of the U.S. Air Force. He enlisted in 1942 and was discharged in November 1945. He's also a former amateur boxer. He's a member of Congregation Beth Shalom.
The first year of the program, Katzman organized and stored donated items in his garage. In later years, items were organized and stored in various people's homes, at Congregation Ohev Sholom and last year at Kehilath Israel Synagogue. A site hasn't been chosen yet to organize and store items for this year's program.
The motivation for offering the program is simple, Katzman said.
"We do it only for one reason: to help the veterans and make them happy for a day or two."
Overland Park resident Steven Schorr became Post 605's commander in July of this year. The post has about 60 members, of whom about 20 are active. Schorr is a Vietnam-era Navy veteran. He served from 1966 to 1973 and is also a member of Beth Shalom.
"We're always recruiting members and taking on patrons for the program, civilians who have relatives who are vets or who just have an affection for helping vets," Schorr said.
"This program is important because it lets the soldiers and sailors in the hospitals and (in St. Michael's) know that they're not forgotten," he said. "After they do their service to their country, they see things in the news that honors them, but this is something tangible that they are getting and can hold in their hands and use — put a sweatshirt on, hold and read a book."
Overland Park resident Sheldon Turetsky was Post 605's commander from 2012 through last year. He's also a Vietnam-era veteran. He served in the U.S. Army from 1970 to 1976 and is a member of Congregation Ohev Sholom.
Holiday Gifts for Vets is important to multiple generations, he said.
"It teaches the kids at a young age to appreciate the people who are basically heroes in our society," he said. "They're role models. It doesn't matter what the veteran did in the service; they served their country. The whole thing is about thanking those who find themselves in a VA hospital over the holidays at a time when most of us are spending the time with our families."
Helping with the program is "an emotional thing for most of us who do this," he said.
"It means a lot to the veterans," he said. "They make a point of coming over to us, staffers who are doling out the bags under the Christmas tree, and they say 'You're the guys who did this, and we want to thank you.' "
The program is probably the biggest and most visible one the post participates in, he said.
"A lot of what we do at the post level is not to serve (only) Jewish veterans, which we are, and not to serve (only) the Jewish community, which we're part of, but it's very non-denominational, what we do," Turetsky said. "In the process, we establish very good bonds and friendships with other veterans' organizations who are doing the same things in different ways."
Holiday Gifts for Vets, he said, "touches those who need us the most at a very vulnerable time, so both the giver and receiver (are thankful) in the same way."
For information on donating money or volunteering to help with the program, call Schorr at 913-888-5181 or email him at This email address is being protected from spambots. You need JavaScript enabled to view it., or call Katzman at 913-642-7295.