Theme of this year's Jewish Federation annual gathering is gratitude
Published: Thursday, 01 September 2016 10:00
Written by KCJC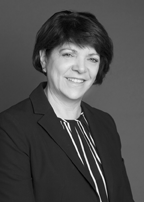 There couldn't be a more appropriate theme to the Jewish Federation of Greater Kansas City's annual gathering than "gratitude." As Jewish Federation moves through a transition in leadership, welcoming new President & CEO Dr. Helene Lotman and saying goodbye to longtime Jewish Federation President & CEO Todd Stettner, it is an appropriate time to thank all those who have made Jewish Federation into a strong community organization, while also looking into the future at what can be.
Lotman will take time at the gathering to share her vision for Jewish Federation moving forward.
Before joining Jewish Federation of Greater Kansas City, Lotman served as vice president & chief talent officer for the Jewish Federation of Palm Beach County, where she developed a leadership succession initiative and served as interim chief executive officer. With more than 20 years of experience in for-profit and nonprofit organizations, Lotman brings her expertise in talent development and organizational leadership to Jewish Federation, with an eye toward community collaboration and development.
"Jewish Federation of Greater Kansas City has an incredible well of support from partner agencies, synagogues, and the overall Jewish community," Lotman notes. "I am grateful to be working in a community that values collaboration and is constantly seeking ways to improve together."
The evening also will include remarks from John Isenberg, Federation board chair, as well as recognition of the departing and newly appointed board members, and the presentation of a handful of awards. This year's Educator of the Year award goes to Dayna Gershon with The Temple, Congregation B'nai Jehudah; while the Congregation Program of the Year award goes to B'nai Jehudah for the "Shabbat in the Park" series. The Agency Program of the Year award goes to Hyman Brand Hebrew Academy for the Upper School Social Justice Project, and the Dan Fingersh Young Leadership award goes to Amanda Morgan, who has served on both the Jewish Federation board and Women's Philanthropy board.
Thoughts on how the Kansas City Jewish community will move forward with gratitude and continue delivering on its mission through community collaboration and a focus on being a convener of community also will be woven into the evening marked by recognition and celebration. The incoming board members will be installed and tribute will be paid to outgoing board members.
"The annual gathering is about community," says Trudy Jacobson, co-chair of the event. "This year's gathering marks another beginning for our organization, with our leader Dr. Helene Lotman, and celebration of the continuation of our mission to sustain and enhance Jewish life at home and around the world. "The annual gathering is meant to bring our community together and celebrate all we do."
The annual gathering takes place at 6 p.m. Thursday, Sept. 8, at the White Theatre in the Jewish Community Center. This event is free and open to the public. To RSVP go to www.jfedkc.org or contact Cheri Anne Winkler at This email address is being protected from spambots. You need JavaScript enabled to view it.. Guests are strongly encouraged to RSVP in advance.