Local Jewish men's bowling league keeps tradition rolling, seeks new members
Published: Thursday, 25 August 2016 10:00
Written by Jerry LaMartina, Contributing Writer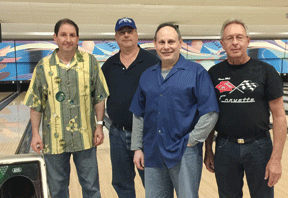 If you're looking for Stuart Pollack, you can find him at Ward Parkway Lanes from 9:30 a.m. to noon most Sundays from September to May.
That's when the 55-year-old Overland Park resident bowls with a local Jewish men's league run by B'nai B'rith. While most of the league's bowlers are Jewish, many aren't. It's open to men of any religion or none at all, and of any cultural or ethnic background.
Mostly, it's the camaraderie that keeps Pollack showing up on Sunday mornings — and leaving by noon.
"We always try to get done before the Chiefs' game," he said.
The league got its start about 40 years ago; Pollack joined about 25 years ago. He's been bowling "since I'm 8, 9, 10 years old." His average is 191. What attracts him to it? He enjoys seeing the other bowlers.
Tom Balke also has been bowling with the Jewish men's league for about 25 years, and he's its secretary. His average is around 150. Balke started bowling in the fifth or sixth grade. That means the 68-year-old Overland Park resident, who belongs to The Temple, Congregation B'nai Jehudah, has been bowling for about 55 years. 
All those years ago he started bowling at the King Louie West bowling alley, at 87th Street and Metcalf Avenue. Brothers Vic and Morris Lerner started their first King Louie bowling alley at 79th Street and Troost Avenue in Kansas City, Missouri, in 1955, and opened King Louie West in 1959, according to the Johnson County Museum. The brothers also owned King Louie Inc., which manufactured sports clothing, including bowling apparel. 
Balke got involved in this league through a neighbor.
"He had a spot on his team, and it was something I enjoyed doing," he said. "As I got to know more of the people, I found it's a nice way to spend a Sunday morning. We're friends. You strive to improve your game and get better at it. It gets you out of the house. We joke and have fun. It's good camaraderie."
The league is free to join, but the bowling fee is $13 a week for each bowler, which pays for three games, Balke said. Some of that money also helps pay for prizes given at an annual banquet and for fees to sanction the bowlers through B'nai B'rith and the U.S. Bowling Congress.
The league's season this year starts on Sunday, Sept. 11.
"We're looking to get it to grow," Pollack said. "We're losing bowlers, about two to four a year for about the past five years."
The league's number of bowlers has decreased by about 15 in the past 10 years, Balke said. He expects the league to have 12 teams at the start of this season, with a total of about 40 bowlers. 
The league's members want to get "more young guys in with us, because we're all getting older," Balke said.
"Bowling leagues kind of fight the inclination for people not to join things," he said. "We also encourage membership in B'nai B'rith, but we don't require it." 
Now, the Jewish men's league has bowlers whose ages range from the 20s to the 90s. Their bowling averages run from around 100 to more than 200.
Fathers and sons, and other family members, have bowled together in the league over the years, Balke said.
"There was Ed Klein and his son, Aaron Klein," he said. "We have two brothers bowling, Elliot and Jeff Martasin."
The league also has hosted national Jewish men's leagues' tournaments several times, he said.
The league is a men's league, so women aren't allowed to join. Wives, though, are "absolutely" supportive of their testosterone-rich approach, Pollack said. They often come to watch their husbands bowl, as their daughters often do, and wives and daughters also come to the league's two breakfasts during the season and the banquet at the season's end.
"The guys want the freedom to be politically incorrect," Balke said. "We've brought it up for a vote more than once. For three hours a week, let's keep it to ourselves. We're not against forming a mixed league, but we just need to find enough people."
Pollack hasn't found any trick moves to use on the wood.
"Just try to knock the pins down the best we can," he said.
And that's one thing about bowling: If you're in reasonably good physical condition, you can keep trying to knock down those pins the best you can — for a long, long time.
"The great thing about bowling is it's a lifetime sport," Balke said. "Most people can enjoy it."