Amanda Morgan to be honored with Dan Fingersh Young Leadership Award
Published: Thursday, 18 August 2016 10:00
Written by Tina Smithers Peckham, Special to The Chronicle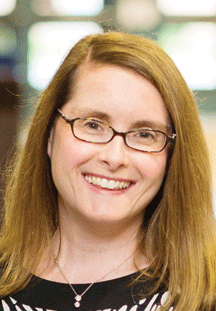 Strong leadership comes from being both willing to teach and learn, and Amanda Morgan recognizes this fact tenfold.
The Leawood, Kansas, resident has been selected as the recipient of this year's Dan Fingersh Young Leadership Award, to be presented at the Jewish Federation's Annual Gathering next month. 
"I think a good leader needs to be able to learn and to listen and then to share the knowledge of what you've learned with others," says Morgan, who has served in numerous positions within the Jewish Federation's board of directors.
After many years spent as both a donor and director of the Morgan Family Foundation, Morgan was asked to serve on the Federation's Planning & Allocations Committee — a natural transition for the longtime benefactor. Serving as both committee member and chairperson, Morgan's involvement in the allocations process has allowed the Federation to fund a variety of vital programs and projects that serve everyone in the Jewish community, from children to the elderly.
"Giving back to the community that has always been my home is what has been the most rewarding for me," Morgan admits. "It has really given me a wider understanding of the Jewish community network and what the different programs are and how everything works together in connection with each other."
Morgan also currently serves as secretary of the Federation's board of directors and has volunteered on numerous task forces, subcommittees and Women's Philanthropy projects, as well as the Jewish Family Services board and the board of trustees of The Temple, Congregation B'nai Jehudah and The Barstow School where her daughter, Susanna King, attends.
"I've really tried to experience and participate in everything the Jewish Federation has to offer, trying to explore what it is they do and how it works," Morgan says. It is this involvement that made it a no-brainer for the executive board to honor Morgan with the Young Leadership Award. 
"I had a bird's eye view of Amanda's time as Planning & Allocations chair, and she has done a wonderful job," says former Dan Fingersh Young Leadership Award recipient Michelle Goldsmith. "It is obvious that she has put a lot of hard work into the position, and she is well deserving of the award!"
While Morgan was "shocked and surprised" to learn she will receive the prestigious leadership honor, she has long looked to strong, powerful women for inspiration and guidance. 
"When I was a child, I always looked up to Golda Meir and Madeleine Albright. I admire their ability to stand tall and speak their mind, yet still listen," Morgan says. "Today, my daughter Susanna inspires me to be the best I can be, and I hope to show her how to be a good leader and a good role model."
For others like her daughter Susanna who hope to make a difference within the Jewish community, Morgan suggests diving in and getting involved right away. "Try something that piques your interest, and take it one step at a time, learning as much as you can. Also, don't be afraid to speak up and ask questions."
A solid support system is also essential and makes a big difference when dividing your time between numerous committees and positions. Morgan admits, "Having the support of my husband (Chad King) makes it easy for me to say yes to all of these committees and to spend as much time as I do giving back."
This year's Annual Gathering is co-chaired by Marc Hammer and Trudy Jacobson and will be held Sept. 8 at the White Theatre, with Federation board members, ambassadors, volunteers, benefactors, staff and award winners expected to be in attendance. Led by newly elected Federation President and CEO Dr. Helene Lotman, the evening marks the start of a new era for the Jewish Federation and will acknowledge community impact, the vision for the future and celebrate the theme of gratitude.
"Jewish Federation's 2016 Annual Gathering marks another beginning for our organization. With our new leader, Dr. Helene Lotman, we celebrate the continuation of our mission of sustaining and enhancing Jewish life here in Kansas City and around the world while recognizing our deep passion and pride in our future. Every person who brings energy and gives to Federation, in whatever way, is important. The Annual Gathering is meant to bring our community together and celebrate what we do," says event Co-Chair Trudy Jacobson. 
Event Co-Chair Marc Hammer shares, "Our Federation is making a difference in people's lives everywhere. Everyday. This is a time for us to celebrate and show gratitude for the good work of our community."
This event is open to all who would like to attend.
"We are very grateful for Todd Stettner who led the Federation for many years, and at the same time, we are grateful to Dr. Lotman for taking the helm and continuing to lead us forward," Morgan says. "And we always need to be thankful for everything we have, no matter how little or how much. Personally, I'm thankful for my family and for the fact that the Jewish Federation can be there for everyone."
To RSVP for the Jewish Federation of Greater Kansas City Annual Gathering, go to www.jewishkansascity.org/annualgathering or contact Cheri Anne Winkler at 913-327-8103.