5th anniversary:Grill masters fire up for annual Kansas City Kosher BBQ Championship
Published: Thursday, 11 August 2016 10:00
Written by Jerry LaMartina, Contributing Writer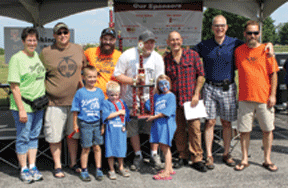 Tastes good. Looks good. Nice texture.
These are the three criteria the Kansas City Barbeque Society uses to judge entries in barbecue contests, and these same criteria will apply to entries in the 5th Annual Kansas City Kosher BBQ Championship.
The contest is scheduled for 11 a.m. to 4:30 p.m. Aug. 21 at the Ritz Charles in Overland Park and hosted by the Vaad HaKashruth. Rabbi Mendel Segal, the Vaad's executive director, is the contest's organizer and a co-founder of the event, which was held the first year, 2012, in the parking lot of The Temple, Congregation B'nai Jehudah.
The contest's categories are chicken, beef ribs, turkey and brisket. Competitors pay a $400 entry fee per team, but the event is free to the public. Health department regulations prevent attendees from sampling the entries, Rabbi Segal said. Ploughboys BBQ in Blue Springs will sell kosher concessions. The Vaad had provided concessions in prior years' contests.
Pork, of course, is prohibited in a kosher barbecue contest, and preparations and cooking can't start until Shabbat ends on Saturday night.
In each of the last four years, the contest has attracted more teams and more attendees from out-of-state, Rabbi Segal said, as kosher barbecue contests have gained in popularity. At this year's contest, the limit will be 24 teams, and he expects 20 to 24 teams to enter and more than 3,000 people to attend. Twenty-four teams took part last year, and between 3,000 and 4,000 people attended.
The first year, about a dozen teams entered the contest, which drew about 500 attendees.
"We've kept a lot of the same features, and last year we featured various cooking demonstrations by local grill masters," he said. "Also, we started two years ago with a celebrity judging panel of local barbecue people, chefs and some journalists."
The celebrity judges this year will give an award in each category to honor Trent Daniels, who died recently. Daniels helped organize the first Kansas City Kosher BBQ Championship.
The Vaad provides all the smokers and ingredients for entrants. All the judges are certified by the KCBS, and some are certified as kosher judges. 
Overland Park resident Adam Rich is one of the contest's kosher certified barbecue judges. He's an architect and designs commercial kitchens for Hockenberg's Restaurant Supply in Lenexa and is a member of Congregation Beth Israel Abraham & Voliner.
Rich, who keeps kosher, was a member of the committee for the first kosher barbecue contest and helped organize judging. He also helped organize the first class for kosher certified barbecue judges offered by the KCBS earlier this summer. 
He has judged the contest the past three years, and this will be his first time as a kosher certified barbecue judge.
"It is a lot of fun and I've enjoyed learning more and more about barbecue as a whole," he said. "I'm proud that this contest has helped make Kansas City the center of kosher barbecue. I'm also happy that our event has such a good reputation that we have helped other Jewish communities across the country organize kosher barbecue contests in their cities."
The contest is challenging for competitors, Rabbi Segal said, "because they usually have to do things a little differently than they're used to."
"Over the years, we've had teams enter because they like that everybody's on an even playing field," he said, meaning that all entrants must abide by kosher requirements and that the Vaad provides all the meat and equipment.