Actor comes home to emcee Beth Torah's Got Talent!
Published: Thursday, 11 August 2016 10:00
Written by Barbara Bayer, Editor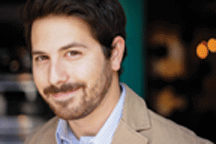 Congregation Beth Torah's Got Talent! will take place on Sunday, Aug. 20, and its emcee is none other than its own Hollywood heartbreaker Jordy Altman.
Altman, who became a Bar Mitzvah and was confirmed at Beth Torah, is an actor and digital producer based in Los Angeles. The last time he performed locally was in 2012 with Comedy City.
"My last private performance was at the karaoke bar immediately following," he joked. 
His most recent acting gigs include a Ford print advertisement, a Dunkin' Donuts national commercial and a Sonic Drive-In commercial. Older teens and adult fans of the Cartoon Network may be familiar with the Sonic commercial, which airs during the Adult Swim portion of its schedule.
In the commercial, Altman said he walks around a museum filled with Sonic memorabilia saying things like "Oh my God, this is great. A cup. Wow. Onion rings, no way. It's a pretty cute commercial."
"Because the programs they air during late night are a little out there, traditional advertising doesn't work for them. So they turned to this guy to make late night commercials that will only work on this channel as opposed to airing on 'Good Morning America' or something like that," he explained.
This fall, Altman will appear as a guest star on Investigation Discovery's "BETRAYED," and he will make his second guest-star appearance on Lifetime Movie Network's "My Crazy Ex." He doesn't know the exact air dates yet.
"Usually these shows won't start getting promotion until about a month before they air and I don't believe 'Betrayed' is premiering until September or October, so the show hasn't been announced yet."
In the first episode of "My Crazy Ex," Altman played "the crazy ex."
"In this new episode, I get preyed upon by a crazy ex. So I get both sides of the coin. It's nice to be on the other side for once."
Also in September, Altman begins filming a pilot presentation for a major cable network. In between all of these projects, he will be releasing his own series of digital shorts online. To keep up with the premier dates, follow him on Twitter @jordyloggins.
As a digital producer, Altman is involved in productions that primarily air online, often on sites such as YouTube or Funny or Die. When he's producing, he's in charge of the getting the crew, overseeing the production, keeping the client is happy and making sure the project is completed in a reasonable amount of time. He's worked with VH1 and NBC Universal among other clients.
"It's a lot of fun. I moved out here to act, but whenever I get an opportunity to work on set I'll take it. There's nothing better than set life." 
Altman moved to California almost seven years ago. After he graduated from the University of Kansas in 2008, he spent a year in the metro area performing with Comedy Sportz and Stitch Tactics — a group he started in college with a couple of friends.
Not only does he act and produce, he has some experience as an emcee as well, hosting various improv and open mic nights throughout Los Angeles. In addition, for the past three years he has emceed the Save A Child's Heart date auction in L.A. Save A Child's Heart (SACH) is one of the largest undertakings in the world, providing urgently needed pediatric heart surgery and follow-up care for indigent children from developing countries. Based in Israel, its mission is to improve the quality of pediatric cardiac care for children from countries where the heart surgery they need is unobtainable. 
"It's wonderful nonprofit and has a very active chapter in Los Angeles," he said. "It's been great and I have a lot of fun hanging out with Jews at a bar trying to get everyone dates."
Of all his gigs, he enjoys acting the most.
"That's the reason I moved out here and that's the reason I'm staying. Producing is fun because it keeps me on set and it's a great way to network, but I'd rather be in front of the camera than behind it."
"If I can bring a little bit of joy to somebody's life and make them smile, I think I've done my job."
He believes the acting bug is in his genes. His grandfather "Papa Lou" Moses, used to perform vaudeville in the Catskills and, Altman said, "he's the whole reason I got into this entertainment business."
"When I started acting, Papa Lou used to give me advice all the time. Things like, 'Always keep your feet moving. That way they can never hit you with rotten fruit.' Or, 'Can you shuffle step? What else do you know? Pull a girl up on stage and make her dance with you.' I won't be doing that at Beth Torah's Got Talent."
Regarding the talent show, he jokingly added, "I'm not going to tap dance, so don't throw any rotten tomatoes at me because I won't be able to shuffle my feet fast enough." 
On a serious note, Atlman said he thinks Beth Torah's Got Talent! will be a lot of fun and he's happy to be involved with it.
"The whole reason I'm coming is Beth Torah has done so much for me. Growing up and being a part of the community, I'd like to give something back. Plus, I get to have a little fun and help raise some money."