New NCJW "Suitcase to Start" program helps CASA Kids aging out of foster care on road to successful adulthood
Published: Thursday, 11 August 2016 10:00
Written by Lauren Fasbinder, Special to The Chronicle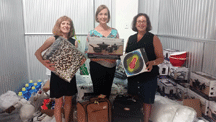 It's shocking what happens to youths who age out of the foster care system without finding a permanent home. Helping change the course of these abused/neglected youths' lives is the goal of a new program in which the National Council of Jewish Women, Greater Kansas City Section (NCJW) is joining with CASA (Court Appointed Special Advocates) to provide a helping hand to get these young adults started on the road to a successful life.
NCJW's new Suitcase to Start program is giving these youths, who have endured so much trauma in their short lives, not just a suitcase but the goods needed to establish an apartment. With the exception of donated gently used suitcases, the brand new goods are being given to kids participating in a CASA program established last year to help prepare kids who are aging out of the foster care system to live safe, productive, independent lives and provide on-going mentoring and guidance through age 26.
Many of these kids have never owned anything new and it's incredibly exciting for them to receive the items, says Carla Oppenheimer, an NCJW board member who is heading up Suitcase to Start. The youths receive four categories of items: kitchen, which includes necessities such as pots and pans and a toaster; bed and bath, which includes gender-appropriate sheets and blankets, towels, a shower curtain and more; personal care, which includes items such as a toothbrush and razor; and miscellaneous, which includes goods such as a laundry basket and cleaning products.
"I was here when a young man, who aged out of foster care two weeks ago, came by CASA to pick up his suitcase and other starter gear," Jackson County CASA Executive Director Martha Gershun recently told Oppenheimer. "I wish you could have been here to see how happy he was. This young man has had a very difficult road — it is a miracle that he now has his own apartment and is beginning to lead a functional, independent life. These gifts from NCJW are truly his only household possessions. He hugged them like they were gold. Everyone here has felt good all day long that we were able to help this young man set up his new hard-won home — in large part thanks to NCJW and this fabulous new program."
The two CASA agencies in the metro area, Jackson County CASA and CASA of Johnson & Wyandotte Counties, are uniquely positioned to help these children become successful adults because of their role advocating for abused/neglected kids who are under court protection. CASA volunteers this year will advocate for a record 1,710 children in Jackson, Johnson and Wyandotte Counties. 
With the support of each agency's staff, CASA volunteers on both sides of the state line work to provide critical information to judges, helping them make the best possible decisions regarding where abused/neglected children should live and what medical, therapeutic, and educational services they need. Children with a CASA volunteer are far less likely to be re-abused and far more likely to find a safe, permanent home. For the past four years, 95 percent of the kids who had a CASA volunteer have not been re-abused or re-entered the Jackson, Johnson or Wyandotte County Courts.
Sadly, not every child will find a home before they age out of the foster care system — at age 18 in Kansas and 18-21 in Missouri. The statistics about what happens to those who age out without a support system are heartbreaking. More than one in five become homeless, a quarter will be involved in the justice system within two years of leaving the foster care system, only 58 percent graduate high school by age 19 (compared to 87 percentage of all 19-year-olds), 71 percent of the girls will become pregnant by age 21, and only half will be employed at age 24. And the cost to society is enormous — nearly $8 billion for each group annually leaving foster care nationwide.
Recently, Jackson County CASA and CASA of Johnson & Wyandotte Counties added new programs to help older foster youth transition to a successful adulthood. In addition to helping prepare CASA kids who are getting ready to age out of foster care, a case supervisor and specially trained, dedicated volunteers will continue to serve these youth in a supportive mentoring role through the age of 26 — long after their official court-ordered responsibilities have concluded.
NCJW's Suitcase to Start program fills an enormous need by providing the youth in CASA's new older youth transition program with the necessities to set up their first household. "It could not have worked out better timing-wise for us as well as CASA," says Oppenheimer. "We are so delighted we can do this and our membership is so excited." 
At a national NCJW convention, the local chapter learned about a similar program underway in Palm Beach, Florida, and thought that it was a perfect complement to its Baskets for Babies program in which it gives moms at homeless shelters and domestic abuse programs similar items for newborns. They approached NCJW members Ann Stern and Ro Jacobson, who generously provided funding along with J-Lead through the Jewish Community Foundation.
The Storage Mart at 6801 W. 91st St. in Overland Park donated one year's use of a storage unit where NCJW is housing the goods. As a youth prepares to age out of foster care without family support, CASA notifies NCJW who delivers a suitcase and boxes of goods to the CASA office where they will be given to the youth. NCJW expects to help approximately 40 teens this year. 
"We're just starting to recognize how important it is to help these kids get a start for them be successful," notes Oppenheimer. "What CASA's doing to help these kids is wonderful and we're happy to help."
Donations of gently used suitcases and financial contributions are being sought to support the Suitcases to Start program. Those wanting to help can contact the NCJW office at 913-648-0747.