Re-open for business: Leawood Hen House completes remodel, expands kosher offerings with The Noshery Delicatessen
Published: Monday, 08 August 2016 10:17
Written by Jerry LaMartina, Contributing Writer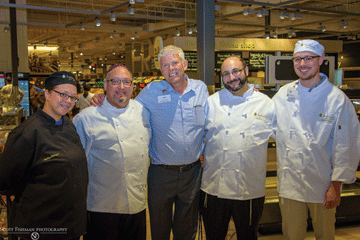 Keeping kosher in Kansas City can be quite a challenge.
Balls Food Stores Inc. intends to change that with the expanded kosher section, called The Noshery Delicatessen, at its renovated Leawood Hen House Market. The Leawood store, at 11721 Roe Ave., reopened yesterday (Aug. 3.)
The store's kosher section occupies roughly the same amount of space it did before the renovation, but on entering the store, patrons now veer to the right instead of the left for the quickest path to it, said Peter Castillo, executive chef for Balls Food Stores. When they get there, they'll find an expanded array of fresh food and dry goods, and more space for prepared meals to go.
"We'll be making our own knishes, instead of getting them from New York and having them shipped in," Castillo said. "We'll have two different kinds, potato and meat."
A lot of kosher food comes from New York and San Francisco, he said, and "it's easy to open a box," but The Noshery offers a convenient, fresh alternative to that shipped-in convenience.
The delicatessen — "We're trying not to use the word 'deli' anymore because it sounds cheap," Castillo said — will offer a diverse selection of kosher foods, including Ashkenazi, Sephardic, Mizrahi and Israeli, in an effort to appeal to the Kansas City area's diverse Jewish population.
"I want to give everybody a little bit of what they're accustomed to," he said. "We have a lot of Orthodox people who travel through Kansas City, too, and they can stock up on kosher food. We also have a lot of hospitals, hotels and nursing homes where there's a big need for kosher."
Rabbi Mendel Segal, executive director of the Vaad, said he thought "people will be most excited about the fact that the kosher deli kitchen will be preparing in-house a nice variety of high-quality kosher signature dishes plus many delicatessen staples."
The Leawood store's expanded dine-in section, which includes inside and outside cafes, offers shared space for patrons to eat kosher or non-kosher foods.
Ben Kopelman, the head kosher mashgiach (supervisor) believes customers will be excited by many of the store's new offerings, most especially the fact that another mashgiach, Max Johnston, is on staff. That means the kosher section will be open six days a week (except holidays) instead of five when there was only one mashgiach. Johnston will spend a lot of his time working in the bakery, which now has its own, separate dairy and parve kitchens.
In the new setup, Kopelman said he will primarily be in the kitchen. That doesn't mean he won't be there to help.
"If you have a question or you need something, ask someone to get me. I am more than happy to help in any way I can," he said, noting that Johnston will be available on Tuesday, which is Kopelman's day off. 
Hot food
The Noshery offers chicken noodle, beef barley, roasted vegetable and minestrone soups, and chicken stock and beef stock, "which people can use to cook at home," Castillo said. It also makes its own pastrami, chicken schmaltz and matzo balls.
Other menu items include: onion brisket, rotisserie chicken, salmon coulibiac, stuffed cabbage, stuffed peppers, Moroccan kofta meatballs, Sephardic beef tongue and chicken shwarma. Salads include apple horseradish slaw; Israeli tomato salad, cucumber and onion salad; Israeli couscous salad; orzo tabbouleh; cavatappi garden pasta; roasted beet, orange and red onion salad; carrot, fennel and ginger salad; and smoked chicken apple curry salad.
Kosher meals to go include: brisket, latkes and ginger carrots; shwarma, rice pilaf and green beans; Moroccan kofta meatballs, couscous and green beans; smoked brisket, a kosher version of macaroni and cheese, and baked beans; and grilled salmon, a kosher version of cauliflower gratin and rice pilaf. Kosher shushi will continue to be offered, as well.
Matthew Chaney, sous chef for Balls Food Stores, works closely with The Noshery. He developed the macaroni and cheese and cauliflower gratin using a kosher dairy-free, vegan cheese substitute called Daiya, made from water and oil.
In addition to Castillo, Kopelman, Johnston and Chaney, Ashley Salazar, delicatessen service manager, will often work with kosher foods. Castillo said the company also was looking to hire an executive chef to work with Chaney in the kosher section.
Castillo is a Sephardic Jew. He's originally from Brooklyn, New York, and he moved to Kansas City in 1975. He worked at the Hyatt Regency in the early 1980s, was chef at The Woodlands for about five years after it opened in 1989, had a catering business, was corporate chef for two different companies, was a consultant for Balls Food Stores for 25 years and started as executive chef for Balls Food Stores early this year.
"I always wanted to work for Balls because I've always loved the grocery business, and there's so much potential food-wise," he said. "My goal is to stay with the company for the next 20 years, until I'm 75, and then I'll open a little sandwich shop or do something."
Chaney, who isn't Jewish, also started working for Balls early this year. He's a graduate of Johnson County Community College's culinary program. The Noshery will serve as an apprentice training ground for the program's students and for the company's employees. He was kosher chef at Village Shalom for two years. He worked at the Nelson-Atkins Museum of Art's Rozelle Court as sous chef, and was executive chef at Blue Cross Blue Shield and Garmin International Inc. 
Chaney and Castillo also are developing a Sabbath stew for The Noshery, which Ashkenazis call cholent and Spanish Sephardics call dafina. Dafina typically includes chick peas, olive oil, onions, garlic, rice, green olives, peppers, dried fruit and sometimes vinegar. Cholent has many of the same ingredients but includes potatoes, other root vegetables and fewer spices.
"A lot of families get this on Friday and then cook it overnight for Sabbath," Castillo said. "They will be all prepared, in a box or bag, and customers can buy it, take it home and dump it in a pot with water."
The Noshery also will have a variety of smoked fish, some of which will be shipped in from New York and some smoked on site, along with smoked chicken and brisket. The delicatessen will provide catering for Bar Mitzvahs, Bat Mitzvahs and shivas, and special items for the High Holy Days, though Kopelman said those will be determined later. This week they are finalizing a "Nine Days" menu, for the period that begins Aug. 5, when observant Jews do not eat meat except on Shabbat.
"We'll have a Sephardic challah bread, coiled to look like Maimonides' turban," Castillo said.
The Noshery also will offer food that's especially close to most Kansas Citians' hearts.
"Where do people who keep kosher in town go to get barbecue?" Chaney said. "They're going to come to our store." 
He and Castillo are "trying to add some of our skill and knowledge … because we're going to make (most of) the stuff from scratch," he said.
"And with love," Castillo said. "I show people love through the food I cook. ... I hate to say we're doing God's work, because we can't do God's work, but I think if God were here he'd make you a beautiful meal. We want to take good and fresh food and put some smiles on people's faces and let them know that at least these two chefs love them."
Chaney said his father told him "that when you take your child fishing, it's not just about fishing, sometimes."
"And when you sit down to a meal, it's not just about eating."