Israeli young women happily serve as shlichim at The J camps
Published: Monday, 08 August 2016 10:12
Written by Ruth Baum Bigus, Special to The Chronicle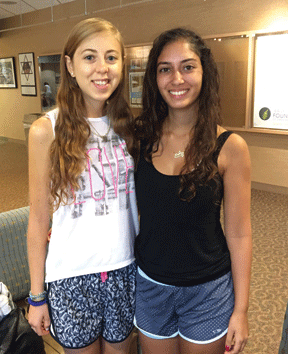 Israel is about 6,600 miles from Overland Park, but it has come a bit closer for campers at The Jewish Community Center's (The J) summer camps through the efforts of two young women.
Twenty-one-year-old Michal Carmon Weinshtein from Tel Aviv and 22-year-old Hila Harony from nearby Kfar Saba have been in Kansas City since early summer serving as shlichim (emissaries) through a program of the Jewish Agency for Israel. Both young women have finished their Israeli Army service and came to work at The J before heading off to college in the fall. Weinshtein is a senior counselor for the first and second grade girls group at Barney Good Camp and Harony is a senior counselor with Boom!, the middle school day camp.
The goal of the shlichim program is to bring a touch of Israel and its culture to children in the United States. The J has hosted shlichim at its camps for several years.
"Michal and Hila have been a wonderful addition to our J Camp staff," said DD Gass, director of camps and school-age services. "Our campers and staff have learned so much about Israel."
Harony and Weinshtein went through a rigorous application process to become shlichim including doing an interview with Gass via Skype. Once selected, they worked together preparing activities for their campers while still in Israel.
While both Harony and Weinshtein had been to the United States before, they were a bit nervous about their stint at camp and staying with people they had never met before.
"I was really nervous about being with strange people, but I feel like they are family," Harony said. "It's hard to be away from home but it's nice because we get to know the families here."
"I was sure there would be nice people but I was surprised by the community," Weinstein said. "People are very warm."
The two young women have been very busy at camp with one goal in mind.
"We are here to teach them as much about Israel as we can," Harony said. "It is important to us to explain about Israel that it is not about the desert and camps but the real Israel."
The twosome has worked hard preparing activities that are fun "so the kids can connect with Israel," Weinshtein added.
"We have topics for each activity and tied to holidays," said Weinshtein. "We did masks for Purim. …And we like to hear what they know."
"We did something around Israeli birthdays and what kind of games we play for them," Harony said.
Other activities have included teaching campers a Hebrew word of the week and answering all of their questions about Israel.
Harony said using English, her second language, was a little challenging.
"In the beginning it was hard," Harony said. "At first I ignored it because I didn't realize they were talking to me but now I am used to it."
Harony and Weinshtein have noticed some differences between kids in Kansas City and Israeli children.
"They are not like the Israeli kids," Harony said. "Israeli kids are much louder."
"The kids are more sensitive here and need more attention," Weinshtein said. 
In addition to their daily work at the J camp, Harony and Weinshtein had had the chance to experience Kansas City beyond the Jewish Community Campus. They have been to a Kansas City Royals game, attended musicals at both Starlight Theatre, Theatre in the Park and shopping at area malls.
Harony and Weinshtein have had a great time in Kansas City.
"The families are amazing," Harony said. "I am speechless."
Weinshtein said, "You feel like your home. We didn't expect that." 
Kansas City families have been happy to host Harony and Weinshtein, too.
"We have so enjoyed hosting Hila this summer, and getting to know both of The J shlichim. It has been a great educational experience for our children, and for us," said Jane Blumenthal Martin, who, along with her husband Joseph and two children, hosted one of the emissaries.
"The shlichim create such a wonderful way to connect to Israel — for The J campers they work with every day, as well as for their host families," Martin said.
Other families who opened their homes to host the young women included Dr. Ace Allen and Donna Oberstein, Sharon and Peter Loftspring and Kelly Jackson and Robert Tanenbaum.
After the work at camp ends in early August, Harony and Weinshtein will travel together for three weeks to see Las Vegas, Los Angeles, San Francisco and New York City before returning to Israel and college classes.
"It's the big finale," Weinshtein said.
During their two-month stay, The J staff has made strong connections with Harony and Weinshtein.
"I hope Michal and Hila will enjoy staying in touch with their Kansas City friends when they go back home to Israel," Gass said.
The shlichim wished they had more time in Kansas City to share about their homeland, but they hope they reached their goal.
"Even if one kid would know more about Israel it is enough," Weinshtein said. "They can go and talk to their parents and the message continues."