Artist, 89, features works in inaugural art show and sale on Aug. 9
Published: Monday, 08 August 2016 10:07
Written by Linda Friedel, Contributing Writer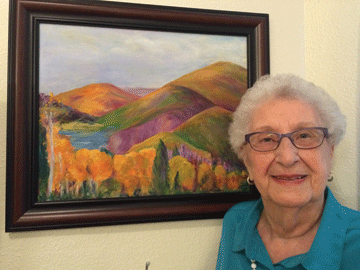 Some seniors perfect their golf swing while others take up bridge during their golden years. Dorothy Kaufman has found her niche in art.
Kaufman, 89, will host a private art show and sale on Aug. 9 at Rains, Purinton, Babcock at 10955 Lowell Ave. in Overland Park from 4:30 – 7:30 p.m. The exhibit includes landscapes, seascapes and still lifes. This is Kaufman's first private show and sale. Kaufman says she doesn't know what to expect, but if a painting sells, it will be the start of something new.
"Then I won't be an amateur any more. I'll be a professional," she said. 
Kaufman's daughters are her biggest cheerleaders. Daughters Linda Gollub and Denise Ellenberg, say the August show is a long time coming for the woman who was born to be an artist. Kaufman put her art ambitions on the back burner to raise her three daughters and take care of her husband. She inspired her daughters to become strong, educated, creative women, Gollub and Ellenberg said. 
"It is remarkable work and it really does express the journey of her life," Ellenberg said. "She has always been somebody that is bold, outspoken and vibrant. I think that's reflected in her art work." 
Kaufman picked up her paintbrush at the age of 83 and has been painting with oil and acrylic since. She takes art lessons at the Jewish Community Center's Heritage Center from instructor Patricia Caviar and also at Brookdale, the senior living community where she resides. She spends four hours each week at her craft. She appreciates the comradery of the other artists and Caviar's guiding hand, she said. Kaufman exhibits her artworks each fall at the Heritage Center among her classmates where their art is on display from November through December. Kaufman paints impressionistic and realistic scenes. One day she would like to attempt painting portraits. She favors impressionism over realism and dubs her style as "Kaufmanistic." 
"I prefer to do loose, more impressionistic art," Kaufman said. "I don't keep in the lines too well. I never liked the coloring books."
Kaufman grew up in Warrensburg, Missouri, and Kansas City during the Great Depression.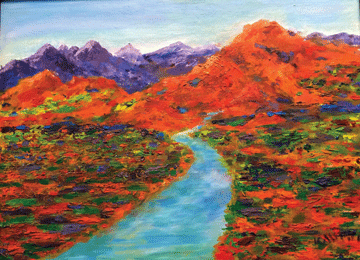 She started drawing in kindergarten on whatever was available, such as cardboard paper used for men's shirts and the backside of used paper her aunt saved from work. She won awards at school for her art and was the art editor of the high school yearbook in her junior year and the editor during her senior year. 
"I always loved to draw," she said. "Some play the piano. Some sing. I can't play a musical instrument. Everybody has their own talent. Everybody has a thing that's theirs. I would draw and paint on anything that was clean."
Since Warrensburg is a college town, Kaufman always knew she would go to college. To earn money for college she worked at Harzfeld's department store in Kansas City, Missouri, during the summers. After graduating with a bachelor's degree in fine arts from the University of Missouri in Columbia in 1948, Harzfeld's offered her a job as the assistant buyer, but she turned it down. She had her heart set on becoming a fashion designer in Kansas City's garment district. After knocking on doors at the big clothing manufacturers that produced women's coats and suits, Kaufman was discouraged. She was told they don't hire women for jobs because they quit and get married and have babies.
"I was disappointed," Kaufman said. "It was a time when you had to work."
To increase her chances as a fashion designer, she attended night school at the Kansas City Art Institute to learn pattern making. Kaufman did not realize her dream as a fashion designer, but worked instead in a variety Kanas City businesses including the American Royal, Muehlebach Hotel, Warner Brothers and Universal Studios in the "Film Row" of Kansas City and at the Jewish Theological Seminary of America. She returned to her beloved art as often as she could during her years as a wife and mother as the "Picture Lady" in her children's elementary school and at art classes she took at the Jewish Community Center when it was located on Holmes in Kansas City during the 1970s. Kaufman has always been an optimist, event through life's difficulties, she said. 
"I don't look at the dark side of things," Kaufman said. "I look at what can be. I lived through the depression. I lived through wars. I have had personal tragedies. I have survived."
On aging, she says to keep active and pray your memory doesn't go. She loves to learn and says she has always paid attention to what people say. They often share their life stories with her, she said. As for art, Kaufman says she plans to continue painting as long as she can.
"Until I can't lift up the brush," she says.