Hebrew classes available through JCCC Continuing Education program
Published: Thursday, 21 July 2016 10:00
Written by KCJC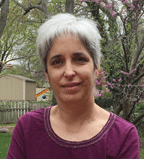 While Johnson County Community College will no longer offer Hebrew classes for credit, the community college will offer Hebrew through its continuing education program. "Hebrew, Learning to Read" (XPL 1039) will take place on Mondays and Wednesday from 6:30 to 8:30 p.m. for four weeks. There is a fee of $119 for the class and it begins Aug. 29.
The course will be taught by Orit Kamara, an Israeli who taught Hebrew at JCCC when it was a credit course. The course description reads: "Discover how to read Hebrew in a fun and creative way. Learn to read and write the Hebrew alphabet and vowels system. By the conclusion you will be able to read any word in Hebrew, have a vocabulary of about 50 words, and be able to use simple sentences and common phrases. No previous knowledge of Hebrew is needed."
Kamara was disappointed when JCCC decided to drop the for-credit Hebrew class, but is excited that Hebrew will still be available through the college.
"I strongly believe that the Kansas City metropolitan area should have at least one Hebrew course available on a regular basis in its academic institute," she wrote in an email.
Kamara explained that a continuing education course is opened based on demand and will stay open as long as there is a demand for the course. The class is open to 20 students and 17 spots remained as of Monday. Another course, "Hebrew, Beginning Biblical" will be taught by Jordan Gripe. 
Kamara believes there are many reasons why people should take the time to learn Hebrew. They include:
• Be able to read the Bible in its original language
• Refresh their memory in connection with the Hebrew they used to know
• Feel closer to their heritage
• Be more involved in their kids' Hebrew studies
• Build the foundation leading to learning biblical or modern Hebrew.
• Prepare before a visit to Israel
• Prepare before moving to Israel
• Exercise the brain — learning a new language is one of the recommended activities for brain stimulation
To enroll, go to the jccc.edu website and search continuing education courses.