JVS relocates main office: Move allows social service agency to better serve clients and increase services
Published: Thursday, 14 July 2016 10:00
Written by Barbara Bayer, Editor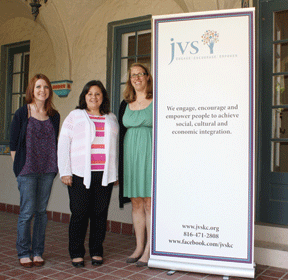 After more than 40 years at 16th and Baltimore, JVS has moved to 4600 The Paseo. The agency began seeing clients at its new location —  which most recently served as the headquarters for the Kansas City, Missouri, Public School Retirement System — on June 28.
JVS's Executive Director Hilary Cohen Singer said JVS sold its building in what is now call The Crossroads district in December 2015. JVS' main office had been there since 1971. The historic downtown neighborhood where it was located had recently undergone what Visit KC describes as "an amazing transformation where once vacant buildings now house unique shops, restaurants and a thriving art scene." Having sat in her office and watched the Kauffman Center for the Performing Arts being built, Singer said she and the board felt it might be financially advantageous to sell the building and move since the agency really wasn't tied to the now fashionable neighborhood.
"I've witnessed a big change in the neighborhood, and there was no reason we needed to be in that exact location," said Singer. 
"We were able to sell it and help improve financial security for the agency."
"The sale allowed us to cover the costs of moving and acquiring the new building. Any fundraising we've done since the sale has gone directly to programming," Singer continued.
In fact, JVS recently conducted its annual Global Table fundraiser, co-chaired by Debbie Sosland-Edelman and David Oliver, where it raised 150 percent of its goal and will be able to direct all funds raised toward programs.
The new owners allowed JVS to rent the old building for the first six months of 2016 as it searched for new headquarters and prepared to move. The new building on The Paseo is basically the same square footage as JVS' former location, 16,000 square feet, but has much more useable space. That's in part due to the fact that JVS no longer runs a sheltered workshop for clients with disabilities. Singer explained the practice now is to work more one-on-one with these clients and prospective employers.
Development Director Malinda Kimmel said the new space allows JVS to "keep all its services together."
"Now we're able to collaborate and work together better," Kimmel said.
JVS was established in 1949 to assist Holocaust survivors, refugees and those returning from World War II, enabling them to build better lives in the United States. Today, its programs meet the needs of all who face barriers to employment. 
"Whether it is coaching a client on how to request a disability accommodation from their employer or helping a newly-arrived refugee enroll their children in school, JVS works to empower people to address challenges to their self-sufficiency," states the JVS website.
JVS' larger mission is enacted through two major programs: refugee services and rehabilitation services. In 2015 JVS resettled refugees from 13 countries — Afghanistan, Bhutan, Birundi, Burma, Central African Republic, Cuba, Congo, Eritrea, Ethiopia, Iraq, Rwanda, Somalia and Sudan. Services include but are not limited to housing placement and preparation, airport pick-up, cultural orientation, bus training, school enrollments, healthcare access, job training, removing barriers to work and job placement and retention. 
This year JVS expects to resettle 520 refugees and officials estimate more than 600 refugees will be resettled in Kansas City in 2017. 
Its employment services program assists individuals with disabilities by teaching them how to find jobs and stay employed through job skills training, job development, job coaching and case management services. Members of the Jewish community often receive assistance through Career, Skills and Connections, a joint program offered along with Jewish Family Services.  
The move to The Paseo is allowing JVS to add some new programs. For example, an announcement is coming soon regarding a specialized autism job club. 
At least one program, The Baltimore Avenue Dime Store, is not yet up and running. Singer said a new location needs to be found for the not-for-profit resale shop. When it reopens, it will once again be filled with items donated to JVS that cannot be used to set up apartments for newly arriving refugees. "Selling these items in the Dime Store creates value for JVS," Singer said.
The Dime Store also serves as a job training site for the individuals served by JVS. They can use their time in the Dime Store to see if working in retail is a good fit for them and learn skills such as running a cash register, stocking and pricing merchandise, dusting shelves and providing customer service.
Singer said JVS' staff of social workers, employment specialists and case managers are all enthusiastic about the agency's new building and location.
"It's exciting to see staff in an environment that fosters more collaboration. So much of our work overlaps departments and all our people are able to work together better here," she said.
She believes the move will also help its refugee clients get better acclimated to the city. The refugee community in Kansas City is predominantly located in the historic northeast, which is close to the Don Bosco Center — the agency that handled these resettlement services before JVS took them over in 2004. That area is now home to three Somali mosques as well as ethnic grocery and clothing stores and restaurants. JVS' move requires these refuges to travel further south to access services.
"I also think new opportunities may come our way with our new location," Singer said. "There's a lot of redevelopment happening on the Troost corridor. We are brand new here but as a social service agency we are excited to be able to play a part in the revitalization of the area."
JVS' phone number, 816-471-2808, remains the same. In addition, the agency continues to accept donations of furniture, clothes and other household items. Its warehouse is not (and has not been) located with the offices. Pick-ups takes place every Tuesday. JVS still has satellite locations in Independence, Missouri, and at the Jewish Community Campus in Overland Park, Kansas.