ADL: Greitens' campaign sticker fosters hate
Published: Thursday, 14 July 2016 10:00
Written by Barbara Bayer, Editor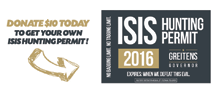 Last week, the Anti-Defamation League (ADL) condemned the marketing of a bumper sticker that reads "ISIS Hunting Permit 2016" by Eric Greitens, a Missouri Republican gubernatorial candidate. ADL characterized the campaign as "the worst kind of fear-mongering that undermines rather than advances America's war against ISIS terrorists."
Greitens, who grew up in suburban St. Louis, is a former Navy SEAL and founder of a nonprofit group. He faces three Republican challengers in the Aug. 2 primary: businessman John Brunner, former speaker of the Missouri House of Representatives Catherine Hanaway and current Lt. Gov. Peter Kinder. Incumbent Democratic Gov. Jay Nixon is term-limited.
On Twitter, the bumper sticker was compared to a "Jap-Hunting License" distributed during World War II. Overall the "ISIS" sticker earned both pro and con comments. It is available for a $10 donation to Greitens' campaign.
"The Greitens campaign's fundraising initiative traffics in the worst kind of fear-mongering. In a campaign season that has been rife with anti-Muslim, anti-immigrant rhetoric celebrated by the hate movement, this initiative stands out as an especially incendiary manipulation of fear," said Karen Aroesty, ADL regional director. "By advertising, 'No bagging limit. No tagging limit.' on the 'ISIS hunting permit,' the initiative appears to encourage vigilante violence and may lead to attacks against already-vulnerable communities such as Muslims, refugees, immigrants or others who may erroneously be identified with ISIS. This only helps terrorists paint the U.S. as engaging in a violent religious war with all Muslims. We urge Mr. Greitens to halt this incendiary and divisive initiative."
The Chronicle's attempts to reach the Greitens' campaign for comment were unsuccessful.
ADL's statement went on to say that some prominent political and thought leaders across the political spectrum "have roundly condemned these base appeals to hate and fear as an attack on this country's founding ideals of inclusion and tolerance. In the wake of the Paris and San Bernardino attacks, ADL tracked an alarming increase in anti-Muslim incidents and hate crimes in the United States."
As a 501c3 nonprofit organization, ADL takes no position on behalf of or in opposition to any candidate for office. 
The Anti-Defamation League was founded in 1913 to challenge anti-Semitism prejudice and bigotry through advocacy and education. The regional office covers all of Missouri, Eastern Kansas and Southern Illinois.